The word "vegan" is derived from the first and last letters of "vegetarian". This term came into existence in 1944, by a small group of vegetarian people to form a Vegan Society, who were earlier part of the Leicester Vegetarian Society in England. Being vegan is now a lifestyle, where people not only choose to have vegetarian diet, but also exclude all animal products in the form of cosmetics, furniture, clothes and etc.
The preparation of regular burgers may include a variety of animal-based products such as cream, cheese, butter and meat. Thus, the preparation of vegan burger can be slightly tricky, as it excludes all sorts of animal products such as cheese and meat. A variety of mouth-watering vegan burgers can be prepared at home such as vegan BBQ pulled mushroom burger, vegan sweet potato burgers, vegan cheese-stuffed burger, vegan Mexican green chili veggie burgers, vegan mushroom bean burger, vegan spicy chickpea lentil burgers. Irrespective of the method of preparation both normal and vegan burger are a treat for the people who are epicurean, as both are scrumptious and mouth-watering.
Burger Patties
Health Benefits of Vegan Diet
Many people are opting for vegan diet, as it possesses a variety of health benefits. Some of the health benefits are as follows: 
Helps in losing weight: Since the vegan diet is mainly composed of low fats and high fibres, it has the potential to help people lose weight and lead a healthy life.

Lowers the risk of heart disease: Having a well-planned vegan diet, which is primarily based on whole grains, vegetables, fruits, fibres and legumes is associated with lowering of heart diseases, as per the research.

Offer protection against type 2 diabetes: As per the research conducted by ADA (American Diabetes Association), vegan diet has the potential to lower the risk of type 2 diabetes. This in turn helps in reducing other underlying diseases and consequently leading a life from disorders.

Provides fibre, antioxidants and are rich in certain nutrients such as potassium, iron, magnesium

Helps in reducing the pain stimulated from arthritis: due to the presence of antioxidants, vegan diet may also help in minimising the pain induced by different types of arthritis.
Available Ingredients for the Preparation of Vegan Burger
Since vegan burger are made of whole grains, vegetables and plant-based products, they are good source of proteins, fibres and a variety of vitamins and minerals. However, every diet should be included with moderation, otherwise it may tend to the deterioration of health.
Potential Ingredients for Preparation of Vegan Burger in the Market
Depending upon one's taste and preference, different types of ingredients are available in the market for the preparation of vegan burgers, namely 
Nuts: peanuts, almonds, cashews along with their butter

Seeds: flaxseed, chia seeds, sunflower seeds, sesame seeds along with their butter

All types of beans, peas, and lentils

All types of soy products and the products made from them such as tofu.

Vegetables such as potatoes, sweet potatoes, beets, broccoli, cabbage, leafy greens etc.

Whole grains such as whole wheat, quinoa, whole oats, and whole grain brown rice, and the products made from these foods, such as whole grain bread.

Other plant-based foods: such as spices, algae, nutritional yeast, fortified plant milks and yogurts, and maple syrup.
Recipe of Vegan Burger
The basic recipe of the scrumptious vegan burger is loaded with delectable spices and is prepared in just 35 minutes. 
Ingredients
White beans / chickpeas – 1 can or 400g

Dried breadcrumbs – 90 g

Fresh grated ginger – 1 tsp

Garlic powder – ½ tsp

Diced cilantro – 15 g

Diced green onion – 25 g

Turmeric – ½ tsp

Pepper – ¼ tsp

Salt – ½ tsp

Oil – for frying

Burger buns
Preparation
Form a smooth paste by blending the white beans / chickpeas and transfer in a bowl.

Then add ginger, garlic powder, cilantro, green onion, turmeric, pepper along with the salt and season well.

Further, add breadcrumbs to the bowl and mix carefully.

Once all the ingredients are thoroughly mixed to form a smooth solid paste, form thick patties of about ½ inch, by compacting the paste with hands. 

Place all the patties in a dish and let it rest for about 30 minutes.

Heat a little oil in a non-stick frying pan and cook the patties on both the sides, until golden brown.

Next transfer the patties to the buns and enjoy the vegan burger.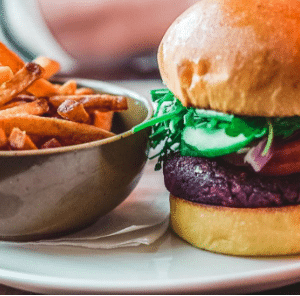 Conclusion
Vegan Burgers are mouth-watering and scrumptious substitutes of ordinary burgers and can be easily prepared at home. It is a good source of vitamins and minerals and are packed with loads of health benefits unlike the other burgers which lacks the nutritional content. Vegan as the name indicates means eliminating all the animal-based products and meat. Vegan burger may be relished by people who are diet conscious and are looking for the food alternatives to lose weight. Vegan burgers being vegan by nature may also be eaten by people having diabetes, arthritis, or heart related health issues, if consumed in moderation.
Other Articles