Karanji is a famous dish in North Indian parts where people will prepare them during Holi and many festivals. It is a sweet dessert that is crispy on the outside and has sweet stuffing on the inside. History says that the dish has been present since the 13th century. But some people say that the recipe is inspired by the Turkish Baklava, which contains the same preparation method. The recipe has many names in many places. The recipe is similar to fried dumplings and empanadas. These tasty and crispy treats are liked and most welcomed around North Indian parts of India. Festivals and family gatherings are the places where our loved ones will share laughter and joy. These are the times when people like to break bread with each other. In Indian homes, people make different types of desserts, food, and beverages for their guests. In homemade recipes for special occasions, Karanji is a crispy and tasty dessert whose aroma gives us a festive feeling. So let's see some of the facts and how to prepare the Karanji recipe.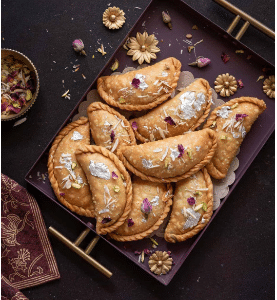 Recipe
To make the Karanji, we need the following ingredients. 
Ghee

Coconut(Shredded)

Sesame seeds

Almonds

Cashews

Raisins

Powdered sugar

Nutmeg Powder

All-purpose flour

Milk and 

Oil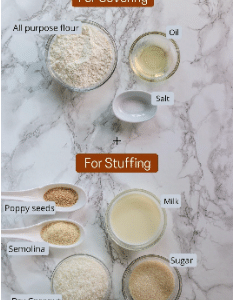 Gathering these ingredients, we move on to the recipe's first step. 
In a pan, heat two tablespoons of ghee and take them out when they are melted.

Then, mix all-purpose flour, the melted ghee, and salt into a bowl.

After that, add some milk to it and start kneading the dough.

We need a dough that is soft and a little tight and firm to hold the stuffing. So don't over-knead it.

After finishing the dough, cover it with a cloth and keep it for 20 minutes without disturbing it.

Now, let's start preparing the stuffing of Karanji by taking another pan and adding one spoon of ghee to it.

Add the shredded coconut into the pan and roast them until they reach a golden brown.

Store the roasted coconut in a bowl, add sesame seed into the same pan and fry them until they pop and roast.

Turn off the pan and add the sesame seeds into the coconut bowl.

Take almonds, cashew, and raisins and process them in a food processor.

Now add the roasted coconut, sesame seeds, nutmeg powder, and some powdered sugar and mix them into a single mixture.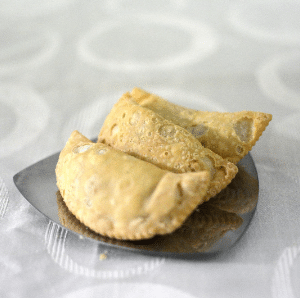 Now we prepared our stuffings and the dough for the recipe. Now let's take the dough, separate them into many balls required, and flatten them. After flattening them with a roller, let's take the stuffing and start covering the flattened dough carefully so the filling won't come out. Cover the edges of the dough in a pattern so that it looks beautiful and is easy to grab when they get fried. After finishing the stuffing, we take a pan, add oil, and heat it. After the oil gets medium heat, we start to fry Karanji one by one so that it won't absorb more oil and get browned. After getting a golden brown texture, take them out of the oil, and the Karanji is ready to serve. 
An evening with a hot tea and a plate of Karanji makes a perfect evening snack and a tea party snack. 
Other Articles