Introduction:  
Haryana has 1441 wetlands and this sanctuary is the largest one in the state. It is an excellent site for bird-watching. Different species of birds flocking in a large area is a unique experience for bird lovers. This place was declared a protected area in 1986 for the provision of habitat and protection from the hunting of endangered species.
Importance
Bhindawas Wildlife Sanctuary is a human-made freshwater wetland area located in the Jhajjar district of Harayana. It takes 3 hours to drive from Delhi to this place. It was constructed to store excess waters of the Jawaharlal Nehru canal at the time of power failure of the Lift canal system. This sanctuary is spread over an area of 1074 acres. It was established as a bird sanctuary by the government of India on 3 rd June 2009. This sanctuary is an important part of the ecological corridor along the route of the Sahib river which traverses from the Aravalli hills in Rajasthan to the Yamuna. The Ministry of Environment, Forests and Climate change declared this sanctuary as an Eco-sensitive zone in 2011. This Sanctuary contributes to maintaining the region's water table by recharging groundwater and is also a natural flood buffer. Due to water problems at Bharatpur Bird sanctuary in Rajasthan over the past years, this sanctuary has drawn all the migratory birds and gained popularity.
Habitat of  extinct birds
This sanctuary is an important wetland that provides a safe habitat to numerous animals and plants. The road to the lake is breathtaking with acre upon acre of brilliant yellow mustard fields and there are innumerable species of water birds flocking near a canal. A  vehicle track around the lake is constructed for the tourists to walk along to enjoy the overall view of the birds. There are watch towers on the edge of the lake and visitors watch them from a wider angle.
 A total of 265 species of birds use the Sanctuary throughout the year as a resting and roosting site. More than 30,000 migratory birds visit this site throughout the year. This site supports more than 10 globally threatened species including the endangered Egyptian Vulture, Steppe eagle, Pallas's fish eagle and  Black-bellied tern. We shall see in detail about these endangered species of birds.
Egyptian vulture:
It is an odd-looking pale, medium-sized bird with a bare, solemn-looking face. The bill is narrow with a black tip. In-flight the deep-fingered black flight feathers contrast with white inner features with a wedge-shaped tail. It is seen in open or semi-open areas, nesting on cliffs and less frequently on trees. It scavenges at rubbish dumps in addition to carcasses and its numbers have declined in recent days.
Steppe Eagle:
It is a large eagle with rich brown feathers and wide wings spread at the wingtip. The adult birds are entirely dark brown and the young ones have a distinctive white band bordered with black on the wing. They take 4 years to attain adulthood. They are frequently found in open grasslands, deserts, scrub, wetlands and mountains. They feed only on carcasses.
Black-bellied tern: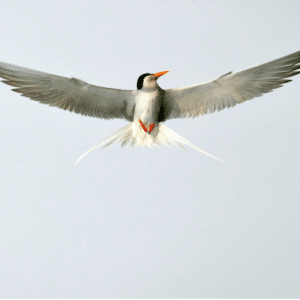 This bird looks elegant with a long tail and a slender orange bill. The breeding adult has a full black cap and dark belly and is named so for its appearance. It breeds on sandy or gravel islands in rivers and lakes but forages over a wide range of wetland habitats. This bird is also declining.
 Apart from this site regularly supports more than 1.7% of the biogeographic population of greylag goose and more than 2% of the biogeographic population of Indian cormorant. Mammals recorded at the site include Nilgai, Common mongoose, and black-naped hare.
Conclusion:
The best time to visit this place is December to January when you can view a lot of migratory birds. Two wetlands of Haryana one Sultanpur National park and the other Bhindawas wetland were included in the Ramsar list on February 2, World Wetlands Day. With this, the protected Ramsar sites have now gone up to 46. Ramsar sites are wetlands of international importance that have been designated under the criteria on Wetlands,1971.
Haryana is awaiting the notification of the two sites getting the Ramsar tag from the ministry which is expected to be announced on August 15. The Ramsar wetlands give legal protection and guidelines for management and will supplement Haryana's efforts to ensure their conservation.
Other Articles