About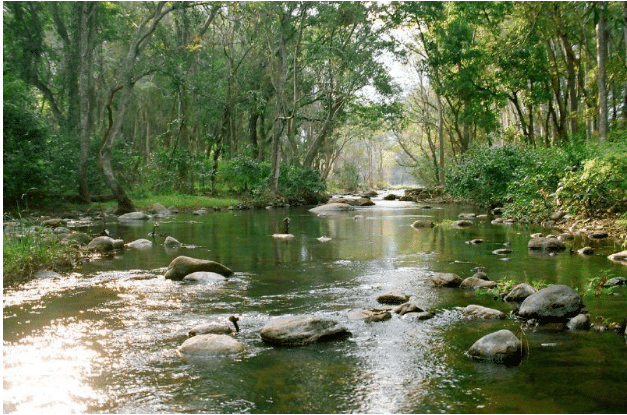 Chinnar Wildlife Sanctuary in Idduki district is a one-of-a-kind protected area on the eastern slope of the Western Ghats, bordering Tamil Nadu. Chinnar Wildlife Sanctuary is one of the 18 wildlife sanctuaries in Kerala's protected areas. Because of its unique location in the Western Ghats, it receives less than two months of rain per year. The wildlife, combined with the deciduous trees, make it an ideal location for trekkers. The Chinnar and Pambar rivers are the sanctuary's primary perennial water resources. The Chinnar River begins near Kumarikal Malai and flows for 18 kilometers along the sanctuary's northwest edge, eventually becoming the Amaravati River in Tamil Nadu.
The Pambar River rises in the Hills of Anaimudi and is joined in its upper reaches by seasonal rivulets and a few perennial streams that flow from sholas. It flows down into the sanctuary through the Taliar Valley between Kanthalloor and Marayoor villages and eastwards through the sanctuary after traversing Turner's Valley in Eravikulam National Park. At Koottar, it joins the Chinnar River. The Thoovanam waterfalls are located deep within the Pambar River sanctuary. This cascade is a popular tourist destination. The Chinnar, Pambar, Kabani, and Bhavani rivers are the only ones in Kerala that flow east.
Geography
Chinnar Wildlife Sanctuary has a latitude of 10 degrees 15′ – 10 degrees 21′ N and a longitude of 77 degrees 5′ – 77 degrees 16′ E. The Munnar-Udumalpet road SH 17 runs through the Chinnar Wildlife Sanctuary for 16 kilometers, dividing it into nearly equal parts. The elevation varies from 400 meters (1,300 feet) at the east end of the Chinnar River to 2,522 meters (8,274 feet) at Kumarikkal Mala. Nandala Malai (2,372 meters (7,782 feet), Kottakombu Malai (2,144 meters (7,034 feet), Vellaikal Malai (1,863 meters (6,112 feet), and Viriyoottu Malai (1,845 meters) are the other major peaks in the sanctuary (6,053 ft). Anamudi peak, at 2,695 meters (8,842 feet), is the highest peak in South India and is located 23 kilometers (14 miles) away in the adjacent Eravikulam National Park.
Crop
The Chinnar WLS contains 11 tribal settlements, each of which is well defined by temporary stone walls. Muthuvas and Pulayas are the principal inhabitants. The settlements practice maize, ragi, and lemongrass cultivation. The Mudhuvas cultivate ganja on a small scale for religious purposes. Thoppicheera, pachamutti cheera (spinach varieties), sirukeppa, neelakanni (ragi varieties), vellavaraku (kodo millet), malapoondu (garlic), maize, coriander, and pumpkin are also among the crop varieties grown at the farm.
Flora and Fauna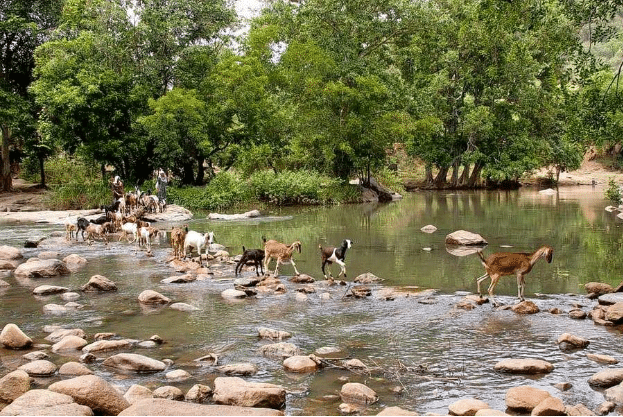 The sanctuary contains 963 flowering plant species. The sanctuary's ecoregions are primarily grassland and wet grassland vegetation, with some South Western Ghats montane rain forests and high shola at higher western elevations. Moist deciduous forests in the South Western Ghats transition to dry deciduous forests and thorny scrub forests in the valley's lower, dryer eastern edges. Acacia arabica, Acacia leucofolia, Acacia concinna, Prosporis juliflora, and Opuntia stricta are the major xerophytic species in thorny scrub forests. The Marayoor sandalwood forest can be found here.
Chinnar Wildlife Sanctuary is home to grizzled giant squirrels as they are one of the world's most endangered species, with a population of less than 200 along with star tortoises, tufted grey langurs, gaur, spotted deer, slender loris, and wild elephants, crocodiles, tigers, and leopards, as well as numerous birds species such as the yellow-throated bulbul along with insects.
Activities to do
Take a walk through this wildlife refuge to see the cliffs, hillocks, plains, rocks, and various microhabitats. Aside from viewing wild animals and plants, you can engage in activities such as river trekking, a trek to Thoovanam Falls, and nature trails.
Best time to visit
Chinnar Wildlife Sanctuary has an inland climate that is mostly hot and dry. As a result, visiting this wildlife park in Kerala during the summer is something I wouldn't recommend. If you are planning a trip to Kerala, you should go during the winter months, from November to February.
How to reach
The two closest airports to Chinnar Wildlife Sanctuary are Coimbatore Airport (115 kilometers) and Kochi Airport (208 kilometers).
Chinnar Wildlife Sanctuary can be reached by train from Pollachi and Alluva railway stations. While the former is only 60 kilometers from the sanctuary, the latter is approximately 200 kilometers away.
Road trips are thought to be the best way to get to Chinnar Wildlife Sanctuary. The wildlife sanctuary is well-connected to most major parts of Kerala and is easily accessible from popular Kerala tourist destinations such as Munnar, Cochin, Ernakulam, and others.
Other Articles