One of the members of the family Trochilidae, the fire-throated metaltail is a species of hummingbird. It is also known as the fiery-throated metaltail. These uniquely beautiful birds are endemic to Peru specifically to the humid forests in the slopes of Andes Mountains.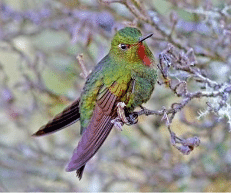 Scientific Classification:
KINGDOM : Animalia
PHYLUM : Chordata
CLASS: Aves
ORDER: Apodiformes
FAMILY: Trochilidae
TRIBE: Lesbiini
GENUS: Metallura
SPECIES: Metallura eupogon
These fiery-throated metaltail though, belong to a particular place and are restricted to a confined area, but they are abundant in number. Their abundant population in their native habitat made IUCN list the fiery-throated metaltail under species of Least Concern.
Do You Know?
The fiery-throated metaltail is about

10.5 centimetres

or

4.1 inches

in size.

The male fire-throated metaltail is

metallic green

on the back, tail and head.

They have a gorget ( a patch of colour on the throat of a bird)of

red

colour. The end of their wings are also red- coloured.

They have a tail which is usually dusky or green coloured.

The females are also mostly green in colour and they differ from males by the gorget. The females usually have less prominent or absent gorget around their neck.

The tails of females have whitish tips on the feathers that are outside.

Both of the sexes of fiery-throated metaltail are

notched

tails.

Their bills are generally short, black and straight.

The diet of

Metallura eupogon,

like the hummingbird includes, nectar from pollen, which fuels its metabolism.

Small insects like beetles, mosquitoes and spiders are also included in their diet.

The literal name of the Genus

Mettalura

means

'metal tail'.
Other Articles