Lisianthus is a delicate perennial flower that is frequently used as an annual. It's known for looking like a rose but lasting longer in the vase, and it's popular for bridal bouquets and other special occasion flower arrangements. 
 Multicolor Prairie gentian Lisianthus Eustoma flowers bouquet close up
Lisianthus Flower 
Lisianthus flowers, also known as Texas Bluebells, Eustoma or prairie gentian, are a tiny genus of plants in the gentian family. They are found in the warm southern United States, Mexico, and the Caribbean, as well as northern South America. This genus is most commonly found in grasslands and disturbed places.
Description 
They are herbaceous annuals that grow to be 15–60 cm tall, with bluish green, slightly succulent leaves and enormous funnel-shaped flowers growing on long straight stalks; sometimes upright single stems, other times branched branches that can reach 5.5 m (18 ft) in height. The blossoms can reach a diameter of 50 millimetres (2 inches) and come in a range of hues. They have been discovered in a variety of pink, purple, white, and blue hues. Furthermore, some are bicolored, and some are yellow or carmine-red on rare occasions. Their blooms come in two varieties: single and double. Both sorts of flowers are available in all of the above mentioned colour ranges. They normally grow to be 30–90 cm (1-3 ft) tall, while there are dwarf forms that only reach 200 mm (8 inches) tall.
Lisianthus flower striking, rose-like beauty, perennial flower, used for a bridal bouquet
Cultivation 
It is a lovely, high-end cut flower, but it can be difficult to grow and maintain. They have tiny seeds that must be placed on the surface rather than buried, and they must be planted in rich, well-drained soil that receives full sun. They should be kept moist but not overwatered, as this might encourage the establishment and spread of fungal diseases. To avoid rosetting, careful temperature management is required, and cultivation under cover is recommended to avoid spotting on the petals. Lisianthus flowers begin to blossom in early summer, and some will continue to bloom into the fall. Lisianthus blooms can last two to three weeks in a vase after being cut.
Purple lisianthus flower on green leaves background
Eustoma russellianum is very popular, with a variety of cultivars developed for the cut-flower industry. 
Types of Lisianthus
Large pink Eustoma flower in a bouquet
There are numerous different Lisianthus varieties, each with its  colour and size.
This variety has a lot of blossoms, with up to a dozen flowers per plant, all in different shades of blue. 
Although gardeners seem to favour double-flower lisianthus plants over single-flower lisianthus plants, this variety's heat tolerance makes it worthwhile to try.
It is a small variety with white blooms with pink edges that grows 5 to 6 inches tall.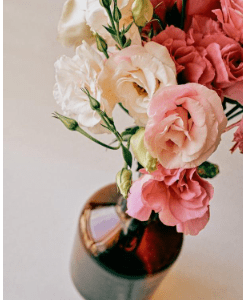 pink and white lisianthus inside an amber vase
It is a semi-dwarf, heat-tolerant cultivar, making it ideal for growing in containers on your deck or patio.
This tall variety (upto 3-4 inches) blooms from midsummer until frost and features dark blue blossoms.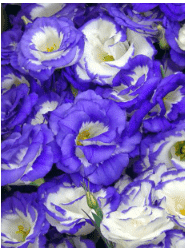 Close-up of flowering lisianthus or eustoma plants blossom
Symbolism 
Lisianthus is a perfect thank-you gift, and they symbolise admiration for a gregarious friend. This lovely long-stemmed flower in cymes, which also symbolises gratitude and charm, forms a lovely bouquet to express respect, love, acceptance, and recognition.
Lisianthus blossoms, which are associated with people born under the sign of Sagittarius, are an ideal present for those born between November 22 and December 21.
Pink Lisianthus is one of the most popular colours, and it has a charming romantic, love, and affection meaning. White lisianthus flowers are more commonly used in bridal bouquets and decorations because they represent purity, spirituality, and a lifelong relationship. Purple lisianthus flowers create a powerful statement in any space, representing beauty, grandeur, and monarchy.
31 May 2022
Other Articles