Introduction
Medicinal uses Scientifically known as " Nelumbo Nucifera" commonly called  Lotus is an aquatic plant. It is an attractive plant cultivated in many parts of the world and is used in religious offerings in India and Thailand. It is commonly planted in fields or ponds with nutrient-rich mud and the water levels are increased as the plants grow.[Medicinal uses]
It needs sufficient water and a place for its roots to grow and it takes 2 years for the Lotus plant to grow from a seed to a flower. The blooms last up to 3 days.[Medicinal uses]
Significance:
The Lotus flower signifies Purity and Rebirth. It is the National flower of our country and is viewed as a  symbol of Purity. Strength, resilience and rebirth. It is considered a sacred religious flower in Hinduism and Buddhism and is legendary in folklore and religious mythology. The lotus flower plays a significant role in Hinduism and is related to eternity, purity, and peace.
It is also called the flower of Gods and Brahma, the ultimate creator of this world, arises from a lotus blossom.In Japan also it is revered as a symbol of enlightenment. It is the prefectural flower of Moriyama city in Japan. It is also the national flower of Vietnam and the golden lotus logo appears on Vietnam's airlines.[Medicinal uses]
During the nighttime, the flower gets submerged in the muddy water and reblooms in the morning clean and sparkling without any stains. It is also the birth flower of July. It is considered a lucky plant in Feng Shui and is believed to carry positive energy and bring auspicious luck in academic success, social status and good fortune.  
Medicinal uses properties 
The stem, shoots, flowers, seeds and roots were consumed 7000 yrs ago in Asia for health and nutrition.[Medicinal uses]
The stem of this plant is crisp and crunchy and is described as a chewy potato when steamed or boiled as a stew. In Ayurveda medicine, the stem is used to cure vomiting, leprosy, skin diseases and nervous exhaustion. Wicks of sacred lamps in temples are made out of the stem.In Malaysian medicine, it is highly esteemed as a tonic and taken as a tea for fever. They pound the petals for the cure of  Syphilis.
In Java, they are used for curing diarrhoea and vomiting. In India, they are used for fever. The juice from petioles and peduncles is used for treating diarrhoea.  In the Philippines, it is used for curing dysentery.[Medicinal uses]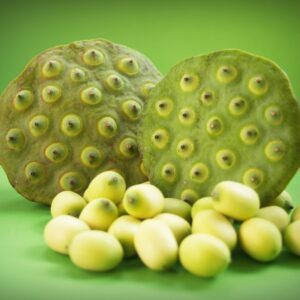 Ayurvedic and Unani medicine believe that lotus seed has aphrodisiacal properties and contains astringent a chemical beneficial for kidneys and prevents the formation of kidney stones and protects them from infections.[Medicinal uses] The seeds of this plant are called "Makhana" and are consumed raw, roasted or ground and boiled into a syrup or paste after being peeled.
It is rich in anti-oxidants and helps in reducing inflammatory diseases like rheumatoid arthritis, gout, psoriasis and inflammatory bowel disease. It also contains low sodium and high magnesium content which helps in diabetes control and obesity. The embryo of lotus seeds is used in the traditional Chinese drug "Lian Zi Xin' which primarily helps to overcome nervous disorders, insomnia, high favours with restlessness and cardiovascular diseases.[Medicinal uses]
In folk medicines seeds are used in the treatment of tissue inflammation, cancer, skin diseases and leprosy. It is also used as a poison antidote, antiemetic and cooling agent and is generally prescribed to children as a diuretic and refrigerant.
Lotus flower extracts contain skin balancing properties that help in balancing the sebum production in the body. It also hydrates the skin. it is more effective on oily skins and helps prevent clogged pores, acne and blackheads. The powerful antioxidant named "Kaempforal" present in the flower acts as a skin conditioner and protects the skin from damage from free radicals.
Blue lotus flower extracts are used as moisturizers for rough and flaky skin. The hair oil extracted prevents greying, hair fall and dry scalp.
The leaves are natural antioxidants that boost the collagen in the skin and maintain elasticity and prevent skin damage. Lotus leaves are used for summer heat syndrome as heat remedies in Japan. The Chinese use this extract to treat obesity. Young leaves are used with sugar to treat rectal prolapse.[Medicinal uses]
Root
The root is mildly sweet and resembles the taste of water chestnuts. In traditional Korean medicine, lotus roots have been used as an antidiabetic and antiproliferative remedy. Kamal Kakdi in Hindi refers to the lotus roots that were extensively used in Kashmir cuisine as they contained more health benefits. Like potatoes, the lotus root can be boiled, braised and fried too.
The powder of this root was used in porridge and deserts during the ancient Chinese dynasty and it was called the Royal family's speciality food. Adding this to your diet helps in preventing allergies, infections and several fungal infections like ringworm, smallpox and leprosy.
Conclusion
Lotus a perennial plant never has lost its value and has been recognised by most people. In recent days the seeds are available in supermarkets and consumed by many people to protect their bodies from various ailments.[Medicinal uses] Though the FDA( Food and Drug Administration) labels the lotus flower as poisonous, yet doesn't classify it as a controlled substance.
Normally the seeds if taken in excessive quantities lead to constipation, flatulence and bloating of the stomach. There might be some complications if they are added with some other chemical substances and in rare cases cause hot flashes and mild irritations. Otherwise, speaking they are not harmful and are beneficial for our health.
Internal links:
10 Rose Flower Meanings you Should Know to Pick the Perfect Bloom
Sunflower Seed: A Supersnack– Erakina
External links:
Other Articles