Chocolate cake is regarded as one of the best sweets of all time because of its exquisite taste and thick texture. New sorts of cakes are being created all the time, from the Black Forest cake with its cherries to the German Chocolate Cake with rich coconut pecan frosting, while chocolate cake continues to reign supreme. 
Chocolate Cake 
A chocolate cake, often known as a chocolate gateau, is a cake flavoured with melted chocolate, cocoa powder, or both. It is rich in chocolate flavour with just the right amount of sweetness. It is extremely moist, soft, and fudgy, with the silkiest and creamiest chocolate frosting. Everyone who prepares it is enamoured with it, and everyone who eats it wants the recipe.
The classic chocolate cake produces a rich crumb with a deep chocolate flavour. It's a straightforward recipe that calls for flour, sugar, cocoa powder, baking powder, baking soda, eggs, milk, and vanilla extract, all of which are likely to be found in your cupboard and fridge. It's delicious whether you eat it simply, dusted with powdered sugar, or served with dollops of cream or a scoop of ice cream. One can also coat the cake with his or her favourite icing or chocolate ganache. It's the ideal party meal. A Chocolate cake is an excellent choice.
Dr. James Baker learned how to create chocolate by grinding cocoa beans between the two large circular milestones in 1764, and the history of chocolate cake begins there. Eliza Leslie, a well-known Philadelphia cookbook author, wrote the first chocolate cake recipe in 1847 in The Lady's Receipt Book. Unlike other chocolate cakes, this one used chopped chocolate. Pastry chefs created exquisite chocolate treats for the rich elite in the 19th century, particularly in France and Austria.
For the rest of the population, chocolate in any form remained a rare indulgence, saved for exceptional occasions. The chocolate cake did not become popular until the 20th century, when cacao costs became more reasonable. Depending on the recipe and the type of chocolate used, there are many different types of chocolate cakes available today. Chocolate cake recipes change from country to country.
Different types of chocolate cake 
Sachertorte chocolate cake 
Sachertorte is the world's most famous Austrian chocolate cake. In 1832, Austrian Franz Sacher created the Sachertorte for Prince Wenzel von Metternich in Vienna, Austria. Three layers of chocolate sponge cake with liberally spread apricot jam in between and on top make up this delightful masterpiece. Dark chocolate icing covers the entire cake. It's traditionally served with a dish of unsweetened whipped cream.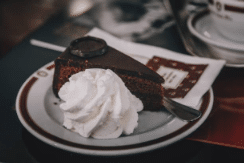 Joffre chocolate cake 
A Joffre cake is a chocolate buttermilk layer cake filled with chocolate ganache and topped with a chocolate buttercream that was developed in commemoration of a visit by the French Marshal Joseph Joffre shortly after World War One. 
German chocolate cake 
The German chocolate cake was named after Samuel German, an English-American chocolate manufacturer who created a dark baking chocolate formulation that was used in the cake recipe. A layered chocolate cake with coconut-pecan icing is called a German chocolate cake.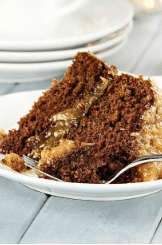 Chocolate lava cake
A popular treat that combines the features of a flourless chocolate cake and a souffle is molten chocolate cake. It's also known as "chocolate lava cake" because of the dessert's molten chocolate centre.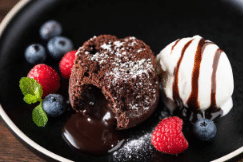 Ding dong chocolate cake 
A Ding Dong is a chocolate cake made and sold by Hostess Brands in the United States and Canada under the name King Dons. It's round with a flat top and bottom. A white creamy filling is injected into the centre, and the cake is covered with a thin layer of chocolate glaze.
Black Forest chocolate cake 
A Black Forest cake is a chocolate sponge cake with a luscious cherry filling. It is often made out of many layers of chocolate sponge cake sandwiched between layers of whipped cream and cherries.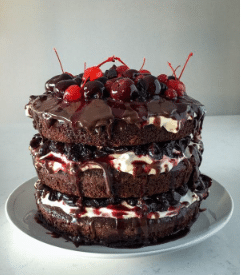 National Chocolate Cake Day is celebrated in a very simple and beautiful way on January 27 in the United States. This particular day was created as a way for chocolate and cake connoisseurs to honour this discovery. Chocolate cake is always in style. It is as popular today as it was 75 years ago.  
Other Articles