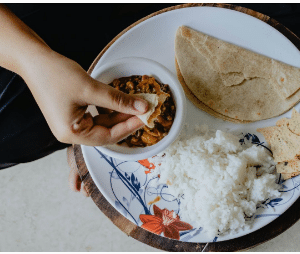 Chapati dish on a plate
Introduction and history
The dream of every desi woman is to make a round-sized chapati. Chapati has become a household necessity in India since time immemorial. It is particularly popular in Asian countries, Africa, middle eastern countries, and North America. India with its rich cultural diversity, but one of the few things which almost all the house has in common is the use of roti or chapati. Chapati or roti means flattened bread which is normally made with whole wheat flour or atta mixed with water to form a soft dough. Wheat was widely used in Asia. From Asia, it continued to spread towards Europe and America. It is still believed that roti's got their first mention during the Indus Valley civilization era. Even the word roti is being derived from the Sanskrit word Rotika.
Procedure
The chapati dough is usually made soft and pressed with the knuckles of our hands so that the wheat gets the maximum water and the dough comes out soft and clean. The more water the dough absorbs the softer it gets. Some people also add a little ghee to make it even softer. After the dough is done we need to rest it for at least 10 minutes for the gluten to develop, this process of resting makes the dough more pliable. Now small rounds of wheat balls are made out of the dough then it has to be dipped into the dusting flour to make a round disc. The iron skillet should be hot when the rolled-out dough is thrown onto it. The heat of the iron skillet will make the chapatis puffed up from inside. Some people also use a cotton cloth to press the sides of the rotis for it to puff up while others directly put rotis on the high flame. There are different ways of cooking a roti but the utmost important factor is that the roti has to be soft and fluffy.
Other Versions of Chapati In India: 
 A plain wheat chapati is only the basic version of it, there are also some regional varieties that can also be seen like stuffed rotis which are generally known as parathas. Parathas stuffed with vegetables like potatoes, cauliflower, onions, etc are very commonly found in India. Aloo paratha or potato stuffed chapati is mostly a Punjabi dish but is loved throughout India. People also eat plain chapatis with ghee, curries, achars, curd, ketchup to make it even tastier. Some like them plain whereas some prefer to fry them. In eastern parts of India, flour-based small Rotis are deep-fried in oil and are known as Luchis, which is the ultimate breakfast option for every Bengalis while the rest of India mostly enjoys wheat puris. Makki di roti made of maize flour is Punjab's pride, it is a north Indian favorite along with Sarson da saag during winters. Lamboo roti or Rumali roti made of flour is also very popular in India and Pakistan. Another form of roti called dal puris or stuffed puris is also widely seen consuming among Indians. Another brother of roti called Naan which is generally oven-baked or Tawa fried is also famous in Asia, The Middle East, and in Indian subcontinents. Chapatis come in multiple forms and names like phulkas, naan, bhature, puri, kulcha, dal puris, etc. Different households have their own way of making and eating chapatis. Wrapped rolls stuffed with vegetables, chicken, eggs and are also very famous nowadays which is basically another byproduct of chapati. Rotis can be made from the flours of bajra, rice, jowar, and even millets.
Other Versions of Chapatis Across The Globe
Coconut roti or pol roti is very famous in Sri Lanka. This Indian flatbread has a legacy of its own, roti shops can be found in America, Mauritius, Africa. Along with the Indian migrants came roti into South Africa and thereafter became an integral part of Dublin cuisine. Lavash and Khaboos are two exact variants of Indian Rotis from Iran. In Guyana, layered soft Rotis called Dosti rotis are very famous. Roti and curries wrapped together in one form known as the roti wraps are a favorite in the Caribbean. Wrapped Rotis served with vegetables and meat are an absolute favorite of the people of Trinidi bad and Tobago. Wrapped Rotis gained popularity as the fast-food culture grew more vividly there.
Conclusion
.
Whatever it may be, eating hot chapatis is and will be India's favorite always. By the growth of the chapati recipe many Indian companies like Aashirvad, Patanjali, Annapurna, and the American company Pillsbury with an adorable cute little doll are so famous in India and in Indian markets. People like to play with their food, but with the chapati, kids use it as a roll by applying jam in the middle and taking it as lunch for schools. Many people explore different tastes and have different tasting methods. Let the people find more taste buds and improve eating healthy food.
By Mukesh Kumar
20/01/2022
Other Articles