Introduction 
Shufta is a traditional Kashmiri dessert created with a blend of dry fruits and spices covered in sugar syrup and served during festivals and weddings. Despite the fact that the recipe appears to be simple, it tastes fantastic.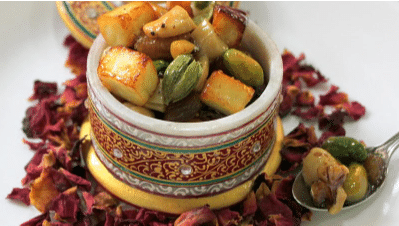 Shufta – A Kashmiri Delicacy 
Jammu & Kashmir, a North Indian state, not only has stunning scenery but also a large variety of mouthwatering and exotic delicacies. Kashmiri cuisine originates in the scenic Kashmir Valley, India's crown jewel nestled in the Himalayas. This state's cuisine combines influences from Hindus in India, Muslims in the Middle East, and Persian and Afghan conquerors. Kashmiri cuisine is known for its rich flavours, usage of desi ghee, and an abundance of spices such as dry ginger powder, fennel powder, and Kashmiri red pepper. Rice has traditionally been the primary food, and it is most commonly served with a variety of meat-related dishes. Apart from non-vegetarian dishes, there are a few vegetarian dishes that are really tasty, such as Zarda, Kashmiri dum aloo, Phirni, Kahwah, Noon chai, and so on.
Shufta is a typical Kashmiri delicacy made out of a blend of dry fruits and spices that are coated in sugar syrup. Basically, dry fruits are soaked in water for a while before being combined with ghee, fried paneer, sugar, and other spice powders. This scrumptious and tasty delicacy from Kashmiri cuisine appears simple, but tastes amazing!
This dessert is traditionally served during festivals and weddings in Kashmir. Above all, this is ideal for the winter months because dried fruits keep your body warm. Only a few ingredients are required for this healthy, crunchy, sweet snack. All of the above can be prepared in under 20 minutes and stored in the refrigerator. Before serving, preheat the dessert.
Kanaguchhi is used to make Shufta Kanaguchhi. Kanaguchhi is also known as the wild mushroom, Morchella esulenta, or Morel mushroom.Kanaguchhi is beneficial to both the tongue and the body. They have great medicinal value, including anti-tumor properties and immunotherapy applications. They are also thought to protect against cancer, particularly prostate cancer.
However, despite its delectable appearance, delectable taste, and healthfulness, this meal is losing its value in today's modern world. People have no idea what a morel or a kanaguchhi looks like. As a result, it is becoming increasingly rare, and we are losing this delectable dessert.Shufta is one of Kashmir's forgotten delicacies. Although it appears that many individuals are aware of it, it is rarely prepared.
You can create shufta using a variety of recipes; you can use whichever one you choose. 
Kashmiri Shufta is a crispy and nutty delight that is a characteristic dish of Kashmir. Shufta is a mix of rich flavours and textures that may be found on practically any special occasion.
Recipe
To make Kashmiri Shufta, soak the dry dates and remove the seeds before slicing them. Keep them in their own bowls. To begin, heat the ghee in a skillet and sauté the paneer, as well as all of the dry fruits and coconut bits, separately. Second, melt the sugar in a skillet and then add the milk and rose water. Reduce the sugar syrup in the pan to half its original volume and add the toasted nuts after that. Finally, saffron should be sprinkled on top. This gives the food a lovely scent and flavour. Cook until the sauce has thickened, then serve it hot or warm.
About Ingredients 
In this dish, dry fruits such as almonds, cashews, walnuts, pistachios, raisins, walnuts, and dates are used. Dry fruits, as you may know, are high in nutrients, vitamins, and minerals. They also aid in the improvement of immunity, as well as the reduction of cholesterol, blood sugar, and blood pressure.
Saffron and cardamom powder are the major ingredients in this recipe. Saffron lends colour and aroma to this dish. Cardamom adds flavour and fragrance to this recipe. This recipe's flavour is enhanced by these two additions. Saffron is also a powerful antioxidant that can help with cold and fevers. Cardamom is an antioxidant that can help with colds and flu symptoms. It also aids in the increase of metabolism.
Other Articles