Introduction
Satpura National Park is the perfect alternative for true wildlife lovers who are tired of congested wildlife sanctuaries, the battle to secure safari tickets, standing in a safari vehicle queue, and safari jeep overcrowding during wildlife viewing. Here, we will find a tranquil forest, free of safari jeeps, attractive hilly terrains, deep gorges, rivulets, vast herds of creatures, and excellent birding. Satpura National Park is located in the Satpura Ranges of Madhya Pradesh's Hoshangabad district, and it protects untouchable forest sites and other natural resources. Satpura Tiger Reserve encompasses a total size of 2133.307 square kilometers. It has a core size of 1339.27 square kilometers and a buffer area of another 1339.27 square kilometers. It stands out among India's tiger reserves because of the various methods to view animals. Jeep safaris, elephant safaris, walking safaris, canoeing, birding, and other activities are all available here. Satpura National Park, which was founded in 1981, is known for its unspoiled Highland eco-system.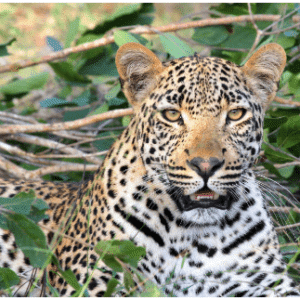 leopard in the close shot with green leaves
Satpura National Park
In Central India, Satpura is a well-known hill range. Satpura is derived from the Sanskrit word "Hundred Mountains," which means "Hundred Mountains." The range creates a watershed between the Narmada and Tapti rivers, and its name means "Seven Folds." The Satpuras have been folded and heaved in several places. They thought of it as "horst" or structural uplift. Seven Mountains make up the Satpura Range. 
It stretches about 900 kilometers, passing across Maharashtra, Madhya Pradesh, and Chhattisgarh. Mahadev Hills, Maikala Hills, and Rajpipla Hills are all part of the Satpura range. Dhoopgarh Peak is a well-known mountain.
Black colored Blackbuck on dried grass
The Satpura Range includes the famous Dhoopgarh Mountain near Pachmarhi on Mahadev Hills, as well as Amarkantak Peak, the state's second-highest peak. Satpura is shaped like a triangle.
The entire Satpura range is densely forested, and wildlife habitats abound. World-famous national parks, wildlife sanctuaries, and other attractions may be found in the Satpura range. As a result, the Satpura ranges include a diverse range of forests and wildlife, making it a popular destination for trekking, safaris, fishing, bird watching, resting, and other activities, making it an ideal holiday destination. The Satpura ranges of Madhya Pradesh are also home to the nationally and internationally acclaimed Satpura National Park.
As previously said, the Satpura range is completely covered in deep forest, which is why Satpura National Park is so well-known for its wildlife, magnificent natural settings, and safaris. The Hoshangabad district of Madhya Pradesh is home to the Satpura national park. Satpura National Park, established in 1981, spans 524 square kilometers. 
Bori Wildlife Sanctuary and Pachmarhi Wildlife Sanctuary are combined to form a park with a total area of 2133.307 sq km. The park became the Bodi-Satpura Tiger Reserve after being included in the Tiger Projects of India in 1999. Bori-Satpura Tiger Reserve is located in Madhya Pradesh's Central Indian Highlands, amid the Mahadev Hills of the Satpura range.
Wild Boar on dried grass
When compared to other heavily visited national parks, Satpura National Park is less crowded. The snoring of the Beer and the roaring of the Tigers can be easily heard in this park, which is unusually quiet. Satpura National Park is a great place to visit for fun and adventure. It's the ideal spot for getting up close and personal with the wildlife. Biodiversity is abundant. 
Leopard, Sambar, Chital, Indian Muntjac, Nilgai, Four-Horned Antelope, Chinkara, Wild Boar, Bear, Black Buck, Fox, Porcupine, Flying Squirrel, Mouse Deer, Indian Giant Squirrel, and others are among the creatures found in Satpura national park. Sal, Teak, Tendu, Phyllanthus Emblica Mahua, Bel, Bamboo, and Medicinal Plants are the most common species found in the flora. 
There are numerous water birds, hornbills, and peacocks, among others. For animal and nature lovers, the Satpura ranges and Satpura national park are paradises.
Conclusion
Satpura National Park is home to a diverse range of flora and animals, as evidenced by the following description. Satpura Tiger Reserve is home to 52 mammal species, 31 reptile species, and 300 bird species, 14 of which are threatened. Arboreal species such as the Flying Squirrel, Indian Giant Squirrel, and Leaf Nosed Bats live in the Satpura Tiger Reserve. There are also Eurasian Otter and Smooth Coated Otter can be found here. Cycling, canoeing, and trekking are all permitted in this one-of-a-kind park in Madhya Pradesh.
05.06.2022
Other Articles