The Madagascar Pochard last seen in1991 and thought extremely extinct until its rediscovery in 2006 is one of the sparse duck species. The root cause of its decline is mainly due to human influence, habitat loss, hunting and fishing. These are diving birds which survive upon aquatic plants and invertebrates in shallow water.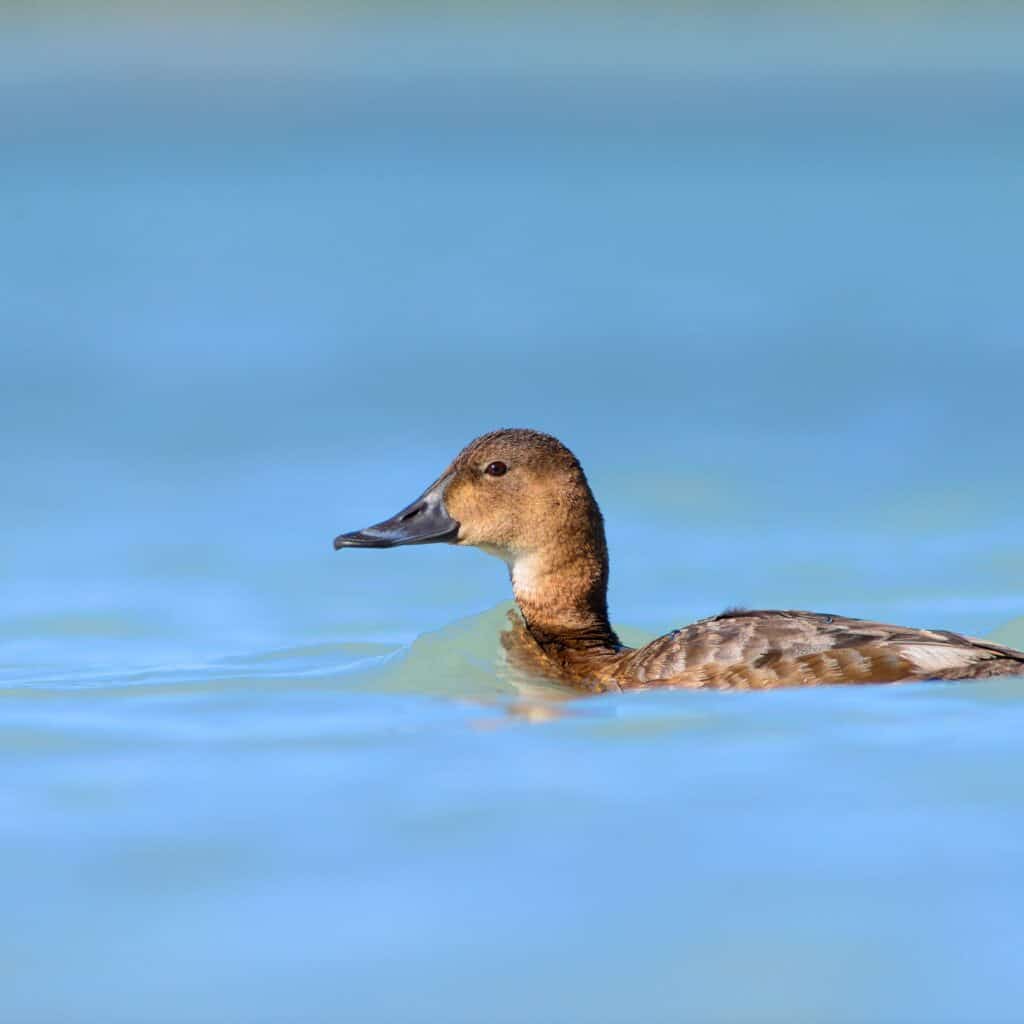 Features of Madagascar Pochard
Madagascar Pochard is a medium sized duck of 45-46cm.It is an excellent diver with a mean diving time of around 24 seconds. Ducklings starts to dive when they are 14 days old with a diving time of 10 seconds. It has dark plumage whose head and neck are brown with white undertail coverts. These ducks are found single or in pairs but never in a flock so they do not migrate. Madagascar Pochard is mainly sedentary but its flight is fast and powerful over the length of the lake.
Decline of Madagascar Pochard
Madagascar Pochard has been declared critically endangered species. There was a noticeable decline in the population in 1940s and 1950s.Existence of these ducks mainly depend on wetlands which were mainly destroyed due to deforestation , overfishing and introduction of exotic fishes and plant species. Gradually their number started declining due to destruction of habitat and lack of food. In 2006,Madagascar pochards were spotted in Lake Matsaborimena, few feet away from the lake Alaotra. No ducklings were born and they were surviving in unsuitable conditions.
Problems Caused to the Pochards
Huge degradation caused by deforestation, overfishing and pollution, had great implications for the animals that depend on them for food and shelter.
On intense researching why the wetland was failing the poor bird, the WWT(Wildfowl and Wetlands Trust) found factors including water quality, temperature and sedimentation were affecting its ability to feed.
These are mainly caused by the local communities using poor farming techniques, poor water management by introducing fishes not compatible with pochards into the lakes as they struggle against poverty.
Hard Mission to save the Pochards
WWT and Durrell collected several samples of Madagascar pochard eggs which were then hatched in an enclosed environment with utmost care.
It was the most crucial part as 25 percent of the world's population which were just seven chicks –were living in a cardboard box with a plastic ice cream tub serving as a swimming pool.
As new individuals were hatched one by one, we gave them rolled up balls of socks as "friends" until each was big enough to join their gang of ducklings.
Efforts by Wildfowl and Wetlands trust along with Durrell
In 1991 the last confirmed sighting of the species was at Lake Alaotra on the Central Plateau of Madagascar.
In 2006 a flock of nine adults and four recently hatched ducklings were discovered at a volcanic Lake in northern Madagascar, near Bemanevika .
The researchers felt that Bemanevika was not an ideal place for the pochard to grow due to the topography of the lake and high death rate of ducklings.
Finally the Durrell Wildlife Conservation Trust reintroduced 21 pochards into lake Sofia northeast of Bemnevika.
After a year the Durrell were able to save over 50 pochards and 91 pochards live in captivity at two facilities in Antsohihy.
Success of WWT and Durrell
WWT's specialist breeding work grasped world's attention as it has improved Madagascar's wetlands for people and wildlife.
Having the ducks back in the wild is proof that wetland conservation is succeeding in making this part of the world a better place to live.
With the arrival of 12 ducklings in 2019,WWT and Drrell's hard work was repaid.
It will really take years to restore River Sofia but the works of WWT and Durrell has given all a positive vibe to take this hard and long journey with positive energy.
–by R. Poorana(Content writer Intern)
30-10-2023
Other Articles