Humanity is the only behavior that defines a person as pure in heart. In today's world, People are divided by states, countries, religion, and cast. But they all are united by humanity. People with good beliefs and helping tendencies are joining in Red Cross nowadays. Red Cross is a society of people that helps people who need help in war times, pandemics, and such things. Let's see what is Red cross and some facts about them. 
Red Cross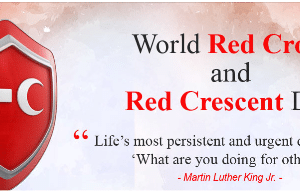 A quote mentioning Red Cross day
The Red Cross is an organization that is formed in 1919 in Paris after World War I. It was led by Henry Davison who was the president of the American Red Cross War committee. At first, the founding members of the Red Cross were Britain, France, Italy, Japan, and the United States of America. At the start, the organization wants to help people who are affected by war and develop the organization in many other countries. 
The organization helped many people in an earthquake in Japan. Henry Dunant from Switzerland formed a national relief society for people wounded in the war. This formation paves Red Cross the way for the Geneva convention. The first Red cross day was celebrated on May 8, 1948. The birth anniversary of Henry Dunant on May 8 is celebrated as Red Cross day. 
Principle of Red Cross Society
Logo of Red Cross Organisation 
Let's see in detail the principle of the Red Cross.
Red Cross Society prevents and helps people who are in desperate need. Through this, they develop a good relationship between people and increase hope in Humanity.

Red Cross Society doesn't show any partiality among people by nationality, race, class, or religious belief. By this, every person is benefited.

Every year they come up with a theme and spread awareness, through this theme they can help many people. 

Many people celebrate Red Cross day in schools, colleges, and workplaces by conducting seminars, presentations, and spreading awareness among people.

Through the celebration, many youngsters are inspired to help people who are in need.
Facts about Red Cross Organization
A Red Cross Blood donation camp
The Red Cross society has done many help to the people in desperate times. Let's see some of the facts about the Red Cross organization.
Every year March 8 is celebrated as world red cross day to honor the volunteers and people who work in the red cross for their precious work.
The day is celebrated for the workers who contribute their kind service to the victims who need help in difficult times.
The principle of the Red cross is impartiality, humanity, neutrality, independence, voluntary, universality, and unity.
The red cross day is celebrated on May 8. It's because of the birthday of Henry Dunant the founder of ICRC.
In 1863, the members of ICRC established the International Committee for relief for the wounded in Geneva.
Over a million people are working for the Red cross. And 50% of the workers are women. 
Red cross people are responsible for arranging camps for health checkups, and blood donation camps.
The IFRC raised above 3 billion US dollars for 2004 Indian Tsunami victims.
In 2016 IFRC have a record of treating more than 10.2 million patients and fed 8.7 million people.
In war times attacking a Red cross worker or their property is considered a war crime. And they are not to be taken as prisoners.
The organization won three Nobel Peace Prizes in 1917, 1944, and 1963.
Red cross society is in action in over 192 countries in the world. Almost they are present in every country.

The Red Cross 2022 theme is "Be Humankind". 
These are some of the facts about the Red Cross society and its works. Nowadays many youngsters are forming groups among their friends and helping many people who need help. Not only people many NGOs have been formed recently to help animals like Dogs, etc. So let's help people around our surroundings by providing food, and calling organizations to come and save them. Being human is not only living its also letting others live. 
Date: 02/05/2022
Other Articles