Introduction
The Asola-Bhatti Wildlife Sanctuary, which spans 32.71 square kilometres on the Southern Delhi Ridge of the Aravalli hill range on the Delhi-Haryana boundary, is located in the southern parts of Delhi as well as the northern parts of Haryana's Faridabad and Gurugram districts.
About
Ridge's biodiversity is enhanced by its proximity to the Indo-Gangetic plains. It is part of the Northern Aravalli leopard wildlife corridor, which runs from Rajasthan's Sariska National Park via Haryana's Nuh, Faridabad, and Gurugram districts and terminates at Delhi Ridge. This protected region is home to one of the last surviving parts of the Delhi Ridge hill range and its semi-arid forest ecosystem and animals. The Delhi Ridge was formerly entirely forested, but development has destroyed much of it. Surajkund and Anangpur Dam, Tughlaqabad Fort and Adilabad Ruins, and Chhatarpur Temple are also historical sites around the sanctuary. Several hundred lakes have arisen in and around the refuge due to abandoned open-pit mines. It is near the seasonal waterfalls in the Faridabad villages of Pali-Dhuaj-Kot and the sacred Mangar Bani.
 Threats at Asola Bhatti Wildlife Sanctuary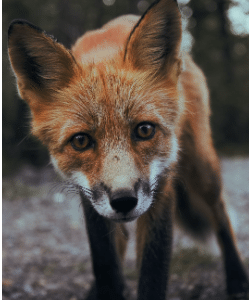 Pup staring sadly while standing
There are no wildlife crossings, and there is no protective wall.
The sanctuary and Eco-Sensitive Zone are separated from the urbanised areas by a boundary wall on the Delhi side of the Eco-Sensitive Zone, while the urbanised parts in Haryana do not have one.
There are no wildlife crossings in the area, and unique and endangered wild animals are frequently killed by mistake on the highways that run alongside the sanctuary. Between January 2015 and January 2019, at least ten leopards died on this route due to accidents or disputes. On the Gurugram-Faridabad State Highway in 2015, a 7-month-old leopard was killed near Pali chowk after being hit by a big car. Another 10-month-old female leopard was killed by a big vehicle on the same site in January 2019. Roads and highways cut through wildlife corridors, and at night, light beams from fast-moving vehicles blind the animals, resulting in hit-and-run fatalities. Experts and activists have long advocated for the removal of roads and highways in favour of wildlife crossings.
Black bear in a forest sitting alone
Bandwari landfill and waste-to-energy plant
Environmental pollution has been caused by the Bandhwari landfill and garbage factory. A waste-to-energy plant on which the government has already spent INR300 crore is being enlarged with another INR400 crore, along with two sand mine pits for depositing untreated toxic waste, posing a significant environmental threat to the sensitive nature.
The National Green Tribunal (NGT) requested that the Central Pollution Control Board (CPCB) test groundwater samples near the Bandhwari plant in 2017 because the landfill site has a stream of dirty black water polluting the aquifers and leeching into the forest in the area, which is known to discharge industrial waste and construction debris in the Aravalli forests along the roads in Gurugram-Faridabad area.
Due to the scarcity of water on the Haryana side of the Gurugram-Faridabad Aravalli hill forests, wild animals are rarely sighted. In 2018, the Haryana government deployed drones to conduct aerial surveys and excavated 22 ephemeral pits to conserve rainwater that evaporates during the warm months. The government declared in January 2019 that it intends to make the pit permanent by linking it to a pipeline from adjacent villages.
Official denial of wildlife presence
Human activity, such as uncontrolled urbanisation and polluting facilities, is also a major concern. Government officials frequently oppose and deny the presence of wildlife such as leopards so that forest areas can be exploited and made available for intrusive human development.
Lion and lioness sitting
Conclusion
Wildlife sanctuaries deserve our attention; they are not just a great place to visit for a vacation, but they also require us to become involved in what is going on in the natural forest and what challenges we are facing. The following are the things we miss out on if we neglect our community's tasks and responsibilities:
Admire a diverse range of biological ecosystems that are home to a vast variety of birds, as well as reptiles, amphibians, and mammals.
Discover 250 tree species, 200 bird species, 90 butterfly species, ten reptile species, ten mammal species, and eight amphibian species.
View the beautiful surroundings of Asola Lake and see the rarest Egyptian vulture bird.
Enjoy the Aravalli panoramas and the potential to see wildlife such as the Brahminy starling, black kite, and shrike.
30.05.2022
Other Articles