It's a magnificent jungle were seeing a tiger may be tough, but there are plenty of other animals to see. The dense greenery is a delight in and of itself, and the view of the river Jayanti is breathtaking.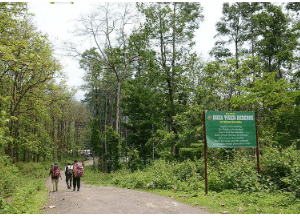 View of Buxa Tiger Reserve
Buxa Tiger Reserve 
The Buxa Tiger Reserve and National Park are located in northern West Bengal, India, and cover an area of 760 km2 (290 mi). Within the Gangetic Plains, the elevation ranges from 60 meters (200 feet) to 1,750 meters (5,740 feet) on the Himalayan border in the north. The reserve is home to at least 284 different bird species. Among the creatures present are Asian elephants, gaur, Sambar deer, clouded leopards, and Indian leopards.
History
Buxa Tiger Reserve is an ancient reserve in India. People have developed a sentimental affinity for it because of its historical significance in the war for independence. Buxa Tiger Reserve, India's 15th tiger reserve, was created in 1983. Buxa Wildlife Sanctuary was established in 1986 on 314.52 kilometers of the reserve forest. The Buxa Wildlife Sanctuary was expanded by 54.47 kilometers in 1991. The West Bengal government announced its desire to create a national park across 117.10 km2 of the Buxa Wildlife Sanctuary a year later, in 1992. 
Jayanti is a small forest village within Buxa Tiger Reserve in the Alipurduar district of West Bengal, India
Location 
The Buxa Tiger Reserve is located in West Bengal's Alipurduar district. It shares a northern border with Bhutan that runs parallel to the international boundary. The Sinchula hill range runs the length of the Buxa Tiger Reserve's northern border, while the state of Assam borders it on the east. Its southern border is generally defined by National Highway No. 31C. It is the easternmost extension of  North East India's endemic Indo-Malayan region. A portion of the reserve is the vulnerable "Terai Ecosystem." To the north of BTR is the Bhutanese Phibsoo Wildlife Sanctuary. The Manas National Park is located to the east of BTR. As a result, the BTR acts as an international corridor for Asian elephant movement between India and Bhutan. The Chilapata Forests form an elephant corridor to the Jaldapara Wildlife Sanctuary in the southwest. There are up to eight different forest types in the reserve. Alipurduar is home to the divisional headquarters. East and West are the two divisions of the forest. The Buxa Fort is a significant feature of the reserve. After the Bhutan War, British India took control of this fort in 1865.
The forests of Buxa Tiger Reserve
Flora 
So far, more than 450 tree species, 250 shrub species, 400 herb species, 9 cane species, 10 bamboo species, 150 orchid species, 100 grass species, and 130 aquatic flora species have been identified, including more than 70 sedges (Cyperaceae). Other monocotyledons and ferns number more than 160 species. Sal, Champa, gamhar, simul, and chikrasi are the most common trees.
Fauna 
A total of 284 bird species were recorded during a survey from May 2000 to July 2001, including the Eurasian griffon (Gyps fulvus), Amur falcon (Falco amurensis), Malayan night heron (Gorsachius melanolophus), Oriental pied hornbill (Anthracoceros albirostris), rufous-necked hornbill (Aceros nipalensis), and chestnut-bree (Oriolus chinensis). Migratory birds such as the common merganser (Mergus merganser), Eurasian teal (Anas crecca), black-necked crane (Grus nigricollis), black stork (Ciconia nigra), and ferruginous pochard call the Narathali lake, Raidk, and Jayanti rivers home (Aythya nyroca). In 2006, two new frog species were found.
The Indian leopard, Bengal tiger, clouded leopard, giant squirrel, gaur, chital, and wild boar are among the 73 mammal species. There are 65 fish species, 41 reptile species, and four amphibian species that have been identified. The reserve's first golden and spotted Asiatic golden cats (Catopuma temminckii) were discovered in February 2018.
Leopard cats, Bengal floricans, reticulated pythons, Chinese pangolins, hispid hares, and hog deer are among the endangered species found in the reserve. White-rumped vulture (Gyps bengalensis), slender-billed vulture (Gyps tenuirostris), Chestnut-breasted partridge (Arborophila mandellii), rufous necked hornbill (Aceros nipalensis), ferruginous pochard (Aythya nyroca), and great hornbill (Aythya (Buceros bicornis).
3 June 2022
Other Articles