Apple is a fruit that is loved by all people and it has many varieties of species which are sweeter to the mouth. A fruit that has a nutritional value which earned an apple for a day keeps the doctor away. Today we are going to see about apples and 20 facts about them. 
Apple:
Apples in a casket
Apple is a Red-colored fruit with a sweeter and juicy flesh with many nutritional values. The fruit starts growing from the seeds and it grows into a flower. The flower starts blooming in spring and they attract the pollinators. The pollinators suck the nectar and carry the pollen seeds from the flower petals. Then they travel to another flower and do the same and the pollination starts by this process. The pollination results in the growth of the ovary of female flowers. The ovary begins to grow by getting energy from the leaves near the flower petals and starts growing. Then the ovary starts growing big and its tissues too. This will continue till the fruit gets ripped. This is the life cycle of an apple.
Apples in a tree
An apple takes around 4-5 years to produce its first fruit. The cultivators harvest the apples by plucking them by hand. Most apples are harvested in September and October. An apple is grown round in shape with a diameter of 5-10cm. The size of the apple differs by the cells and nutrition they get. The different the species the different the colour. Colours like red, green, yellow are famous and consumed by people. An apple is consumed in many ways like eaten fresh, apple cider, jams, desserts, etc. Apple pie is a famous dessert in America.
Facts about Apple: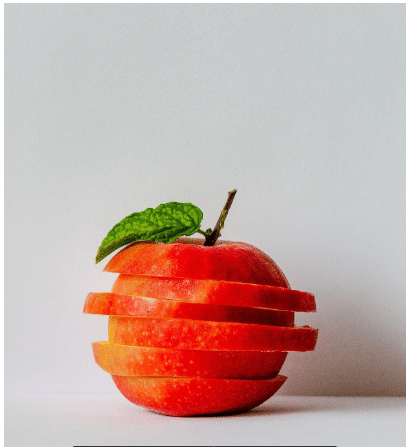 A picture of a sliced apple
The apple has special characteristics that are useful for people who have them. Let's see some of the facts about apples from the following.
Origin of apple:
Apples originated from central Asia. They grew in China, Europe, and Northern America. These are the countries that are top in the production of apples in the world.
American apple history:
Apple's origin is from Central Asia. But the apple seeds are transferred from Europe to North America for colonization and thus how North America got apples.
Characteristics of Apple:
 An apple tree grows 6-15 feet in domestic cultivation. But the trees in the wild can grow up to 39 feet in height which is larger than domestic.
These are some of the 20 facts about apples and their specialty. Having an apple daily is good for our health and good taste buds for our tongue. So let's have an apple and have a healthy and happy life.
Other Articles