About
Lord Ram with his wife Sita, his brother Lakshman and his devotee Hanuman
The birth of Lord Ram, the son of the ruler of Ayodhya, Dasarath, and one of his queens, Kaushalya, is commemorated on Ram Navami, a Hindu spring festival. He is also thought to be Lord Vishnu's seventh avatar. Shri Rama is revered in the Vaishnavite tradition. Ram Navami is a Hindu spring festival that occurs on the ninth day of the Shukla Paksha, Chaitra (1st month of the Hindu lunar calendar), or March or April in Gregorian months, every year, and marks the completion of Vasanta Navaratri (Chaitra Navaratri) although some Hindus, through the study of astrology, have come to conclude that Rama was born on January 10th, 5114B.C., This festival is celebrated not only in India but also all around the world. Devotees sing appropriate mantras, recite Rama stories, including the epic Ramayana, all day during this event. At noontime, devotees travel to temples or family shrines to offer flowers and fruits to Lord Rama. Bhajan and Kirtan is done as a part of puja and aarti. Fasting is also done by the devotees to mark this day. Devotees often construct an infant Rama idol and bathe him properly as one would do to a newborn baby. Ram Navami is also thought to commemorate the day Rama married his sole wife, Sita, in Southern India, and processions will include both of their images.
On this day, major celebrations are held in Ayodhya and Sita Samahit Sthal (Uttar Pradesh), Sitamarhi (Bihar), Janakpurdham (Nepal), Bhadrachalam (Telangana), Kodandarama Temple, Vontimitta (Andhra Pradesh), Ramanathaswamy Temple, Rameswaram (Tamil Nadu), Vaduvur Sri Kothandarama (Tamil Nadu). The chariot processions of Rama, Sita, his brother Lakshmana, and Hanuman, also known as Shobha yatras, are held at various locations. Many people in Ayodhya bathe in the sacred Sarayu River before visiting the Rama temple. Also not forgetting to add the fact that even though the celebration is named after Rama, it usually includes adoration for Sita, Lakshmana, and Hanuman, who played important roles in Rama's life story.
Date:
Rama Navami falls on the 10th of April in 2022.
Significance of Rama Navami
The festival's significance is that it represents the triumph of good over evil and the establishment of dharma to defeat adharma. It was on this day that Lord Vishnu was born as Lord Rama, the eldest son of King Dasharath of Ayodhya. And Lord Rama's birth aimed to eradicate Ravana's evil essence. The Ram Navami festival begins with a jal (water) offering to Surya (the sun deity) in the early morning to obtain his blessings. Surya's descendants are also said to be Rama's forebears.
Why is Rama Navami celebrated?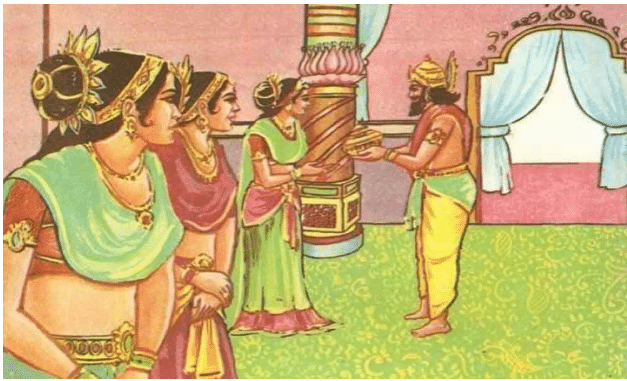 King Dasharath distributing the three of his wives the divine kheer
In the treta yug, there was an emperor named Dasarath who had three wives: Kaushalya, Sumitra, and Kaikeyi, according to the Ramayana, the Hindu religious epic. King Dasharath was concerned about the future of Ayodhya because he was an emperor with no offspring. As a result, the great sage Vasistha advised him to do the Putra Kameshti Yagna, which he believed would help him achieve his desire for a child. Maharshi Rishyasringa was called to perform the holy yagna. After the yagna, the Yagneshwar presented him with a bowl of heavenly kheer, which he was instructed to distribute to his three wives. As a result of his following the advice, three of his spouses conceived. On the ninth day of Chaitra maah (month) at the noon, queen Kaushalya gave birth to Rama who was the seventh avatar of  Lord Vishnu who grew up to vanquish adharma from the earth and maintained dharma by destroying all the asuras including Ravana for which he is also known as Maryada Purushottam. The inhabitants of Ayodhya were so pleased with their new king Ram that they began to commemorate his birthday as Ram Navami.
Celebrations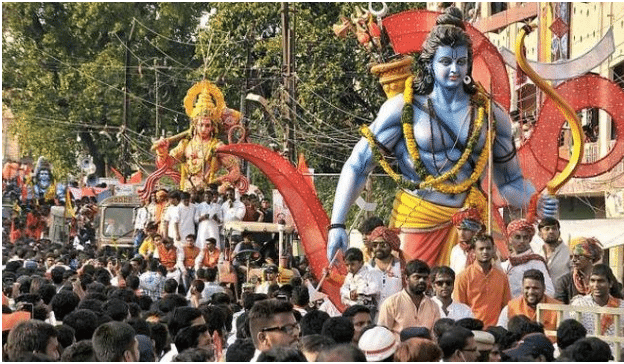 Statues of Lord Rama and Lord Hanuman in Rama Navami Mela at Ayodhya
Children cosplaying as Ram, Lakshman, and Sita in Rama Navami Mela at Ayodhya
Prior to the event, a continuous recital of the book Ramayana takes place during the month of Chaitra. The highlights of the story are read in the temple on Ram Navami. On Rama Navami, houses are properly cleaned, and a family shrine may be embellished with tiny figurines of Rama. After an early bath, flowers and fruit are placed on the altar, and prayers are recited. To memorialize the day, Hindus may fast or adhere to a strict diet that excludes particular items such as onions, garlic, and wheat products. Thousands of devotees attend ceremonies in significant locations associated with Sri Rama, such as Ayodhya in Uttar Pradesh and Rameswaram in Tamil Nadu. The Jagannath temples and regional Vaishnava community in eastern Indian states like Odisha, Jharkhand, and West Bengal celebrate Rama Navami marking the start of their yearly Jagannath Ratha Yatra in the summer.
Rama Navami outside India
Rama Navami is a festival that is observed all over the world, and not just in India. Many countries with Hindu descendants of colonial-era indentured workers who were forced to leave India, such as Trinidad and Tobago, Guyana, Suriname, Jamaica, and other Caribbean countries, Mauritius, Malaysia, Singapore, and many others, have continued to celebrate Rama Navami alongside their other traditional festivals. Hindus in Fiji and Fiji Hindus who have emigrated overseas also commemorate the occasion.
Other Articles