Though the first date of January is marked as an official day of the new year celebrated worldwide, an agricultural country like India residing close to nature welcomes a year coinciding with a season or time. Vaisakhi is one such auspicious spring festival that falls on April 13 or 14th (this year -2022 on 14th), marking the start of the solar new year.
Why on this date?
India, the land of gods, acknowledges every aspect of nature. Sun transits year long, one month each in a specific zodiac sign. Vaisakhi is when the sun completes its one solar cycle and enters into Aries from Pisces, marking it as the new year according to the solar calendar (followed mainly by Indians).
Even though it is said to be celebrated on April 14th, with passing time, the variations in solar rotations will extend this date further. For example, in 1809, it was celebrated on April 11th and is predicted to reach up to April 29th by the year 2999.
What happened on this day?
People who follow Sikhism offer their prayers for Sikh gurus first, being the Guru Nanak (founder of Sikhism); next to him were nine others. Spiritual masters of Sikhs called 'Sikh gurus' lookout for the well-being of their followers. Their preachings are considered holy books and act as guidance for a prosperous and happy life.
Formation of the first Khalsa:
On the day of Vaisakhi, in 1699, Guru Gobind (the 10th Sikh Guru) asked for a volunteer and took him into a tent, returning alone with a sword tainted with blood. Repeating this four times, the fifth time, all of them came out healthy and safe, and he named them Panj Pyaare -The beloved five. Baptizing them to a warrior community called Khalsa, giving them the surname of Singh, and initiating 5 K's tradition.
Jallianwala Bhag:
A tragic yet historic moment in India's freedom movement where few people gathered together to profess their distress towards the arrest of Satyapal and Saifuddin Kitchlew. It was April 13, the day of the Vaisakhi festival; Reginal Dyer acting Military officer of Amritsar announced the curfew to avoid grouping people. The people passing through the way to offer prayers at the golden temple and protestors got mixed up and expecting an escalation of the situation, shooting orders were given. The narrow passages of the bhag and forced closure of the gates turned out as a huge massacre.
How is it celebrated?
On this day, the holy place of Sikhs called Gurudwaras is decorated; people make sure to visit and offer their prayers. Sweets like Meethe Peele Chawal (mixture of dry fruits with sugar syrup), Aata halwa, Kesar phirni (rice and milk as major constituents), etc., are prepared in every home. People use this opportunity to come together and enjoy singing and dancing (mainly bhangra).
Nagar Kirtans
The holy books of Sikhs (Guru Granth Sahib) wrapped in a saffron cloth will be carried on a float guarded by Panj Pyaare all around the town (Nagar). All the way, people as a crowd accompany it as a procession singing hymns (kirtans). Finally, reach gurudwara, where people offer prayers and consume offered prasad as a blessing from their lord.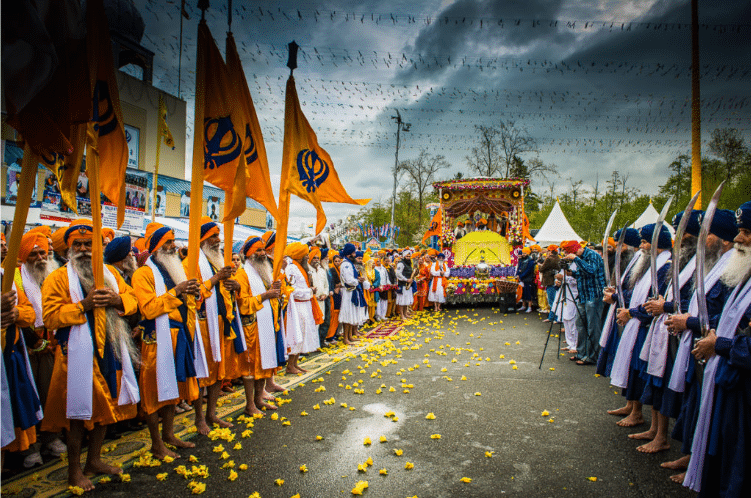 Interesting point:
Along with Sikhs celebrating Vaisakhi -marking the entry of the sun back into Aries (Zodiac Sign), several places/cultures celebrate it under different names. For Example – Puthandu (Tamil Nadu), Vishu (Kerala), Poyla Baishakh (West Bengal), Pana Sankranthi (Orissa), etc.
Other Articles