Hamburgers are popularly called burgers. A hamburger or burger is a sandwich stuffed with cooked meat as a roll or a bun. It is a portion of American food that has been in popular culture. Fast-food joints like McDonald's presented burgers in various shapes and sizes to grab the attention of the kids and the adolescents. Whenever a hamburger or burger clicks in your mind, you often visualize a hefty piece of sandwich with two or more buns stuffed with meat. 
With time, hamburgers have changed their contents from pure meaty stuff to vegetarian sandwiches as well. Your local fast food joints are responsible to make it widely popular among the kids and grown-ups alike. But the burger is often criticized for having higher calories. A typical McDonald's hamburger has 250 calories. Such a proportion of calorie intake seems to be harmful to our health as we lead a sedentary lifestyle.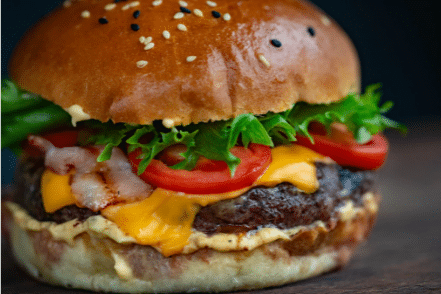 History of Hamburger
The origin of hamburgers can be traced to the 19th century with the German immigrants arriving in the US. The burger was considered a heavy meal for the European emigrants on their way to the US for a better future. The name hamburger is believed to be derived from the German city, Hamburg. A similar sort of toasted and roasted bread is served as a snack in Hamburg. As burgers arrived in America, within a decade or so, they found wide acceptance among the general population. 
Herein comes hamburger, the stereotypical American snacks. Burger got associated with the popular American culture. The Americans popularized barbecues in their backyard. The phenomenon led to the generation of fast-food stalls across the country. And burgers became a mandatory item for those stalls.
The hamburgers are easily accessible, cheap, and facilitated a full belly. Major fast-food restaurateurs like Wendy's, Burger King, and McDonald's exploited the popularity to encase their profitability.  
A typical hamburger
A stereotypical hamburger contains 250 calories stuffed with pure beef, alongside salt and pepper to enhance the taste. The burger can be customized as per the preference of the customers. You will often find the item having chopped onions, tangy pickles, mustard, and ketchup. Beef and burgers are synonymous with each other. 
Ingredients of a hamburger 
Regular bun

100% beef patty

Ketchup

Mustard

Onions

Pickles
Nutritional summary of a hamburger
Calories – 250

Total fat – 9 grams (11% of DV)

Total carbohydrates – 31 grams (11% of DV) 

Protein – 12 grams (25% of DV) 

Saturated fat – 3.50 grams (17% of DV)

Dietary fiber – 1 gram (5% of DV)

Calcium – 20 milligrams (2% of DV)

Total sugars – 6 grams

Iron – 3 milligrams (15% of DV)

Cholesterol – 30 milligrams (9% of DV)

Sodium – 510 milligrams (22% of DV)

Potassium – 200 milligrams (4% of DV)
From the nutritional table, it is clear that hamburger tastes quite nice but the nutrient level is low. Components like dietary fiber, calcium, and iron are minimal making the snacks item an unhealthy food. Its high proportion of taste makes it a popular ordered item, especially among the kids. The hamburger earns the wrath of the health-conscious people as such foods are making the kids prone to obesity, laziness, and unhealthy. The higher quotient of saturated fat in hamburgers is affecting burger lovers both physically and mentally.
Guilty pleasure in having hamburgers
Beef and hamburgers go well with each other. But we are often unaware that the beef is slaughtered indiscriminately to satisfy our taste buds. Typically, the male beef minutes off their birth make their way from the dairy farms to the slaughterhouse. So whenever you take a bite of your favorite hamburger at the preferred joint, try to remember the sacrifice of the calf who gave their lives for your hamburger. 
Again, the beef raised for meat contributes to global warming. The multinational giants are rearing kinds of beef to feed your burgers. Simultaneously, they are deteriorating the quality of living by troubling Mother Nature.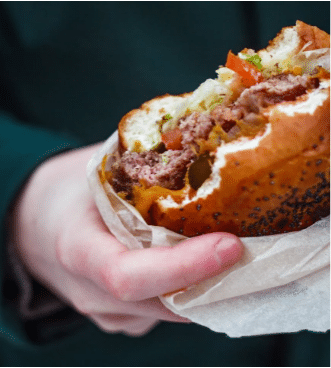 Wait! I am not asking you to give up your favorite burger. You can do your part by resorting to a vegetable burger to satisfy your taste buds, rather than the beef burger. If responsible people like you will change their food habits, the poor beef can be saved and you can also have healthy food options.
Other Articles