Introduction Laddo
Besan laddo is a sweet which is round in shape, yellow in colour and the main ingredient for the laddo is gram flour. It is also believed that it is one of the favourite sweets for lord Ganesh. Besan laddo is offered as a prasad for ganesh ji and it is the favourite prasad for many people. In India, festivals are incomplete without besan laddo. The states which are famous for laddos are Rajasthan, Uttar Pradesh. It is generally eaten after lunch or after dinner.
History
In the year 300-500 BCE, laddo was invented but it was only used as ayurvedic medicine so that the patient can consume the medicine very easily. In Laddo, some amount of sweet is also added so that the bitter taste of a medicine doesn't affect the person's taste bud.
Laddo was invented by a lady physician named Sushutra. After the inventions many varieties of ladoo came up and besan ladoo is one of its varieties.
There is another story of origin that Lord Krishna's mother invented the laddo to make Krishna ji happy.
Ingredients
2 cups of gram flour

1/2 cup ghee

3/4 of sugar

Cardamom Powder

Almonds, nuts
Recipe
It is very easy to make at home. Most of the people make besan ladoo for the festival.
Keep the roasted flour aside for about 15 minutes so that it cools down.

Add ghee to the other pan and let the ghee to be melted.

Now add roasted flour to the melted ghee.

Stir the mixture well so that the besan converts into a clump.

Add cardamom powder to the mixture and mix it well to make it a good mixture.

Keep the mixture aside for 15 to 20 minutes so that it cools down.

After the mixture cools down, add sugar, almond (pieces), nuts (pieces) into the besan mixture and mix it well to make it a dough.

Now take a pinch of dough into your palm and make it a round besan ladoo. 

For this amount of mixture one can get about 8 to 10 ladoos.
Try making it at home and enjoy the delicious besan ladoo.
Facts About Besan Laddo
Besan ladoo has a total of 302 calories in which carbohydrate has 152 calories, protein has 32 calories, fat has 122 calories.

Besan ladoo has folic acid in it which helps a person for a rapid growth of his/her body and foetus to grow inside the body, that is, besan ladoo is helpful during pregnancy. It also helps in the production of red blood cells and white blood cells.

Almonds present in the laddo maintains a person's cholesterol level. It is also said that it is good for diabetic patients as it has vitamin b1, vitamin b3, vitamin b9 etc.

Sugar in besan ladoo is harmful as we also call it a white poison. It is definitely poison for diabetic patients as well as the healthy person.

Dietary fibre present in the besan ladoo helps the heart patients as it reduces the risk of heart disease and it also helps in the flow of blood in the body.

Nowadays the mixture of besan ladoo can also be bought from a general store as a ready – made packet. In that we just have to place that dough into the palm and it is made into a round yellow shaped ladoo.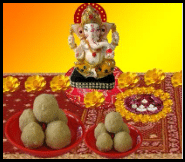 Conclusion
Besan ladoo is the tastiest ladoo ever. There will be no person on this earth who will not love besan ladoo even the people who will not love besan ladoo, even the people who haven't tried besan ladoo will love it. I would suggest that tourists who visit India or other neighbouring countries (Pakistan, Bangladesh, Sri Lanka, Nepal) should try having the tasty ladoos. As all the countries near to India have a similar culture.
internal links:
have you try it befor? if not, try it. Wheat Nankhatai- Erakina
Other Articles