Introduction
Lachha Paratha is one of the popular flatbreads popular in India and other surrounding countries. Lachha means ring which originated in Punjab. The dough prepared with flour is rolled and coiled like a ring. It is then flattened with a rolling pin to make paratha. Parathas are popular in various parts of India and are made with whole wheat flour or maida. They are eaten as breakfast, lunch, or dinner with different vegetables or curries. There are many varieties of paratha, Lachha is one of the popular ones. It can be served with vegetable curries, curd, chicken, or mutton. Some other ingredients like garlic or coriander are also added for a different flavor. Apart from India, parathas are popular in other countries like Nepal, Sri Lanka, Pakistan, Burma, Bangladesh, Singapore, and Mauritius.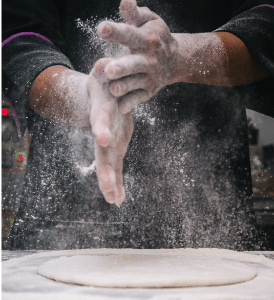 Lachha Paratha: Origin and method of making
Punjab is a state of India where paratha and roti is a staple diet made with wheat or maida(refined flour). This is a round, layered flatbread, rolled and folded with ghee frequently to get multiple layers. It is finally fried or baked in tandoor. When tandoor is not available everywhere nowadays, it is fried on Tawa in ghee or oil. Cooking in the tandoor was the traditional way which gives smoky texture and flavor. This is a crisp layered paratha that goes along well with curries and various other side dishes in India. Malabar paratha is also like Lachha paratha and is popular in Kerala.
Let's have a look at the simple recipe to make it:
Ingredients: 
Regular wheat flour – 4 cups
Water – 2 cups
Ghee – 1 cup
Dry flour – 1cup (for dusting during making)
Salt – 2 tsp
Method:
Mix flour, ghee, and salt in a bowl and add water slowly. Keep adding the water and knead it continuously until soft. Now keep the dough covered with a clean and wet cloth aside for 30 mins.
You can make 16 balls with this dough. If you want, you can divide as per the size of parathas you want. Roll the dough to make a circle and apply ghee. Make a flat paratha with a rolling pin and then make small pleats by folding it. Now again roll it and make flatbread with the rolling pin. Repeat the process again. The pleats help to make multiple layers in the paratha. When it is ready, fry it on a medium flame with ghee until crispy and golden. Serve hot. In case you want to avoid ghee, oil can also be used in this recipe.
Nowadays frozen Lachha parathas are readily available in the market and only need frying and it is ready to serve.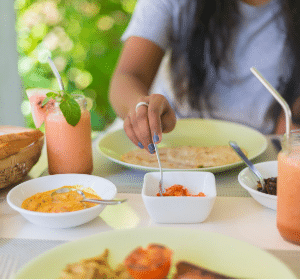 Health factors
Whole wheat paratha is always good for health compared to maida or refined flour. The fiber content in this bread helps burn calories and reduce weight. The presence of phosphorus and calcium makes it good for our bones. It is also a good source of magnesium, zinc, iron, manganese, and vitamin B. The magnesium content makes it good for diabetic patients. The presence of Iron and vitamin B9 helps maintain red blood cells in the blood and prevents anemia. It adds to the protein requirement when consumed regularly in the right portions. Carbohydrates and fiber aid digestion and are a good source of energy. 13 % of the total calorie requirement is present in one Lachha paratha which is around 250 calories. The ghee used in making parathas also adds health factors as it is a calorie-rich food. About 883 calories of energy are present in 100 ml of ghee. It has healthy fats and vitamins. The antioxidants present in ghee are good for healthy skin. Vitamin K is good for healthy bones as it helps in calcium absorption. It is always advised to use ghee instead of oil as it does not break into free radicals when the temperature is high. Free radicals are not beneficial and responsible for cancer or other diseases. Ghee also helps reduce anxiety levels and stress.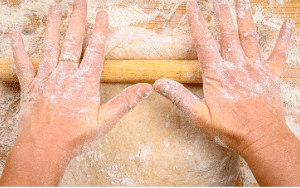 Conclusion
Making bread is an age-old tradition in various parts of the country. Lachha paratha also adds value to the cultural and traditional recipes. A little skill makes a beautiful golden layered Lachha paratha which adds extra taste and beauty to your meal. Some recipes or curries are enhanced for the company of Lachha paratha with it which is an additional benefit.
Other Articles