In Punjabi households, this delectable radish flatbread is typically eaten for breakfast or lunch, and it is a wholesome and pleasant meal when served with pickles, curd, or white butter. Even while not everyone enjoys radish, it has numerous health benefits.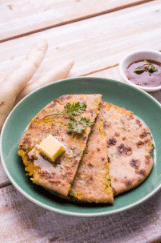 Mooli Paratha 
Mooli Paratha is a popular Punjabi whole wheat flatbread filled with spiced shredded radish stuffing and made with unleavened dough. This paratha is known as "mooli paratha" because it is filled with savory radish stuffing. 
It is commonly served with butter, curd, and pickles. When paired with mouthwatering curries, these unusually packed parathas are wonderful. It is most commonly eaten for breakfast. But it can also be eaten for lunch or dinner. As the paratha contains green chilies, a cup of hot tea works nicely with it.
These nutritious and hearty mooli parathas are made with grated radish, radish leaves, whole wheat flour, and common spice powders. This paratha can be made in two ways. The stuffing is sandwiched between two layers of dough. Alternatively, the stuffing can be combined with flour and kneaded into a dough.
The mooli paratha is fried on a flat griddle with a generous smear of ghee till crisp on the outside. You can't help but wander in for a sneak peek at what's on offer because the aroma is so tempting. This easy and quick to make mooli paratha is light, crispy and vegetarian, ideal for breakfast or lunch. They are so flavourful and full of calcium and minerals. 
During the winter in north India, mooli is a staple food in their diet, and they use it in a variety of ways, including this paratha. Punjabis have several different types of parathas, such as aloo paratha, gobi paratha, paneer paratha, methi paratha, and so on. Another popular paratha recipe from Punjab is the mooli paratha. 
The radish is a necessary ingredient in the mooli paratha. Radish is a root vegetable whose greens are also used in curry. These greens are extremely healthy and nutritious. It can be eaten raw or added to salads. However, some people dislike eating raw due to its strong flavour and odour.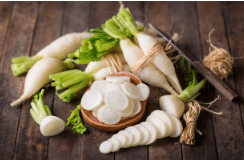 Various Benefits of Radishes:
Maintains your youthful appearance 
Radish, which is high in Vitamin C and antioxidants, can help protect your skin from free radical damage and premature ageing.
Make cardiovascular health better 
Radishes influence nitric oxide production. This relaxes the blood vessels, resulting in a reduction in blood pressure. 
If you include radish in your regular salad diet without going overboard, it will supply your system with enough roughage and fibres to aid digestion. It also controls bile production, protects your liver and gallbladder, and helps to prevent water retention.
Radish also contains potassium, which can help lower blood pressure and keep blood flow under control, especially if you have a history of hypertension. Radish is thought to have a cooling impact on the blood, according to Ayurveda.
The radish's high vitamin C content can help protect you from common colds and coughs, as well as boost your overall immunity. 
This root vegetable not only benefits your digestive system, but also aids in the treatment of acidity, obesity, gastric difficulties, and nausea.
Red radishes are abundant in vitamins E, A, C, B6, and K. It also contains plenty of antioxidants, fibre, zinc, potassium, phosphorus, magnesium, copper, calcium, iron, and manganese. Each of these has been shown to keep our bodies in good working order. 
You likely consume radish more in the summer because of its high water content, which keeps the body hydrated. 
It helps to prevent dryness, pimples, acne, and rashes. You can also cleanse your face with radish paste. It also helps to treat dandruff, prevent hair loss, and strengthen the roots when applied to the hair. 
Other Articles