How well do you know sausages – Erakina
Sausage is a kind of meat product that is available as seasoned and sliced meat. Sausages are generally ground meat either of pork, beef, or poultry items. Sausage comes from a Latin word, Salsus meaning salted. It bears the witness of the food processing mechanism that is in practice for centuries. It is a misconception that sausage is the product of the modern era. One can find the existence of sausages even in the ancient ages at the cradles of civilizations like Rome, Greece, and Babylon. 
We often come across sausages made of pork or beef. In contemporary times, sausages also come with other meats, vegetables, preservatives, and artificial flavors. Sausages are for the entire family. You can grab your favorite pack from the neighborhood store and take a few moments to prepare a lip-smacking dish for everyone. Today, we will go through a synopsis on your favorite dish – Sausage.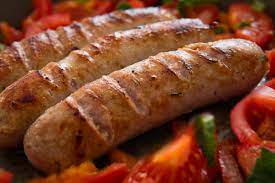 Sausages are adaptive in nature. People across different places have adopted different ways of preparing the dish and ornamenting it with other variants. You can use the sliced or crumbled sausages to enhance your soups, pasta, stews, stuffing, and casseroles. It will deliver a meaty flavor enhancing the taste of the dish. 
Again, you can have the sausages along with bun and mustard. The sausages can be baked into batter coupled with gravy and squashed potatoes. The smoked sausages are the most taste enhancer having the strongest flavor. You can have dried or smoked sausages with a cheese platter or fried rice. Just enjoy the meal! And let me know, how was it? 
Is it easy to cook sausages?
Sausages are available in varied options. You can have cooked as well as uncooked sausages from the market. There are bulk, ground sausages that you can either grill or bake or pan-fry into balls and patties. Sausages can also be stuffed into different dishes like soups or you can simply have it with your favorite sauce. 
The fresh sausages can be prepared by broiling, roasting, pan-frying, and even by boiling. I would advise cooking thoroughly the meat sausages, especially the pork and poultry sausages. You can either serve the sausages wholly or sliced.
There is also a craze for home-cooked sausages. The preparation is based on your convenience and you can choose the ingredients as per your preferences. Devices like a meat grinder, stand mixer, and sausage stuffer will make it convenient to prepare the sausages yourself.
Sausage is an exquisite delicacy that people belonging to different geography adopt different means to cook the dish. Similarly, you will find a variety of sausages in the market to choose from.
Fresh sausages are available uncooked in the market. You may find it in bulk or as casings in the supermarkets. The popular fresh sausages are Italian sausage, breakfast sausage, merguez, Mexican-style chorizo, and hot dogs.
The smoked sausage has the strongest flavor such as the Spanish-style chorizo, kielbasa, and Andouille.
Dried sausages possess a hard texture, alongside concentrated flavors. These are ready-to-eat items like salami, lap cheong, and longaniza.
With time, sausages are also available in different vegetarian and vegan flavors. There is an increasing demand for such options in the market. Sustainability trend is on the rise tending the sellers to source such vegan and vegetarian sausages. Such kinds of sausages are prepared using grains, pea proteins, tofu, and lentils. Though they are devoid of meat, the sausages are quite fresh and you cannot differentiate those from the conventional meat sausages. Both the sausages are similar in their texture and flavor making it a craze among the vegan and vegetarians.
Sausages are available in various flavors and you can choose at your convenience. You can buy your favorite sausage from the market, be it beef or pork. If you go for the smoked ones, it will provide a taste enhancer to your side dishes like soups and others. If you are enthusiastic enough, prepare the sausages at home and treat your friends and families with the sausages with your exclusive ingredients. 
Other Articles