Introduction
As plant-based food is gaining popularity worldwide, vegan dips are also creating their niche with uniqueness in recipes and nutritional benefits for vegans and non-vegans as well. While the focus remains on the amount of protein that can be gained from vegan products, as one of the common ideas of vegan food is low protein compared to animal meat or food products. With this demand for plant-based protein for vegan consumers, lentils, peas, chickpeas, and nuts were found as protein-rich and recognized by food trends in 2019. However, data shows that the demand for vegan dips is higher among non-vegan consumers than vegans as they complement nonvegan dishes.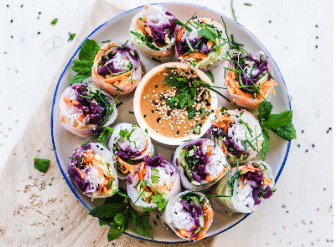 Types of Vegan dips & more
In the vegan dip section, Hummus was an all-time favorite and popularly enjoyed by food lovers worldwide. There are many kinds of packaged hummus available in the market as well. However, many other types of vegan dips are popular in the market, and some recipes are also easy to make at home. These dips are not only healthy but unique in taste and go along with many kinds of food prepared for any occasion. The base of these is mainly found as cheese, mayonnaise, and sour cream, which brings a creamy texture to the dip. When strictly vegan then, chickpeas, lentils, and beans are the base of the dips, while cheese is avoided. Spices and herbs add extra flavor and aroma with a unique taste. The other ingredients like fruits, vegetables, dry fruits, or lentils add nutritional value.
Let's have a look at some of the popular vegan dips which are healthy, tasty, and easy to prepare at home:
Vegan yogurt is blended with fruits like strawberries or blueberry to make a colorful bowl of fruit dip. Maple syrup or chocolates are also used for additional taste. Fruits are always a good source of vitamins and nutrients which are beneficial for health. They are also a good source of fiber and are low in calories. 
The main ingredients are avocado which can be combined with cilantro or any other herb. Lemon, pepper, or jalapenos are also added for tangy or spicy flavors. This is delicious and can be used like guacamole. Goes well with tacos, nachos, vegetables, chips, and more. Avocado is well known for its nutritional value as carbs, proteins, fiber, vitamin C, vitamin E and vitamin K, and other minerals like copper, folate, and magnesium. It is also rich in antioxidants and anti-inflammatory compounds.
All-time popular and one of the favorite dips are made with different ingredients, and new recipes are invented to date. While the authentic base ingredient is chickpeas, white kidney beans are combined with herbs like basil or thyme. Lemon, sesame seeds, garlic, ginger cilantro, olive oil, and sesame oil are popular ingredients used to make hummus. While hummus is a good source of protein and nutrients, high fiber content helps with weight loss. Olive oil, sesame seeds or oil, and chickpeas in hummus are antioxidants and have anti-inflammatory properties that help reduce inflammation related to various chronic diseases. 
Broccoli dip is prepared in many ways, and cheese or any other cream gives a different texture. Yogurt, herbs, garlic, and spices are also used to make broccoli dip. Broccoli is beneficial for multiple vitamins, minerals, and protein. It is a good source of Iron, vitamin C, vitamin K, potassium, and manganese.
A delicious bowl of spinach base dip is blended well with garlic, ginger, or onions. Cream cheese or mayonnaise can also be added for a creamy texture. Dairy-free cream or cream cheese can also be added to avoid dairy products. This healthy dip goes well with bread, sandwiches, tacos, and more. Spinach is one of the top green vegetables beneficial for health. It is a good source of calcium, Iron, Manganese, vitamin K and more. 
This is an attractive dip that works well with appetizers. French onions with sour cream, garlic, and some herbs like parsley and spices make a delicious bowl you want to enjoy with chips, tortillas, tacos, or veggies.
Roasted pepper dip belongs to the group of spicy dips. There are many varieties of spicy dips where pepper, jalapenos, etc., are used. In this case, pepper is roasted and blended with garlic, lemon juice, basil, or thyme leaves. Nuts like walnuts and almonds are used to make this dip.
Conclusion
While there are many things to enjoy as a vegan, dips are unique and enhance the taste of other foods as side dishes. This is a different way to enjoy healthy veggies and fruits and add nutritional value. However, many varieties of dips are readily available in the market; it is always refreshing and nutritious to make at home with fresh veggies and herbs. They blend well with almost all kinds of vegan and non-vegan food as side dishes worldwide and gaining popularity regularly.
Other Articles