Introduction to blackcurrant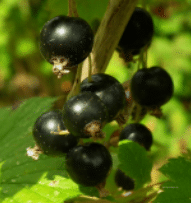 From jellies and jams to well-known skincare products and medicines, blackcurrant has made its way to our hearts! Let's have a look at some of the health benefits and facts about Blackcurrant.
Culinary Delights
The fruit is cooked with sugar to produce a puree from which juice is extracted. The puree is further processed to make cheesecakes, ice creams, yogurt, sorbet, marinades, wines, and other sweet dishes.
Health benefits
People use the whole blackcurant plant, from the leaves to the seeds, for many conditions. The most common form is blackcurrant seed oil, but you can also make infusions and teas out of the plant's leaves, fresh or dried.
People take blackcurant to help their:
blood flow
immune system
eye health
gut health
kidney health
Blackcurant extracts are shown to reduce risk factors for metabolic conditions such as type 1 and 2 diabetes.
Blackcurrants contain many vitamins, such as-
A
B-5
B-6
B-1
E
The most significant is vitamin C. In fact, blackcurrants carry four times the amount of vitamin C as oranges, and double the amount of antioxidants as blueberries.
The benefits of vitamin C are many. The body uses vitamin C to metabolize protein and form collagen, which is essential for skin care and anti-aging.
In addition to vitamin C, blackcurants have plenty of antioxidants and anthocyanins. These can help strength your immune system, soothe sore throats, and ease flu symptoms.
Blackcurant leaves also have a range of properties, including:
antimicrobial
anti-inflammatory
antiviral
antitoxic
antiseptic
anticancer
One study showed that blackcurrant supplements enhanced the immune response in people who exercised regularly. They could also train harder for longer periods of time.
Another study of healthy older adults showed that blackcurant seed oil boosted the immune system.
Grape-based drinks like wine and juice are known to help decrease plaque buildup, but blackcurant juice, as well as pomegranate juice, is far more potent.
Blackcurant is high in potassium and GLA, which can help lower your blood pressure too. The GLA also helps cells in your heart resist damage and slows down platelet clumping in your blood vessels.
In addition, one study found that blackcurant powder increased heart blood flow and decreased overall peripheral resistance. This suggests that blackcurrant may help you recover after exercise.
While hard to find in most U.S. stores, the blackcurrant-based drink Ribena is very popular in the U.K.
Skin peacful
Although there isn't much scientific research about blackcurrant seed oil and its effectiveness for skin conditions, the National Psoriasis Foundation recommends the oil to help ease psoriasis symptoms.
Taken orally, blackcurant seed oil can help slow the growth and development of psoriasis patches. It also can be applied directly to dry, itchy, or stinging skin.
Helps to prevent dry eyes
ResearchTrusted Source shows that GLA and linoleic acid, which are found in vitamin C, may be promising for treating dry eye. Thankfully, blackcurrants are packed with both of those.
Clinical trials with blackcurants found that these berries improve eye function, including:
the eyes' ability to adapt to the dark
blood flow to the eyes
slowed progression of visual field deterioration in people with glaucoma
symptoms of visual fatigue
People who do computer work every day may benefit from blackcurrant supplements. One study found that 1 tablespoon of blackcurrant berries reduced visual fatigue two hours afterward.
The berry with herbaceous and floral hints
The berry is native to central and northern Europe and is available across the globe. It is similar in size and shape to the blueberry while the flavor can be described as a mix of concentrated blueberry with citrus, pine, black pepper, anise, and other herbaceous and floral hints.
An easy addition to a home garden
The plants are best grown in fertile, wet soils and prefer cool winters. They can easily be added to a home garden with decent soil, sufficient irrigation, and annual pruning. Being tolerant to partial shade makes it ideal for a home garden. 
The power punch of nutrients
The berry is packed with pantothenic acid, pyridoxine, thiamine, iron copper, calcium, phosphorus, manganese, magnesium, and potassium thereby conveying good health. The berry thus boosts the immune system and keeps a check on several ailments. 100 grams of blackcurant contain 63 calories. The nutrient-packed berry can also be eaten raw. 
A superfood
Blackcurrants hold more vitamin C than oranges and blueberries in addition to an excess of zinc which is missing in any other vegetable. The berries are thus considered a superfood.
Application in the cosmetic industry
The berries are seen in the bush 70 to 100 days after pollination. They are arranged in drooping clusters. A single bush holds 3 to 10 pounds of fruit per season. The insides of the fruit hold edible seeds and soft flesh. The fruit is itself tough on the outside. Oil extracted from the seeds of blackcurant has a wide application in the cosmetic industry.
Blackcurrant leaves for health and taste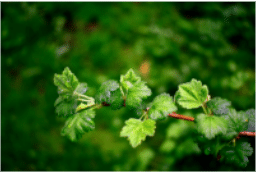 Apart from berries, the blackcurant plant is valued for its leaves. The leaf extract increases the secretion of cortisol by the adrenal glands which are useful in stress-related conditions. The herbal leaves are rich in Vitamin C and contain gamma-linolenic acid and anthocyanins that boost immunity.

The leaves work wonders for pain and itch of minor wounds and insect bites. The blackcurrant leaves are therefore used for flavoring tea and preserves like the salted cucumbers in Russia. Sweetened vodka is often infused with leaves for an astringent taste and a tart flavor.

The leaves are alternately arranged on the branch and release a pleasant aroma of being crushed. They hold a pale green tinge with five palmate lobes and serrated edges. The plant is perennial and can survive from 15 to 30 years in the wild. The plants propagate by seeds and cuttings.
The bluish pink flowers of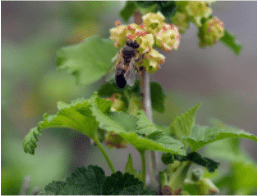 Bluish pink flowers are arranged in clusters composed of 10 to 20 individual flowers. The flowers attract hoverflies and honeybees for pollination. They are also capable of self-pollination and contain both types of reproductive organs. Each flower has a hairy calyx with yellow glands with five longer lobes (longer than the petal), five stamens around the stigma and style, and two fused carpels.
Beers featuring (For artisan makers)
The berry has gained popularity from the complex flavors that result in its fermentation. Beers have been brewed featuring blackcurant as an ingredient. The artisan makers on the horizon in the alcohol business make use of the berry artistically.
internal links:
Other Articles