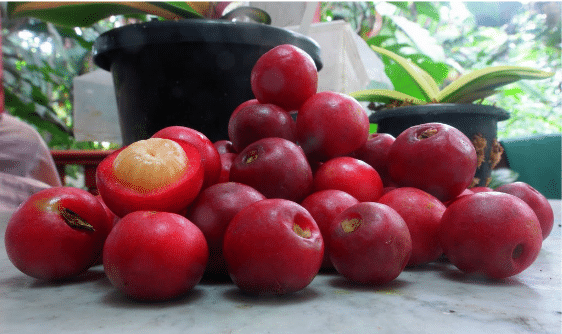 Scientific Classification 
Kingdom – Plantae 
Class – Tracheophytes
Class – Angiosperms 
Class – Eudicots 
Class – Rosids 
Order – Malpighiales 
Family – Clusiaceae 
Genus – Garcinia 
Species – G. parvifolia 
The kundong otherwise known as Brunei cherry or Asam aur is native to Borneo, Sulawesi, Peninsular Malaysia, and Sumatra. Kundong is a tropical evergreen tree, the tree is found in humid environments and grows to a height of 33 meters, and the tree is found at elevations of around six hundred to eight hundred meters.
About Kundong
Kundong is a cherry-sized fruit that has red or yellow skin and is very juicy.

The kundong trees cover a very large area and are classified in the sub-canopy category.

The kundong of the tree excretes white or yellow latex, the leaves have no trichomes.

The flowers of kundong are 9 mm in diameter and are white or yellow placed in the leaf axis.

The fruits of kundong are 17 mm in diameter and are yellow, red or orange in color, the fruits are fleshy and juicy berries and have seeds with white anil. 

The kundong trees are usually found in hillsides and ridges, but can also be found in alluvial soils and alongside rivers.
Cultivation of Kundong
The majority of kundong trees grow in the wild but can be cultivated in gardens. The kundong propagates through seeds that take six months to germinate.

For cultivation, the tropical humid climate is best suited, the kundong is a fast-growing tree and can start producing in four years.
Kundong fruit uses 
Generally, the kundong plant is used as a rhizome for the mangosteen. 

The wood of kundong is used multipurpose like in furniture or carving.

The fruits of kundong are sour flavoured and are suitable for eating.

The juvenile leaves and young sprouts are used as a vegetable.

Kundong is also used for flavouring other foods.
Other Articles