Totapuri mango is one of the popular mangoes mainly grown in South India. It is also grown in parts of Sri Lanka. While it is popular as Totapuri, the other names used in South India are Ginimoothi Maavina Kai. The color of the fruit is greenish-yellow, and the mango trees are medium-sized. 'Tota' means parrot in Hindi. The shape of these mangoes is like a parrot beak in one corner and thus named Totapuri and Kilimooku mangoes. These mangoes are pulpy yellow and juicy when ripe whereas also consumed in raw condition with salt and chilly. The sweet taste of ripe mangoes and the tangy chewy raw mangoes make it fascinating and thus it is also popular as the 'King of fruit'.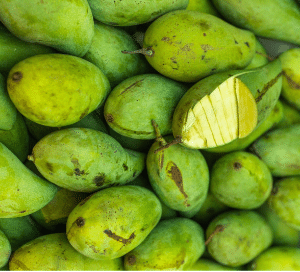 Totapuri Mango Benefits
There are various benefits of this fruit. These vibrant and oblong-shaped delicious fruits are also good for processing and the best quality of concentrate is obtained.
Let us look at the health benefits packed in this fruit.
Supports and helps improve eye health
The presence of Beta carotene and vitamin A vitamins in Totapuri mangoes makes them incredible fruits. These vitamins are essential for the better functioning of the retina.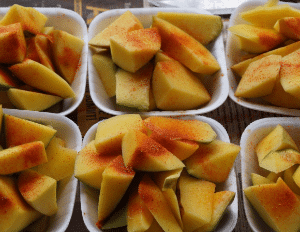 2. Good for the Brain
These mangoes are rich in vitamin B6, and iron which supports healthy brain functioning. These are also essential for the cognitive development of the brain.
Beneficial for heart and prevents stroke
A balanced amount of consumption of this fruit reduces body fat and blood sugar. The antioxidant beta-carotene content in these mangoes fights free radicals and prevents heart disease. Totapuri mango concentrate is high in potassium, maintains sodium levels, and fights heart stroke.
Strong Bones
The presence of vitamin C in Totapuri mangoes aids the formation of collagen. This helps in the formation of healthy bones and connective tissues.
Improves digestion and immunity
The fiber content present in Totapuri mangoes helps clean the colon and prevents constipation. The digestive enzymes help break down proteins and support the digestive system. This Zinc and vitamin C content in Totapuri mangoes helps improve immunity.
Prevents Asthma
The presence of vitamin C in these mangoes is beneficial for asthma patients and helps in asthma treatment.
Lowers risk of kidney stones
Potassium and vitamin B6 help prevent kidney stones. Totapuri mangoes are a good source of these vitamins which help prevent kidney stones.
Totapuri mango pulp or concentrate is also popular and is used in various ways like mango shakes, desserts, or ice-creams. It adds nutritional value and enhances the taste when used in making salads, salsas, or smoothies. It can be easily added to different types of recipes in your regular diet to enjoy the benefits and taste.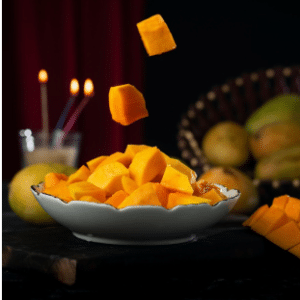 Cultivation facts
Mango is one of the highest amounts of fruit produced in India. It is the King of fruits close to Indian culture and tradition. The cultivation faces issues due to irregular rainfall many times. Due to irregular production, it also faces fluctuation in prices. It also affects the mango processing industries. Andhra Pradesh Tamil Nadu, Karnataka, and Gujrat are the highest mango processing states in India.
The fruit harvest is good and the season of Totapuri mango starts from April till July. There was about a 25-30% drop in mango production this year due to heavy rainfall. Compared to last year the price of Totapuri increased by 30-40%. The Mango market suffered problems and losses during Covid 19. Due to the rise in steel price, labor costs, packaging charges, and fuel costs also increased. Unexpected rains and weather conditions always affect the production and pricing of mangoes every year. The harvesting season in south India is between April to July and in north India is between June to August which faces problems with irregular rainfalls. Sometimes the mango cultivators face issues related to cold storage which creates distress and then they think of leaving mango cultivation as well. The government has helped farmers many times during distress by giving subsidies or other solutions related to the sale. Problems related to pulp manufacturers also come which are managed by the government from time to time.
Conclusion
Although there are a lot of issues with cultivation, the popularity of the Totapuri mango remains intact. It is enjoyed in various ways and with different varieties of food throughout India. Not only for the taste and color, but it is also full of nutrients and an integral part of Indian culture.
Other Articles