THE TAILLESS AMPHIBIANS: FROG – ERAKINA
Frogs are considered as any member of a diverse and largely carnivorous group which consists of short bodied, tailless amphibians composing the order Anura.
These species are widely distributed ranging from the tropics to subarctic regions, but to be specific the greatest concentration of species diversity is in tropical rainforest. Frogs hold an account for around 88% of extant amphibian species.
The species of Anuran are one of the five most diverse vertebrate orders. There's also a Warty Frogs species which tend to be called as toads, but the fact is the distinction between Anuran and toads is informal; not from the taxonomy or evolutionary history.
Frogs are among the most well-known and diverse members of the order Anura, which comprises tailless amphibians.
These fascinating creatures have captured the human imagination for centuries. Here's an overview of frogs in effective human-friendly content:
1. Appearance and Diversity: Frogs are characterized by their distinct features, including smooth, moist skin, long and powerful hind legs built for jumping, and webbed feet for efficient swimming.
Their body shapes and colors vary greatly, ranging from small, brightly colored tree frogs to large, cryptic, and earth-toned bullfrogs.
With over 7,000 species, frogs are found in a wide array of habitats across the globe.
2. Lifecycle: Frogs undergo a remarkable metamorphic lifecycle. They start as aquatic, legless tadpoles with gills, and then transform into terrestrial, lung-breathing adults with legs.
This unique process is essential for their adaptation to both water and land environments.
3. Skin and Glands: One of the most distinctive features of frogs is their permeable skin. This skin not only allows for respiration but also enables them to absorb moisture and oxygen through it.
Some frogs have toxic or brightly colored skin to deter predators, while others secrete chemicals that can be harmful or even lethal.
4. Vocalization: Frogs are renowned for their vocal abilities. Males produce a variety of calls to attract females and establish territories.
Each frog species has a distinct call, and the sounds can range from melodic chirps to deep croaks.
5. Feeding Habits: Frogs are carnivorous and primarily feed on insects, spiders, and other small invertebrates.
Their long, sticky tongues allow them to catch prey with precision. Some larger species may also consume small vertebrates like other frogs and even small birds.
6. Ecological Role: Frogs play a vital role in ecosystems. They help control insect populations, acting as natural pest controllers.
They are also important prey for a variety of predators, contributing to the balance of many food webs.
7. Conservation Concerns: Many frog species are facing significant threats, including habitat destruction, pollution, climate change, and the deadly amphibian chytrid fungus.
Conservation efforts are essential to protect these amphibians and maintain biodiversity.
8. Cultural Significance: Frogs have played roles in myths, folklore, and art throughout human history.
They are often associated with transformation and adaptability due to their intriguing life cycle.
Humans value Anuran as a food resource and also have many cultural roles in literature, symbolism and religion.
These species are seen as environmental bellwethers, considering decline in Anuran populations often viewed as early warning signs of environmental damage.
There's a statistic that shows a significant decline in frogs population since the 1950s. 120 types are believed to have become extinct since the 1980s and more than one third of the species are considered to be threatened with extinction.
EVOLUTION OF FROG SPECIES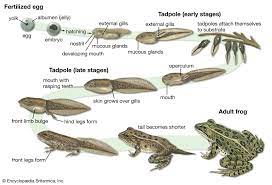 The origins and evolutionary relationships are hotly debated between the three main groups of amphibians.
In 2005, a molecular phylogeny based on rDNA analysis suggested that salamanders and caecilians are more closely related to each other than they are to Anuran .
Eventually the divergence of the three groups took place in the Paleozoic or early Mesozoic before the breakup of the supercontinent Pangaea and soon after their divergence from the lobe-finned fishes.
Some scientific research says that another molecular phylogenetic analysis conducted about the same time concluded that Lissamphibia first appeared about 330 million years ago and that the temnospondyl-origin hypothesis is more credible than other theories.
While agreeing with the main thrust of this study, other researchers questioned the choice of calibration points used to synchronize the data.
A study was made in 2011 that postulated, Lissamphibia originated no earlier than the late Carboniferous, some 290 to 350 million years ago.
There was a split between Anura and Caudata which was estimated as taking place 292 million years ago, but later most molecular studies suggest with the caecilians splitting off 239 million years ago.
True Frogs, also the earliest known species that fall into the anuran lineage proper, all lived in the early Jurassic period.
Among this, one such early frogs species was discovered in 1995 in the Kayenta Formation of Arizona and dates back to the early Jurassic epoch around 175 million years ago, making Prosalirus somewhat more recent than Triadobatrachus.
According to study there's another early Jurassic which is Vieraella Herbsti, known only from dorsal and ventral impressions of a single animal and was estimated to be 33 mm from snout to vent.
The genetic studies state that the families Hyloidea, Microhylidae and the clade Natatanura diversified simultaneously some 66 million years ago.
All over the earth's continent there has been the existence of Anuran species.
It was announced in 2020 that 40 million year old helmeted  fossils had been discovered by a team of vertebrate paleontologists in Seymour Island on the Antarctic Peninsula,
eventually indicating that this region was once home to Anuran related to those now living in South American Nothofagus forest.
LIFE HISTORY OF FROGS 
Just like other amphibians, the life cycle of a Anur normally starts in water with an egg that hatches into a limbless larva with gills which are commonly known as tadpoles.
Later after certain growth, during which it develops limbs and lungs, the tadpole undergoes metamorphosis in which its appearance and internal organs are rearranged. When we talk about reproduction frogs have two main types, the prolonged breeding and explosive breeding.
Most of the  return to the bodies of water in which they developed as larvae.
Talking about prolonged breeders, male usually arrive at the breeding site first and remain there for some time whereas females tend to arrive later and depart soon after they have spawned.
This shows that male outnumber females at the water's edge and defend territories from which they expel other males.
These breeders tend to call in unison creating a chorus that can be heard from far away. Infact, mate selection and courtship is not as important as speed in reproduction.
The life history of frogs is a fascinating journey that begins with their unique development from tadpoles into fully grown adults. Here is an overview of the life history of frogs in an effective human-friendly format:
1. Eggs: Frog life begins in water when adult frogs lay eggs. The female releases her eggs, and the male fertilizes them by releasing sperm. These eggs are often found in clusters or strings and are covered in a jelly-like substance to protect them.
2. Tadpoles: From the eggs, tadpoles hatch. Tadpoles are aquatic and have a fish-like appearance. They breathe through gills and undergo a series of transformations as they grow. They primarily feed on algae and plant material.
3. Metamorphosis: Over time, tadpoles go through a process called metamorphosis. During this stage, they start to develop legs, lose their gills, and develop lungs for breathing. Their tail also gradually disappears, and they start resembling adult frogs.
4. Juvenile Frogs: Once the metamorphosis is complete, tadpoles have transformed into juvenile frogs. These young frogs have small, underdeveloped limbs and a more adult-like appearance, but they are still smaller than fully grown frogs. They leave the water and begin living on land.
5. Adult Frogs: With time, the juvenile frogs grow into fully mature adult frogs. They develop their adult characteristics, including the ability to reproduce. Adult frogs are typically well-adapted to their specific habitat, whether it's a forest, pond, or grassland.
6. Reproduction: Adult frogs reach sexual maturity and start the process over again. They return to the water to lay eggs and fertilize them, completing the cycle. Different frog species have unique breeding behaviors and calls.
7. Lifespan: The lifespan of a frog can vary depending on the species, but it typically ranges from a few years to over a decade.
8. Ecological Importance: Frogs play a vital role in ecosystems by controlling insect populations and serving as a food source for various predators. They are also indicators of environmental health, as they are highly sensitive to changes in their habitat.
9. Threats: Frogs worldwide face numerous threats, including habitat loss, pollution, climate change, and diseases like chytridiomycosis. Conservation efforts are essential to protect these important amphibians.
However, at the breeding site, the male mounts the female and grips her tightly round the body.
In this process, the amplexus takes place in the water, the female releases her eggs and the male covers them with sperm where fertilization takes place externally.
CERTITUDE OF ANURAN
The concept of "certitude" typically refers to a high degree of certainty or assurance about something. When it comes to , certitude would generally involve scientific knowledge and facts rather than subjective beliefs. Therefore, to express certitude , you might use phrases such
A group of frogs are called an army.
Frogs drink water through their skin.
Frog species are found all over the world.
World's largest Anuran species is known as the "GOLIATH FROG".
A frog's eyes and nose are on the very top of their head.
A frog's call is unique to its species and some frog calls can be heard up to a mile away.
Certitude of anuran" is not a common phrase or term used in the context of frogs (anurans). However, if you are looking for information on the certainty or characteristics of anurans, I can provide a general overview in effective human content:
1. Anuran Characteristics: Anurans are a group of amphibians that includes frogs and toads. They are known for their unique characteristics, such as long, powerful hind legs, webbed feet, and the ability to jump.
2. Diversity: Anurans exhibit a wide range of diversity in terms of size, color, and habitat. There are thousands of species found on almost every continent, except Antarctica.
3. Lifecycle: Anurans go through a metamorphic lifecycle, beginning as aquatic tadpoles with gills and eventually transforming into terrestrial, lung-breathing adults. This metamorphosis is a key feature of their life cycle.
4. Skin: Anurans have permeable skin, which allows for gas exchange and makes them sensitive to environmental changes. Many species have toxic or brightly colored skin to deter predators.
5. Vocalization: Most anurans are known for their vocalizations, which are used for mating and communication. The calls of frogs and toads can vary significantly between species.
6. Diet: Anurans are carnivorous and primarily feed on insects, spiders, and other small invertebrates. They use their sticky tongues to capture prey.
7. Ecological Importance: Anurans play a crucial role in ecosystems by controlling insect populations and serving as a food source for various predators. They are also used as bioindicators for environmental health.
8. Conservation: Many anuran species are facing threats such as habitat loss, pollution, and disease, making conservation efforts essential to protect their populations.
CULTURAL BELIEF ON ANURAN
Frogs are predominantly featured in folklore, fairy tales and popular culture.
They have a propensity to be portrayed as benign, ugly and clumsy but with hidden talents.
Animals are worshipped by the Moche people of ancient Peru and they often depicted frogs in their art.
In Panama they have a strong belief that good fortune would come to anyone who spotted a Panamanian golden frog.
In ancient Egypt, Anuran are considered as a symbol of fertility, water and renewal.
Good Luck and Transformation: In many cultures, frogs are seen as symbols of transformation and good luck.
Their life cycle, from tadpole to adult, is often associated with personal growth and change. In some Asian cultures, a Anuran with coins in its mouth is believed to bring prosperity and wealth.
Rain and Fertility: Frogs are often associated with rain and fertility in various cultures. In many African societies, the appearance of is seen as a sign of impending rain, which is crucial for agriculture.
In ancient Egypt, the headed goddess Heket was associated with fertility and childbirth.
Symbol of Cleanliness: In Hinduism, Anuran are associated with cleanliness and purification.
The frog is considered the vehicle of Lord Varuna, the god of water. In this context, Anuran are believed to purify water bodies and keep them clean.
Witchcraft and Transformation: In some Western cultures, particularly during the Middle Ages, frogs were associated with witchcraft and transformation. Witches were believed to use Anuran  parts in their potions and spells to bring about various effects.
Negative Omens: In some cultures, seeing or hearing a frog at night is considered a bad omen, often associated with death or misfortune.
This belief is prevalent in parts of Western Europe.
Folklore and Myths: Frogs often appear in folklore and myths, playing both positive and negative roles.
In Aesop's fables, the story of the "Frog and the Ox" teaches the moral of not trying to be something you're not. In other stories, Anuran may be portrayed as wise and knowledgeable creatures.
Sacred and Shamanic: In some indigenous cultures, frogs are considered sacred animals.
They are associated with shamanic practices and are believed to connect the spiritual and natural worlds.
The poison dart Anuran , found in Central and South America, has been used in shamanic rituals for its toxic properties.
Kissing Frogs: The fairy tale of "The Anuran Prince" popularized the idea of kissing a frog to turn it into a prince.
This story has been interpreted in various ways, including themes of inner beauty and transformation.
-by PRITISH PAUL
Content Writer (Erakina By RTMN)
18/10/2023
Other Articles