The soft toy industry may be booming today with different cute named toys; the first thing that pops in our head will be Teddy bears. I am sure that we all had that one stuffed toy that was included as a family member at some point in our lives. I treated my mickey mouse like my little brother and held to him for many long hours.
Trivia Behind the name
Girl sitting on a bench  holding a soft white teddy bear
Would it be shocking to know this popular soft toy is named after the 26th U.S President Theodore Roosevelt? Crazy, right?
Back when hunting was still legal, Mr. Roosevelt was invited by the governor of Mississippi for a bit of escapade in the forest. After a long day, having not gotten any luck, it ended as a disaster; the commander Holt, tied up a bear chased and found by the hounds and made the day for the president.
Finding no fun in killing the tied bear, Theodore Roosevelt (referred to as Teddy, which he detests) called it a night and left.
The word spread across, and the political cartoonist had a satirical take on the situation published in the 'Washington Post.' Not only grabbing everyone's attention, but it also inspired an idea in Morris Michtom, thereby making the plush soft toy and named teddy's bear.
Characterizing teddy bears in the fictional world through cartoons movies – this soft toy bagged a place in everyone's heart. Even after a century, love remains the same for adults and kids.
Hectic procedure
A smaller one to the bigger one, irrespective of the size, demands a ton of work involving various steps from designing to packing.

A perfect design is finalized after making prototypes and checked for softness, ability to sit still, cuddle friendly and appeal. 

Fabric that could be plain, plush or terry cloth is cut part by part and stitched separately as in hands, ears, body, legs, which in the end knotted together.

Filling the fabric is another vast task; lacking precision makes the toy stiff or baggy.

Earlier, cotton was the only stuffing material. With time, the industry has evolved in using varied materials like wool, plastic pellets, or straw. This material should be metal-free therefore often passed through metal detectors.

External additions like Eyes and whiskers are done separately in another section and finally sent for weight measurement and labeling.

The faulty (over or under weighed) toys are sent back for alterations. The appropriate ones are sealed after the final metal detection test is packed and stored.
Precisely, the soft toy industry is labor-intensive and thereby a source of employment for many skilled and unskilled workers.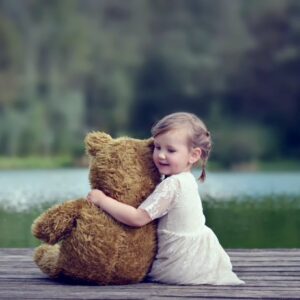 Intersting Points about Teddy bear
Teddy signifies what?

– Every object, color out there conveys something. Even though it is a man-made symbolization, they are formed by collective opinion. A teddy displays unconditional love with its warm cuddles, hugs, and innocence that captivates your heart.

Teddy bear day –

Annually, September 9th is celebrated as Teddy days, popular among kids. Kids are gifted with teddy on the day, adding joy to their little lives. Well, a teddy is the best buddy in the child's life so that they can hold on to it in their sleepy nights through good and bad dreams.

Psychological Impact –

Studies show that this teddy, the soft toy, being the child's first friend, could be an emotional tool in the upbringing. It comforts them and makes them feel always accompanied by someone they can rely on. 

Teddy bear museum –

This is a place to display the varied collections of teddy bears, first started in 1984 in Hampshire, England, by Judy Sparrow (closed since 2006). Inspired by this, several places opened teddy museums. A few noteworthy are the Jeju Teddy Bear Museum in South Korea, the V&A Museum of Childhood in a town of England, and many more. (Nothing as such in India)

Teddy day is Valentine's week –

Before reaching the day of love, February 14th, we have a series of special days to make our loved ones feel special. And what soft toy would rise to the occasion other than teddy- the heart warmer and cuddler. After Rose, Propose, and Chocolate day, teddy day takes place to win the heart of our partners. This year it is on February 10th (Thursday), and I know what you all will be doing.
 No matter how grown-up you are, you can never be too old for a teddy.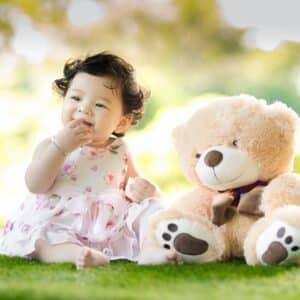 A happy kid cuddling with a brown teddy bear at green grass
Internal links:
"The Bear That Can Run 35 Miles Per Hour"– Erakina
Double doodle:The cute dog tale – Erakina
External links:
<
p dir="ltr">Read more about teddy bear
By Anusha Velamuri 
Date: 6/Feb/2022
Other Articles