The Wildlife Protection Act of 1972 established the Sukhna Wildlife Sanctuary in March 1998 to protect Chandigarh's landmark Sukhna Lake and its watershed area, which is home to lush forest and a diverse range of flora and wildlife.
 Sanctuary's view from Midway of Sukhna lake, Chandigarh
Sukhna Wildlife Sanctuary and its history 
Sukhna Wildlife Sanctuary is located near Sukhna Lake in Chandigarh's Shivalik Hills. Sukhna Lake is around 2 kilometers away. It stretches across 26 square kilometers (2600 hectares) of wooded land at the foot of the Shivalik Hills, across the plains. The Shivalik Hills are ecologically delicate and geologically unstable, making them particularly vulnerable to rain induced soil erosion. The Shivaliks' soil is sandy, with pockets of clay contained in it, and is easily eroded by surface runoff.
The Sukhna Lake's rain-fed catchment basin is partially within the Wildlife Sanctuary's boundaries. The Sukhna Wildlife Sanctuary's catchment region includes roughly 150 small and large water bodies in addition to the Sukhna Lake. Migratory birds flock to these bodies of water, which also feature a diverse population of resident bird species. 
Sukhna lake in chandigarh india during the evening with rain clouds over it
The Sukhna Lake and the Sukhna Wildlife Sanctuary have a shared history. Sukhna Lake was planned and created as part of Chandigarh's development plans in the 1960s and 1970s. It was a man-made lake supplied by rainwater collected from the Shivalik Hills' catchment areas. Siltation was a major issue for Sukhna Lake that needed to be addressed, and it was mitigated by a variety of engineering and soil conservation techniques. A large-scale afforestation programme was implemented in the catchment areas, resulting in a good forest cover developing in the catchment area and effectively addressing the problem of lake siltation. Over five decades, the deep forest region grew in size and became home to a diverse range of animals and plants. Sukhna Wildlife Sanctuary was established as a protected area in this forest.
Protection of a diverse range of flora and fauna 
Sukhna Lake Wildlife Sanctuary is home to a diverse range of mammals, birds, reptiles, butterflies, and microbes. It is said to contain the highest concentration of Sambar in a group or cluster than any other location in the country. The Sanctuary is home to Spotted Deer, Pangolin, Wild Boar, Jackal, Small Indian Civet, Jungle Cat, Porcupine, Hanuman Langur, Rhesus Monkey, Indian Hare, Mongoose, and Squirrel.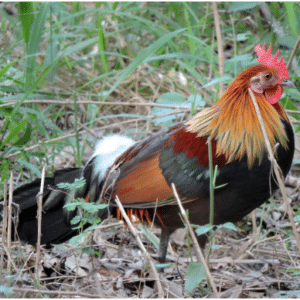 Jungle fowl, Sukhna Wildlife Sanctuary, Chandigarh, India
Peacock, Red jungle fowl, Grey partridge, Cuckoos, Night jars, Golden Oriole, Kingfisher, Swifts, Hoopoes, and different sparrows are among the more than 150 species of birds, including aquatic birds. Reptiles include snakes such as Cobra, Rat Snake, Common Krait, Russell's viper, Indian Python, Common Monitor, Turtle, and others.
 Stages at Sukhna Wildlife Sanctuary, view from the middle way of Sukhna lake Chandigarh, India
Acacia catechu (Khair), Acacia Arabica (Kikar), Dalbergia sisoo (Shisham), Anogeissus latifolia ( Chhal), Azadirachta indica (Neem), and Butea frondosa (Dhakk) are among the trees, shrubs, herbs, grasses, and climbers found in the sanctuary. The Sanctuary's fauna has access to numerous water holes, grazing fields, and healthy plantations, including the natural regeneration of indigenous species. 
Nature Trail is a Sukhna Wildlife Sanctuary situated near Sukhna Lake, Chandigarh
The Department of Forests and Wildlife, Chandigarh Administration, has built "Nature Trails" across the sanctuary to encourage ecotourism and to educate and generate awareness among the public about our rich floral and faunal history. The Sanctuary has two entrance gates: Kansal Gate and Nepli Gate. To visit the sanctuary, visitors must first obtain permission from the department. The department's major priority is proper wildlife conservation and protection. 
19 May 2022
Other Articles