Agra
Agra is located in the Indo-Gangetic plains of India. It is also called the 'City of Taj'.
It is a great historical region with emperors of the Sultans and Mughals who ended up building numerous monuments, tombs, and many beautiful architectural splendours. It is an ancient city from the Mahabharata period and was founded by Sultan Sikandar Lodi in the year 1504. In the Mahabharata period, present Agra is known as Agravana which is illustrated. The present Agra is a city on the banks of River Yamuna. In India, it is the 23rd most populous city. It is also known as Akbarabad in the period of the Mughal empire. It is the place where Great Monuments are built as a sign of prowess to remind all brave men and women, who lived in such overwhelming edifices.
A few places that everyone should visit in Agra are:
AGRA FORT
Agra Fort is the first and foremost place that everyone should visit in Agra.
It has around 4.8kms from Agra railway station.
The Fort is not only for public access but some areas are covered by the Army where the public is not allowed.
They were allowed only through Amar Singh gate.
While entering, you will come across the Hall of the pavilion in which the pillars are constructed by Shahjahan.
Nagina Masjid and Mina Masjid are beautiful mosques with royal pavilions present inside the Fort.
While it is a gold ornament for India, the Agra fort becomes the Diamond placed over it to fulfil the elegance of the Ornament.
The convoluted carvings and aesthetic clean marbles attract visitors so that everyone's heart falls for it. For your information Agra fort is also called 'LAL-QILA', 'Fort Rouge' or 'Qila-i-Akbari'.
It has the certification as a UNESCO World Heritage site. This Fort was built by Mughal Emperor Akbar with 4000 workers in 8 years.
Speaking of Agra Fort, I cannot neglect the elegant structures like Sheesh Mahal, Moti Mahal, Jahangir's Palace and Khas mahal which give spellbound attraction.
It is spread around 94 acres, and it takes around 2 hours to visit.
Agra Fort is a symbol of Power and Glory as it has been standing tall till now.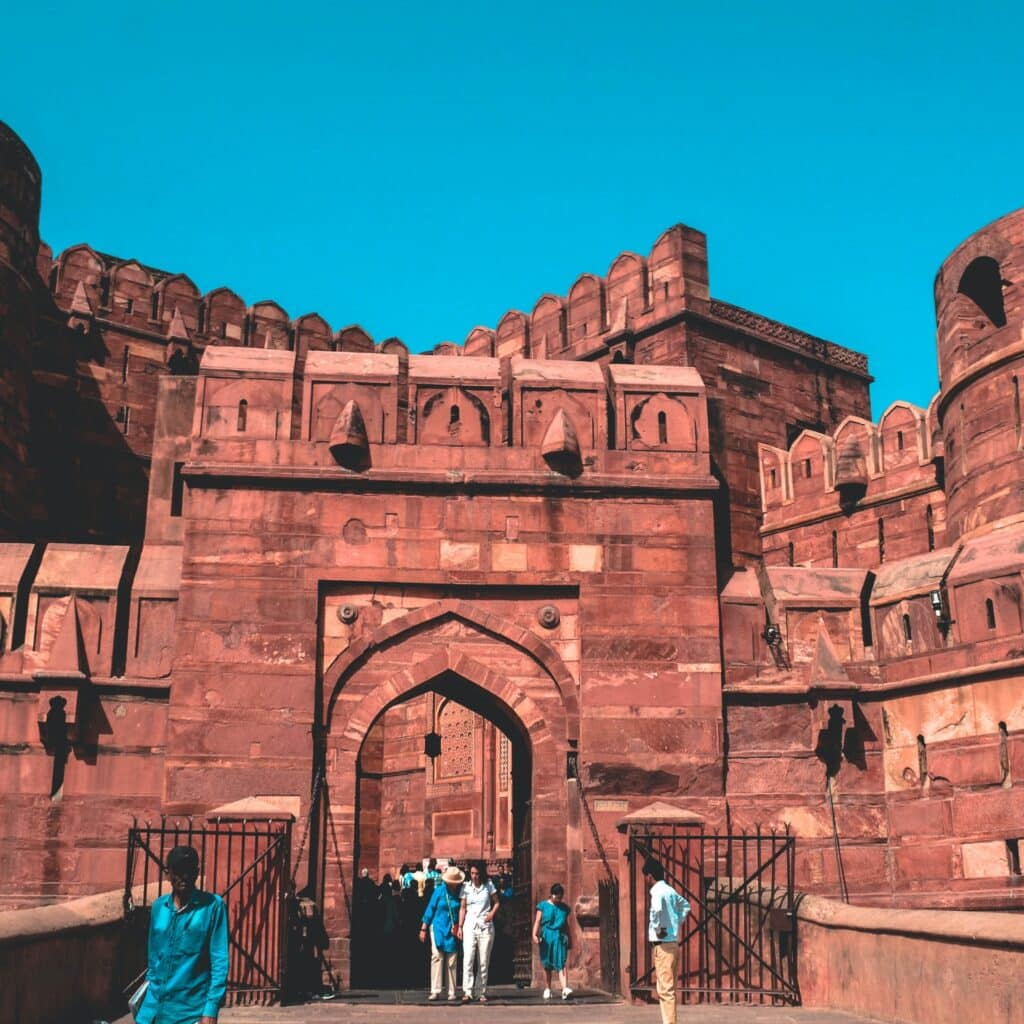 TAJ MAHAL
As everyone knows, Taj Mahal is one of the seven World wonders.
Most People come to visit India only for the Taj Mahal as it stands as a symbol of Love.
The Engineering aspect in construction Round and Square shape became stronger than any other shape of buildings.
Taj Mahal is known for its symmetry as it is built in a square shape. The distance between Agra Fort and Taj Mahal is around 2.5 Kms.
Taj Mahal is a white marble monument that is built on the banks of the river Yamuna.
Now after the pandemic, it is informed that the entry ticket for visiting Taj Mahal is to be increased to around 20 to 30 rupees per person.
Islamic, Persian and Indian styles are combined to construct the Taj Mahal in Agra.
Another curious fact is that Burhanpur, Madhya Pradesh is the first place to choose for Building Taj Mahal near the banks of the Tapti river.
But Burhanpur was unable to supply the white marbles needed for construction and so changed to Agra, which became the icon of India.
Taj Mahal is one of the masterpieces of the World's heritage.
Around 7 to 8 million visitors visited it in 2007 and declared it the 7th new World wonder.
As it is considered the epitome of love, it becomes a world wonder.
Upon entering, Arabic calligraphy can be seen at the tomb entrance.
Another fact is that from Agra fort, we can have a clear view of Taj Mahal as a window view.
The main Marble dome is the highlight of the Taj Mahal.
MANKAMESHWAR MANDIR
The third place in Agra to visit becomes the Mankameshwar mandir, which is an ancient temple of Lord Shiva.
It is the oldest and most sacred site in Agra located at Rawatpur.
Here, the Shiva linga is covered by silver coating, and is said to be known as one of the divine temples in Uttar Pradesh.
Temple is more powerful because it is thronged with devotees all the time.
The idol of the Deity is placed in a secret place.
In August,, a secret letter was received by the temple trust, threatening to demolish some important temples and the RSS(Rashtriya Swayamsevak Sangh) office(source from Times of India).
So that security forces are tightened and there is no problem arising during independence day, 2021.
This temple is a 1000-year-old Shiva temple that gives prosperity and wealth to all people.
People who visit Agra should not neglect this temple to adore.
FATEHPUR SIKRI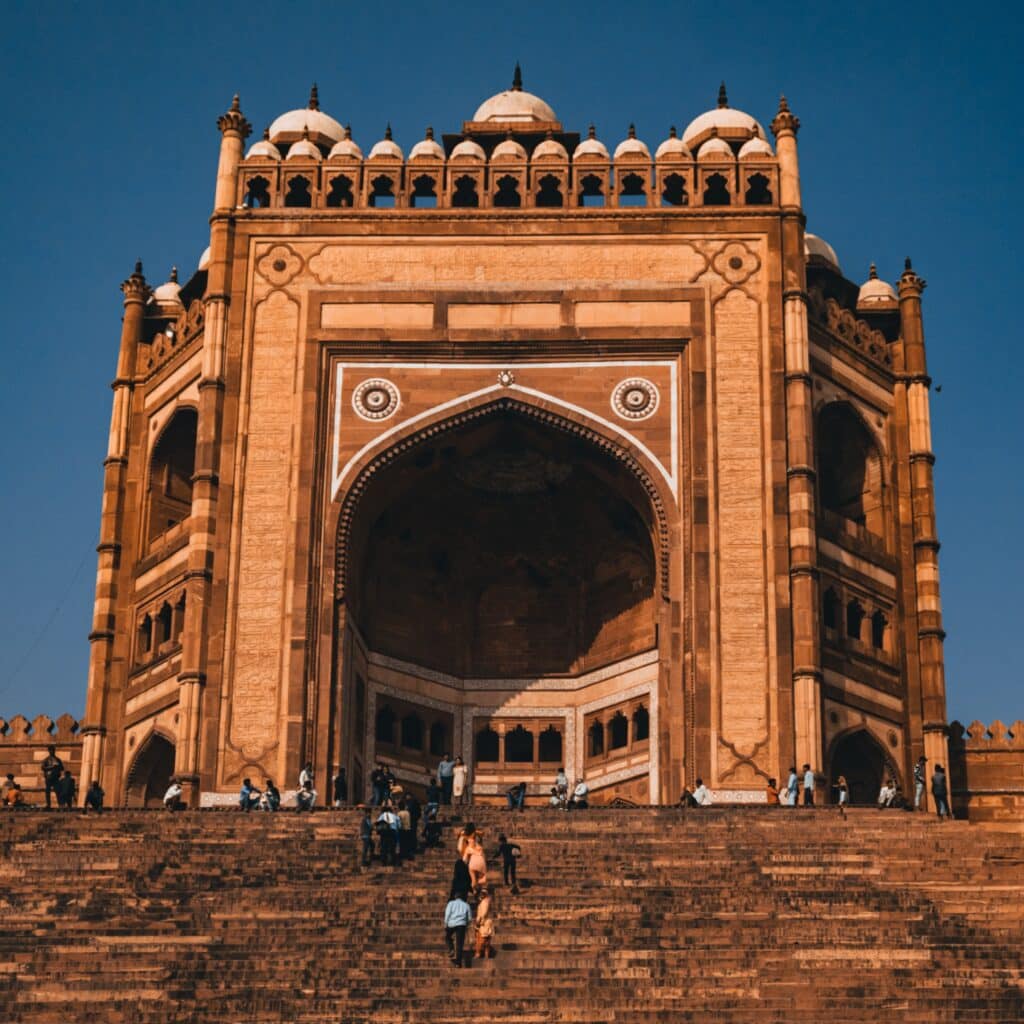 Fatehpur Sikri is the city constructed by Akbar in honour of the great Sufi saint Salim Chishti.
This place is also referred to as the 'City of Victory'. It is located around 50-60 km away from Agra.
The tourists, after visiting Agra should stay another day compulsorily to visit Fatehpur Sikri as it is an eerie abandoned royal Mughal capital.
Akbar placed the court and courtyard of his empire in this intricate red sandstone monument.
Myriad prehistoric tales were related with Fatehpur Sikri and currently known as the peregrinate place for the believers/followers of Great Sufi Saint Salim Chishti.
All the Monuments and palaces present here are blended with Islamic and Persian nomenclature. Fatehpur Sikri buildings can be divided into two parts: religious and secular. Places that should be visited in Fatehpur Sikri city are:
Jama Masjid
Buland Darwaza
The Tomb of Salim Chisti
Diwan-I-Khas
Jodhabai Palace
Panch Mahal
ACCOMMODATION AND FOOD:
Considering Tourism, accommodation and food play an important role.
Agra can offer all types of budget accommodations from Lower, Mid and upper ranges with 500-1000, 1000-3000, and 3000 and above respectively.
High range luxury hotels like Oberoi Amarvilas can give a perfect view of the Taj Mahal through the room window.
Some other stays include ITC Mughal Agra, Jaypee palace hotel, Ekaa villa–A boutique hotel, etc.
Mid-range accommodations include hotels like Amar, Ramada plaza, etc.
Lower range places are not good as they will be in the sludge regions of the city.
Coming to Food, Deviram Sweets and the restaurant is famous for the dish Bedai and Jalebi.
It is a breakfast dish that everyone can take from Mahatma Gandhi road in Pratap Pura. Dalmoth is one of the snack items for the evening time.
Agra Chat house at Agra Cantt is famous for Bhalla dish which is an aloo Tikki that can be taken in the evening sunset of the Taj mahal Panchi petha store located at Hari Parvat crossing.
The shop gives a delicious one. Mughalai cuisine is the trademark of Agra and is considered a token from the Mughal era. It offers more delectable dishes.
Mughalai delicacies can be preferred by Non-Veg lovers.
Joy Oahimijie(Content writer Intern)
18-10-2023
Other Articles