Introduction to Vaccination
Vaccination is one of the most important things that every person should do to protect themselves and their children from any type of disease or virus. It is an administration that works towards the well-being of humankind by vaccinating them to keep their immune system strong so that it can fight any type of disease whenever it attacks their body. Getting a vaccine helps the body's immune system to fight naturally any outside sources whenever needed.
Vaccination plays an important role in our life and society as it has saved and is still saving people all over the world from many infectious diseases. Vaccines prevent the spread of contagious and deadly diseases and these mainly include measles, polio, mumps, chicken pox, whooping cough, diphtheria, HIV, and COVID-19. Since the outbreak of COVID-19, getting vaccinated against this virus is one of the most important things that everyone is eager to do. Otherwise, people take vaccines related to only some diseases like polio, encephalitis, etc.
The first vaccine that was discovered long back was the smallpox vaccine. Smallpox was a very deadly virus that killed nearly 300 to 500 million people around the world in the last century. After the vaccine was given to people, the disease gradually started to get erased and is now completely destroyed. So, people should get vaccinated otherwise, there is a possibility of getting infected with a much more serious and dangerous disease in the future.
Vaccines can be said to be the rescuers of human beings as now they can prevent the body from getting infected by more than 20 life-threatening diseases and also help people live longer and happier. By getting a vaccine our immune system responds and immunization is one of the useful components of human care and also a basic human right that is enjoyed by all. It is one of the vital healthcare tools that can help any person win a battle against infectious disease. So, getting vaccinated is of utmost importance as through this one can improve and develop their immune system if not properly developed.
Alt: Vaccination; Image description: Person getting vaccinated;
Why you should vaccinate your child?
Vaccination is very important for a child when they reach 5-7 years of age as during this time if a child is getting vaccinated then it will protect them from any major disease for a lifetime. So, one should never neglect in getting their child vaccinated. There are certain reasons why one should vaccinate their child.
It can save the life of the child
Vaccination can be said as one of the major boons that the world received from medical science. Earlier, thousands of children were killed and injured because of some deadly diseases but now because of vaccines such diseases are almost eliminated from the world. One such example is Polio, which once created a panic situation in the United States where death and paralysis were caused across the country but today because of vaccination there are no such cases in the US anymore. So, you should definitely vaccinate your child and keep them safe from any such diseases.
It is very safe and useful
Vaccines are given to children only after proper approval from doctors and healthcare experts. After vaccination, there might be some sort of pain or redness of the skin but this will be very temporary in comparison to the pain it may have caused if suffered from such contagious diseases. Side effects of vaccines are very rare, whereas the benefits that one child will receive after getting vaccinated are much greater than anything.
It can also protect others surrounding us
Vaccination not only helps the one who is getting vaccinated but it also helps in keeping your surrounding people safe and secure because many diseases spread from one person to another through touching, coughing, sneezing, etc. So, if a person is fully vaccinated then they can keep others safe and sound. One such example is COVID-19, where everyone is wearing masks just to prevent themselves from others who are not vaccinated.
It can save time and money
Vaccination not only helps one to get vaccinated and stay safe from infectious diseases but also it can save one's money and time which can be wasted if one suffers from any disease and becomes bedridden. Treating diseases requires a lot of money and so only vaccination can keep a person away from such diseases which in a way will keep them happy and healthy. And also vaccination is quite cheap and in some cases, it is even free and provided by the central government.
It can also protect our future generation
Vaccines have reduced and also in most cases eliminated many diseases worldwide that once killed many people a few generations back. For example, smallpox disease has completely been eliminated, and now vaccine shots for smallpox were not given to children anymore. So, vaccinating people from now onwards can help the future generation to prevent themselves from any such present diseases which might get eliminated in the coming days.
Alt: Vaccination of a girl; Image description: Girl getting vaccinated; Source: https://www.pexels.com/photo/girl-getting-vaccinated-3992931/
Importance of getting Vaccines
Vaccines are very important in today's world as we are surrounded by many infectious diseases and to keep yourself safe and healthy one must stay vaccinated.
Vaccines are mainly to help humankind from getting infected with various types of diseases like smallpox, diphtheria, polio, etc. It teaches the human body how to create antibodies that will help in protecting against any type of virus or enemy. The immune system learns how to fight the diseases and it can save our body for many years.
Vaccines also have the capability of saving a whole community by forming 'herd immunity' which means that getting vaccinated can prevent any disease from getting spread to those who cannot have vaccines because of allergies or other health problems.
Why are vaccines safe to take?
Vaccines are always safe to take because it takes years to get approval from the concerned health department before their usage. These vaccines have to undergo a lot of trials before final approval. So, it is quite safe to take vaccines if needed.
Who cannot take Vaccines?
Vaccines are generally safe to take but if someone had serious allergic reactions from any previous dose of the vaccine then they might not be able to take the vaccination again. Also, people with weak immune systems will not be able to take vaccines as it might harm them with some allergies or inflammation.
Benefits of taking vaccines
Vaccination plays a major role in eradicating many life-threatening diseases from this world and this is one of the most important benefits that everyone is enjoying as diseases like smallpox have completely been eliminated a few years back. Also, getting vaccines also helps a person to develop their immune system to fight against any outside force which might harm their body.
Benefits of taking the COVID-19 vaccine
The COVID-19 outbreak made people more aware of health and the importance of getting vaccinated. Since the Covid virus attacked the mass population of the world there were millions of deaths and people began to become conscious about getting close to other people or going to the crowd. Therefore, vaccination became very popular as this was the only way to remain protected from this deadly virus.
Vaccines will reduce the risk of infection
The covid virus spreads like the viral flu and once a person in your surrounding is infected with COVID then many other people in the locality will definitely get infected by this virus. So, to keep yourself safe and secure fitness from this virus, getting vaccinated is the only way to stay away from this harmful and infectious disease as vaccines reduce the chances of getting infected by your nearby person.
Vaccines can also protect against severe illness
Vaccines reduce the chances of getting severely ill if by chance getting infected with the virus even after taking the vaccine. As vaccines build one's immune system which makes the body's resistance capacity more powerful which in turn saves a person from getting severely ill if infected.
Traveling becomes easier
Vaccination made it easier for people to travel to any country if they want as almost in all airports and stations we can see healthcare experts sitting with the RT-PCR or RAT tool kit so that they can test the people before boarding the train or flight. And if people are vaccinated then by showing only the certificate of vaccination they can board the flight without the test. So, vaccines plays an important role in everyone's lives since the outbreak of COVID-19.
Helps in getting in touch with friends and family
Vaccination helps one to get in touch with their loved persons, family and friends which they could not because of the fear of getting infected from Covid virus. But after getting vaccinated everyone can freely mix up with their closed ones without any hesitation. So, vaccines can help one stay away from Covid as well as all kinds of contagious diseases or viruses.
It can help in long-term benefits
Vaccination not only helps in getting results for short-term but it will also help in the long-run as vaccines develop the immune system of your body which boosts the body's resistant power to fight with any type of virus now and in future too. The power of the dosage may reduce after few years but it will still have the ability to protect the body from outside sources.
Alt: Covid-19 Vaccine; Image description: Covid-19 Vaccine In Vials And Injection; Source: https://www.pexels.com/photo/covid-19-vaccine-in-vials-and-injection-5863389/
Vaccination therefore, is the most necessary factor in todays world as suffering from diseases became one of the most common thing and only vaccines have that power to keep the people safe and healthy. Thus, vaccines can be said as the major saviour of the human kind which not only helps them to be safe but also build one's immune system to fight with those diseases if getting infected.
Different types of covid-19 vaccinations:
Messenger RNA (mRNA) vaccine. This type of vaccine gives your cells instructions for how to make the S protein found on the surface of the COVID-19 virus. After vaccination, your muscle cells begin making the S protein pieces and displaying them on cell surfaces. This causes your body to create antibodies. If you later become infected with the COVID-19 virus, these antibodies will fight the virus.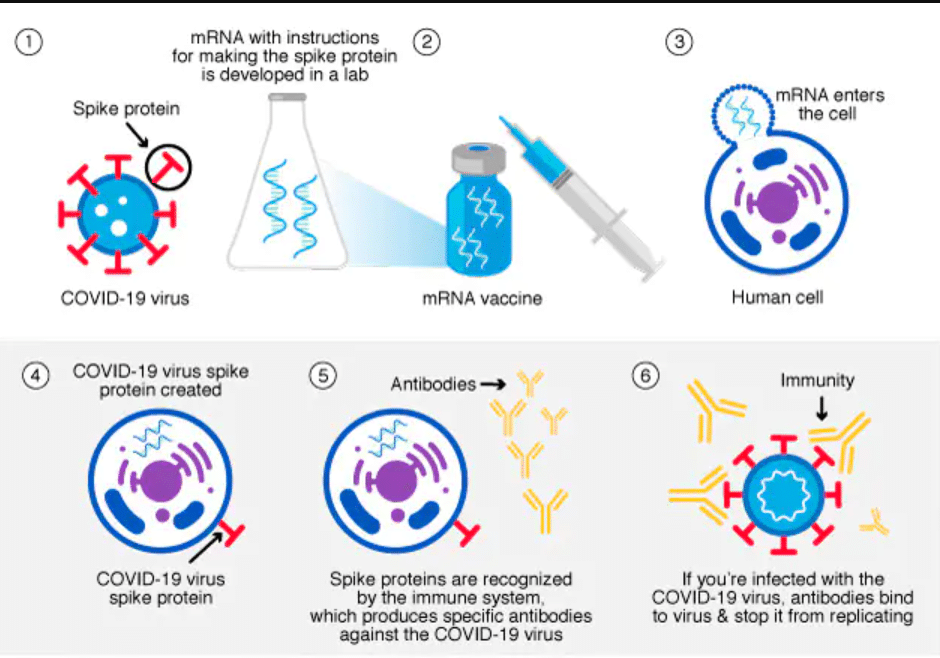 Vector vaccine. In this type of vaccine, material from the COVID-19 virus is placed in a modified version of a different virus (viral vector). The viral vector gives your cells instructions to make copies of the COVID-19 S protein. Once your cells display the S proteins on their surfaces, your immune system responds by creating antibodies and defensive white blood cells. If you later become infected with the COVID-19 virus, the antibodies will fight the virus.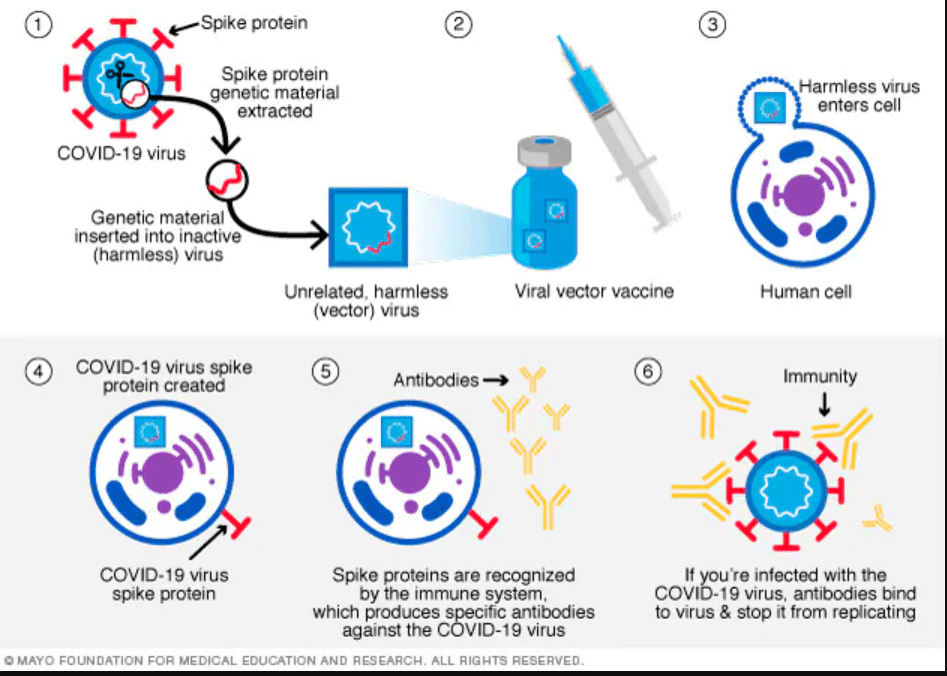 08-10-2023
Other Articles