Beetroot or the taproot of the beet plant is a red-colored vegetable that has the potential to combat diseases and promote good health. It is low in calories and high in fiber, which helps fill you up and can contribute to weight management goals. It is also considered a promising therapeutic treatment since it is packed with nitrates and antioxidants that fights the damaged cells and reduces the risk of heart disease. Nitric oxide from beetroot increases blood flow to your muscles. Some athletes eat beets or drink beet juice during exercise to improve their performance. Beetroot is standard in every kitchen and many recipes are made out of it. Cooking beets reduce the bioavailability of dietary nitrate from food, meaning that raw beets supply more dietary nitrate yet both raw and cooked beets are healthy. 
Let's take a look at some healthy and tasty beetroot recipes. 
Beetroot juice
It can be made by combining three more ingredients with raw beetroot to enhance its nutrition. There is no doubt that regular consumption of the juice can benefit your health in many ways!
Ingredients- 1 Fresh beetroot, 1 Apple, 1 carrot, and a little bit of ginger.
Steps- 
Cut beetroot, apple, and carrot into small pieces and a small amount of ginger.

Place all four ingredients into the blender. 

Blend until it gets a smooth consistency.

Pour into the glass and serve.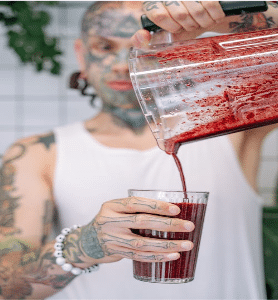 Beetroot Salad 
It is another raw beet recipe. Ingredients varies in it. You can add any vegetable of your choice to your salad. 
Ingredients-  1 cup grated Beetroot, 1 cup grated Cucumber, 1 cup grated carrot,  sweet onion, 2 spoons of lemon juice, and 2 to 3 green chilies, Salt as per taste.
Steps-
Wash the vegetables properly.

Peel the veggies and grate them.

Add all the veggies to a bowl. 

Add 2 to 3 chopped green chilies you can add more if you want to make it spicy. 

Add lemon juice and salt.

Toss all the ingredients. 

Serve it with your meal.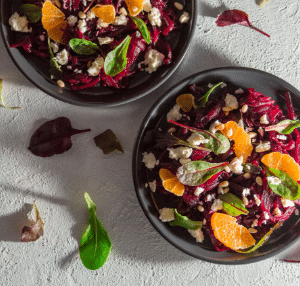 Beetroot halwa
It is a delicious recipe you must try. It is easy to make and a perfect fit for your lunch and dinner side dish. You can even serve it to guests. 
Ingredients- 4 cups Beetroot, 4 tbsp Ghee, 1 cup Milk, Half cup khoya, 10 to 12 raisins, and cashew, ½ tsp Cardamom powder, ¾ Cup sugar. 
Steps-
Wash and peel the beetroot. 

Grate the beetroot in a grater.

Take ghee in a pan and heat the ghee. Once the ghee is hot add cashews and raisins, saute and remove from the pan

Add the grated beetroot to the same pan and saute for 10 min. 

Add the milk and heat until the milk is absorbed. 

Add khoya, sugar, and cardamom powder and mix well. 

Saute for 10 more min.

Add cashew and raisins on top of it. Serve the halwa warm.
Beetroot fries.
You must have eaten potato fries, but have you ever heard about beet fries? Beetroot fries are very tasty and healthy, made with simple ingredients just like those of potato fries. They are an excellent alternative snack for potato fries. Let's try this unique recipe. 
Ingredients- 1 large beetroot, Cornflour, Salt, Pepper. Oil.
Steps-
Peel the beetroot. Cut them into big finger shapes.

Add the finger beets to the bowl.

Add salt and pepper along with the cornflour.

Mix all the ingredients.

Heat oil in a pan.

Add the fries slowly to the oil and fry them until they get crisp.

Place on a plate and serve with tomato ketchup.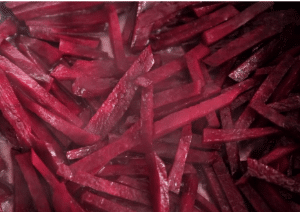 Beetroot cutlets
It is an ideal evening snack or party starter recipe served with tomato ketchup or green chutney as a side dish. 
Ingredients-  2 cups grated beetroot, 1 boiled potato, 1 small onion, bread crumbs, ¼ tsp turmeric, 1 tsp chili powder, ¼ tsp jeera powder, ½ tsp garam masala, 1 tsp chat masala, 1 tsp Ginger-garlic paste, and salt as per taste. 
Steps-
 

Add the grated and squeezed beetroot to a large bowl followed by mashed potato.

Add finely chopped onion, turmeric, chili powder,  jeera powder, Garam masala, chat masala, Ginger-garlic paste, and salt. 

Add breadcrumbs to the mixture and mix all the ingredients and make a dough.

Make small balls out of the dough and flatten them.

Make a slurry of corn flour and maida. 

Dip the cutlets into the slurry and then roll them in the bread crumbs.

Heat the oil in a pan and add the cutlets.

Fry the cutlets in the hot oil from both sides until they get crisp. 

Serve with chutney or ketchup.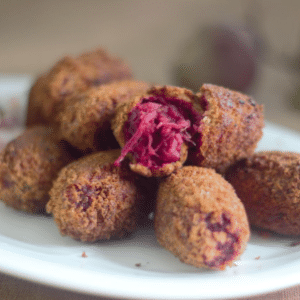 Baked Beetroot chips
It is very healthy and guilt-free snack. It is a very simple and quick recipe.
Ingredients- 1 large fresh beetroot, salt, sugar, oil 
Steps-
Peel the beetroot and cut it into slices. 

Place the slices in a bowl and add oil sugar and salt. 

Mix it well 

Place it in a baking tray.

Preheat the oven to 130℃ and bake for 15 min, 

Turn the slices in the tray and bake for another 10 min.

Cool down the chips and serve.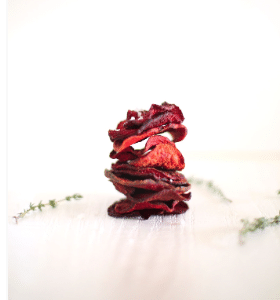 Beetroot cake
Cakes are everyone's favorite. Beetroot juice is often added to red velvet cake for coloring. However, it is made with the beetroot mixed in the batter.
Ingredients–  ¼ cup Oil, ¾ cup sugar, ½ cup beetroot puree, 1.5 cups whole wheat flour, ½ tsp baking soda, 1 tsp baking powder, 3 tsp cocoa powder, and 1 cup milk.
Steps- 
Preheat the oven to 180C. 

Take a deep pan, and add oil sugar and beetroot puree. Mix them well.

Add flour, baking powder, baking soda, cocoa powder, and finally milk to it.

Mix all the ingredients well until it gets smooth.

Take a baking bowl and grease it with butter.

Pour the prepared batter into it. 

Bake for 25 minutes, until a skewer inserted into the center, comes out clean. Let the cakes cool completely on a wire rack.

Serve the cake with or without frosting.
Beetroot soup
It comes under light meal. The soup can be made with many different recipes. Let's try out the Indian beetroot recipe here.
Ingredients- 2 grated Beetroot, 3 chopped Tomatoes, 4 crushed cloves of Garlic, 1 chopped Onion, 1 teaspoon Black pepper powder, 1 Bay leaf, 2 Whole Black Peppercorns, 2 Cloves, 1/2 inch Cinnamon Stick, Salt as per taste.
Steps-
Take a large soup pan and pour some oil or butter and heat it. Add the bay leaf, cloves, black pepper, and cinnamon to the pan and stir until you begin to smell the spices.

Add chopped onion and saute for 2 min.

Add the chopped tomato puree and grated beetroot to it and cook for another 15 min.

Add salt and pepper powder as per your taste.

Strain the soup in a bowl and garnish it with coriander leaves.

Serve the soup hot.
Beetroot pickle
Another healthy recipe for beets is its pickle. You can preserve it for a long time. It is as tasty as any other pickle. This is a must-try recipe. 
Ingredients- 2 fresh beetroots, 2 tbsp vinegar, 5 to 10 green chilies, a few methi seeds, a few mustard seeds, 1 tbsp asafoetida, 1 tsp chili powder, and 3 tbsp oil.  
Steps-
Cut the beetroot and chili peppers into small pieces. Season with salt and set aside.

Fry mustard and methi seeds and grind them.

Mix this powder with asafoetida and chili powder.

Heat the oil and remove it from the flame.

Add the mixture to the oil along with the beetroot and chili.

Put them in a bottle, add vinegar and add salt if necessary.

Store for at least two days before use.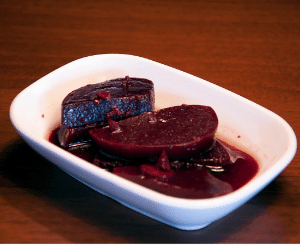 Beetroot Paratha
And last but not least Beetroot paratha is definitely a mouth-watering recipe. A number of varieties are available for stuffing in parathas, one such unique stuffing is the beetroot stuffing. These parathas have a sweet taste coming from the beetroots.
Ingredients- 2 cups whole wheat flour, salt, oil, 2 cups grated beetroot,  2 green chilies (finely chopped), 1 tsp amchur powder, ½ tsp garam masala powder, and salt as per taste.
Steps-
Take wheat flour, salt, and oil and add water to knead.

Prepare the soft dough and keep it aside.

Now prepare the stuffing. Grate the beetroot and squeeze out the water completely.

Add chilies, garam masala, salt, and amchur powder and mix it well. 

Pinch small size balls from the dough.

Roll it to 5 to 6 inches.

Place the stuffing on the rolled dough.

Pleat the edges and again roll the dough with the stuffing inside.

Roll it softly so the stuffing doesn't come out of it and sprinkle flour for rolling.

Heat the Tawa and place the paratha. Keep the heat to medium-high or high. 

Roast the paratha from both sides spreading oil over it.

Serve the hot paratha with a pickle or yogurt.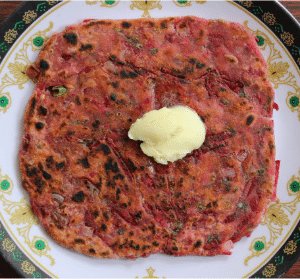 Beat the boredom with Beetroot
It is low in fat, full of vitamins and minerals, and full of powerful antioxidants, and is perhaps one of the most nutritious vegetables available on the market. These exciting beetroot recipes are a healthy and perfect fit for your breakfast, lunch, and dinner. It can easily fits in your everyday recipes so why not add it to your everyday diet? 
Other Articles