Children are more susceptible to sweets to satisfy their quick hunger and boredom. Most often moms struggle with the guilt of not being able to control the sweet cravings of their children. Sticking to healthy, homemade sweets can help you handle your child's sugar cravings. Read further to discover the sweet solution to every mom's guilt. The alternative solution is an ice cream and an oatmeal made from healthy rich bananas.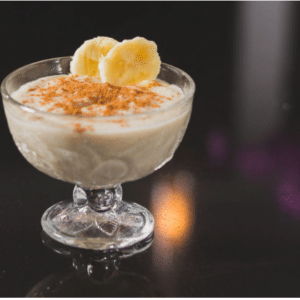 Banana is a type of fruit. Bananas grow in bunches on a plant on banana plantations. Bananas are crooked because they grow with their tips upwards against gravity. Banana is a tropical fruit. There are 2 categories of bananas:
Sweet bananas: We eat them as a fruit.  

Plantains: These contain less sugar and more starch. They are boiled, fried, or baked immaturely. Tropical countries consider plantains to be a staple food.   
Bananas do not tolerate colds well. The refrigerator is therefore not a good place to store your bananas. They can be kept for 3 to 7 days outside the refrigerator. Bananas produce a lot of ethylene. This substance promotes maturation. Other types of fruit are sensitive to this and can spoil faster if they are in the same fruit bowl.
Are bananas healthy?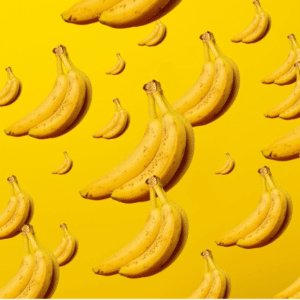 Compared to other fruits, the banana contains little vitamin C, but a lot of dietary fiber, potassium, and starch. Bananas are the most calorie-rich. When the banana ripens, starch is converted into sugars. A ripe banana, therefore, tastes sweeter than a green banana. The fruit has many general health benefits.
1 banana (165 grams) contains:
| | |
| --- | --- |
| Energy | 152 kcal |
| Fat | 0.5 g |
| Saturated Fat | 0.2 g |
| Carbohydrates | 33 g |
| Sugar | 25.6 g |
| Fiber | 3.1 g |
| Salt | 0 g |
Banana ice-cream
The creamy, delicious, healthier, easy-to-make Banana ice cream is a perfect treat your kids will love. You won't believe this is only made from bananas. It has only 3 ingredients and takes only 10 mins to get this surprising treat on your taste buds. This treat is sweet as itself, but of course, you can add any other toppings that your kids love to make it extra special. 
Steps to make this novelty treat:
You get the best texture when the bananas are frozen. Make sure to keep them in the freezer at least overnight. 
Take 3 medium-sized very ripe bananas. Peel them and cut them into pieces and store them in an airtight container. Let it freeze overnight. 
Next morning, place the banana pieces from the 3 large bananas in your food processor or blender along with ½ teaspoon of vanilla extract and a pinch of salt to balance the taste. Blend until you reach a smooth, creamy, desired consistency. Keep adding ½ tablespoon of milk as needed until you reach this consistency.

Serve the beautiful cream immediately once it has reached the right soft-serving consistency. Put it in the freezer for at least 30 minutes before serving with an ice cream scoop for a more conventional ice cream-like consistency. Enjoy!
If you have extra banana ice cream, store it in an airtight container in the freezer. . 
Banana oatmeal
This oatmeal is so firm that you can easily cut it into bars and take it with you as a snack or even for lunch. There is no added sugar, just the sweetness of the fruit. I eat it cold or briefly warmed up with a cup of soy milk. Yummy!
The recipe below makes two or three servings, depending on whether you're a big eater. It's very filling, so I do it three times. You can easily double the recipe if you want to make more.
Ingredients
1 cup oatmeal

1 large or 2 small ripe bananas, mashed (keep a few slices for decoration)

1 cup milk

1 handful (30 grams) of raisins

1 tablespoon peanut butter
Preparation
Preheat the oven to 180 degrees. Mix all ingredients in a bowl so that they are evenly distributed. It's okay if there are still some lumps of banana and peanut butter in it, that's nice. Pour the batter into a small baking dish or cake tin and place the remaining banana slices on top as decoration.
Place the dish in the oven and bake for 25 minutes until the oats are set and begin to brown slightly on top. Let it cool down and set. You can eat the oatmeal right now, or save it for later. It keeps well in the fridge for up to four days. You can also freeze it.
Follow the above steps and make banana treats that the whole family would love.
Other Articles