Introduction 
In South Asia, samosas, triangular packets of fried, flaky flatbread wrapped around a variety of fillings, are a favourite snack. They're popular just like dumplings, empanadas, and pierogi—something innately appealing about packing wonderful things inside dough.
A plate of samosas with onion-tomato chutney, mint-coriander chutney and tamarind sauce for dipping
Samosa
A samosa is a savoury pastry filled with ingredients such as spiced potatoes, onions, and peas that are fried or baked. Depending on the region, it can have various shapes, such as a triangle, a cone, or a half-moon. Samosas are typically served with chutney. 
 The English word samosa comes from the Hindi word "samosa", which is derived from the Middle Persian word sanbosag, which means' triangular pastry'. In Arabic, similar pastries are known as sambusaki; mediaeval Arabic recipe books may spell it sambusaj. In South Africa, the spelling samosa is used.
The Regional Varieties 
The samosa is made with all-purpose flour (known as maida in India) and stuffed with a filling, which is typically a combination of diced and cooked or mashed boiling potato (ideally diced), onions, green peas, lentils, ginger, spices, and green chillies. The complete pastry is deep-fried to a fine looking brown in oil or, on rare occasions, ghee. It is always served hot, with a fresh green chutney like mint, coriander, or tamarind on the side. It can also be made as a dessert. Samosas are frequently served in chaat, together with traditional accompaniments like a chickpea or white pea preparation, served with yoghurt, tamarind paste, and green chutney, and topped with chopped onions, coriander, and chaat masala.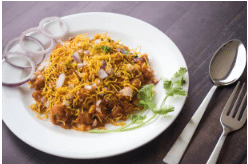 Chole Samosa Chaat
Singaras or singras (the East Indian form of samosas) are popular snacks found practically everywhere in the Indian states of Assam, Odisha, West Bengal, Bihar, and Jharkhand. They're a little smaller than those seen in other regions of India, with a filling of mostly cooked chopped potato, peanuts, and occasionally raisins. Singaras are fried after being wrapped in a thin layer of dough (made of all-purpose flour). Good shingras have a flaky texture reminiscent of a savoury pie crust.
 Samosas are typically deep-fried in vegetable oil till golden brown. They are served hot with chutney (mint, coriander, or tamarind) or in chaat, which is customarily served with yoghurt, chutney, chopped onions, coriander, and chaat masala. Singaras are a delicious tea time snack. They can also be made into a dessert. Bengali singaras are triangular, packed with potatoes, peas, onions, sliced almonds, or other vegetables, and are more severely fried and crunchier than Indian samosas. A popular variation is singara stuffed with a cauliflower combination. Mutton singaras and fish singaras are non-vegetarian versions of singaras.There are other sweeter varieties, such as coconut singara and khoya singara, as well as khoya singara dipped in sugar syrup.
 Samosas are folded differently in the states of Andhra Pradesh, Karnataka, Kerala, and Tamil Nadu, and are more like Portuguese chamucas, with a different kind of pastry. The filling varies, but it usually consists of mashed potatoes with spices, fried onions, peas, carrots, cabbage, curry leaves, and green chilies, and it's served without chutney. In South India, samosas come in a variety of sizes, with fillings that are influenced by local eating customs and may include meat.
 In recent years, another type of samosa (noodle samosa) has become popular in India. It's a samosa containing noodles as well as raw or cooked vegetables.
 In Indonesia, samosas are stuffed with potatoes, cheese, curry, rousong, or noodles, depending on local preferences. It's frequently served with sambal as a snack. Samosa is related to pastel, panada, and epok-epok in Indonesia.
Indonesian samosa identified as kue kering
Bajiyaa refers to the various types and variants of samosas found in Maldivian cuisine. They're loaded with a variety of fish or tuna, as well as onions.
In Nepal's eastern region, samosas are known as singadas, while the rest of the country refers to them as samosas. It is a popular snack in Nepalese cuisine, just as it is in India. The dish is sold by vendors in a variety of markets and restaurants.
6 June 2022
Other Articles