Introduction
It is a beverage that is mainly found in the region of Nepal, Darjeeling, and Sikkim. It is said to be an alcoholic beverage. Tongba tastes like beer. The alcohol percentage in the drink is about 2 %. 
History
Tongba is a traditional drink of the Limbu community people.  In this community, tongba is given just to show some love and respect towards the guest. It is a must drink during special occasions and festivals. Tongba is the national drink of Nepal. 
About Limbu people
The Limbu community is one of the most famous in southern Asia. In India, the tribe can be found in Sikkim, West Bengal, and Assam. The population of Limbu community people was 300000 in the early 21st century. This community people usually speak Tibetan languages. The main festival of this community is chalosk.  It is generally celebrated on full moon day.
Benefits of tongba drink
Tongba drink helps in the process of digestion which is a must for every person.

The drink helps the person to boost his or her immunity power.

Tongba drink is very good for people who are living in colder regions because it gives everyone a reason to survive.

In 1 cup of drink, we have100 gm calories, 1gm carbs, and 50g protein.

Controls the weight of a person or maintains the weight of a person.

Drinks help a person maintain his or her sugar level.

Drinking reduces the person's death of……. heart disease.

It also maintains the cholesterol of a person and strokes of a person. 

Grain included in the drink helps a person to prevent asthma problems.

Drink is very good for diabetic patients as it helps to maintain the glucose level in the body.

The drink helps to detoxify the body of a person.

It also helps in the strength of muscle and bone in a person's body.

It is very useful for humans who have menstrual cramps during periods.

Overall, the drink is very healthy which will be good for one's health.
Ingredients for drink
1 kg millet grain and yeast or eno
Recipe for drink
One has to roast the millet grains well and let the grain cool down.

In a bamboo basket put these grains.

Cover this basket with a warm cloth and leave this basket for about 1 to 2 days.

After 1 to 2 days, keep these grains in an aluminum jar so that fragmentation is completed.

After 7 to 15 days, the whole fragmentation process is completed.

Actually, for good taste, it can also be stored for 6 months.

Put the grains in a bamboo container or big glass.

After this add hot water to it and keep this undisturbed for about 5 -6 minutes.

Now the tongba drink is ready to be served.

The grain contains a lot of fiber which will be very useful for the body's strength.

Consuming a drink daily can also improve the functioning of one's nervous system.

The grain added in it also helps the person to prevent dangerous diseases like cancer.

Drinking is very good for a healthy liver in one's body.

Drinking also increases the elasticity of the skin so that wrinkles are decreased.
Disadvantages of drink
Some nutrients can be in an excess amount in someone's body like potassium, calcium, iron, zinc, and magnesium.

This drink can affect a person who is having thyroid cancer after consuming the drink as it can lead to the enlargement of the thyroid glands.

Millet grains can lead to blockages in a person's stomach.

It is said that consuming a drink regularly can cause kidney stones.

Consuming two times a day can lead to gas trouble problems.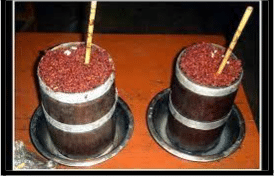 Conclusion
The blog is about a tongba drink which is very healthy when consumed once a day- introduction, history, about Limbu people, benefits, ingredients, recipe, and disadvantages.
Other Articles