Cocoa powder is often used as a source of chocolate and for making sweet pastries. Cocoa butter is a by-product of cocoa beans, which is a product used in the making of chocolates. Cocoa butter is a vegetable-based fat that is obtained from the cacao seeds of the cocoa tree. Let's see the planting of cocoa trees and how cocoa butter is made and its medicinal benefits.
Plantation of Cocoa
Cocoa trees are considered evergreen trees and they are the sources of many food products like cocoa butter, chocolate liquor, cocoa powders, etc. The tree grows in soil rich in organic matter, loamy, moist, or well-drained soils. The pH of the soil must be acidic, and neutral. They grow up to a size of 20-40 feet in height, and they require both sunlight and shade. In the morning they need sunlight but they also need shade in the afternoon from the hot sun. So cultivators plant them along with other trees like coconut trees, mango trees, hardwoods, etc. The temperature ideal for cocoa trees is 65-85 degrees Fahrenheit. They need a sufficient amount of water which will keep the soil moist and not saggy.
Using fertilizers like Muriate of potassium, urea, phosphate, etc is a good option. Pruning is a good way of boosting the growth rate for a little early harvest. These trees take around 4-5 years of time to attain their mature stage and produce cacao pods. The color of cacao pods differs according to the type and soil. The pods measure around 15-25 cm in height and 7-10 cm in diameter and weigh 400-500g. 
Making cocoa butter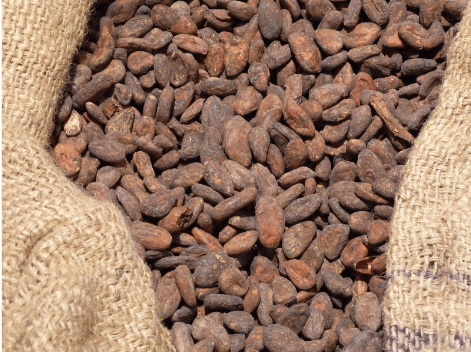 Cocoa butter is a product obtained from the cocoa beans inside the cacao seeds. A cacao pod contains around 40-50 beans of cocoa. The beans are collected and stored in a box for a week and yeast is added after for the fermentation process. After fermentation, the beans are taken out of the box and dried in the sun for a week. The dried bean will look brown in color like the picture mentioned above. The beans are roasted to a sufficient temperature. The next step is to remove the skin (baba) from cocoa beans and they are blended in a food processor or in a blender. Powdered cocoa is now to be boiled with water till it becomes a browny paste. The liquid butter will float on the top of the paste, and the butter is collected and can be frozen to get the solid state. There we have it the pale yellow colored Cocoa butter. This is a homemade method. Industry uses several machines to make cocoa butter.
Medicinal benefits
Cocoa butter has many medicinal benefits that are very helpful for people. Let's see some of their medicinal qualities:
Cocoa butter is useful in boosting skin health. It is used in body moisturizers, anti-aging creams, etc. They alleviate dry skin and improve skin elasticity. 

They contain antioxidants called polyphenols. They are useful in reducing inflammation and protecting from sun damage. 

Cocoa butter is a core ingredient in many body lotions. 

They contain fatty acids which form a layer over the skin and prevent the drying of the skin and moisturize as well.

They can be applied in rash to give a cool and comfortable feel. And it works on wounds too.
Cocoa butter is edible and contains more calories and some nutritional content. It might have side effects for people who are allergic to cocoa, So keep an eye out before using any cosmetic products. These are the medicinal benefits of cocoa butter. 
Other Articles