Introduction
Dal Paratha is famous in Punjabi homes and it is usually made as breakfast. It is a stuffed paratha made with unleavened whole wheat dough, chana dal and spices. It is usually made eaten with pickles or yoghurt and homemade butter. They are quite filling and tasty too.
The dal used in this recipe is channa dal or Bengal gram also known as chickpeas or split chickpeas. It has a delicious nutty flavour and when ground into flour it is known as besan or gram flour. Its name is derived from the Sanskrit word "Chanaka" which indicates that it has been in cultivation in India for a long time. Its origins are believed to be in the Mediterranean region and it belongs to the family called Leguminosae.
 Health benefits of Channa Dal:
Including Chana dal in our daily diet helps in reducing bad cholesterol in our blood. 

It is a great source of vegetarian protein and helps in muscular health.

This high-protein food supports the immune system of the body.

The folic acid in chana dal is rich in folates and helps in the prevention of depression, stroke, and dementia.

It contains 6 % of the recommended daily value which helps in preventing osteoporosis and improves bone density.

Since it consists of 11% fibre it helps in controlling type 2 diabetes.

These legumes also increase satiety and help to control overeating.

It also does not have transfats but contains healthy fats essential for treating inflammation.
Ingredients:
For stuffing
Channa dal- ½ cup

Cumin seeds- ½ teaspoon

Grated ginger-½ spoon (optional)

Garlic (crushed)- 2 cloves

Green chilli-1 ( finely chopped)
Red chilli powder- ½ teaspoon
Coriander Powder-½ teaspoon
Garam masala- ¼ teaspoon
Dry mango powder- ¼ teaspoon
Coriander leaves- 4 tablespoons ( finely chopped)
Oil-1 teaspoon
Salt- as required
Water-½ cup
For preparing  dough:
1 and 1/4 cup- Wheat flour or Maida

Curd-1 tablespoon

Oil or Ghee- 2 teaspoons

Salt- as required

Water to knead the dough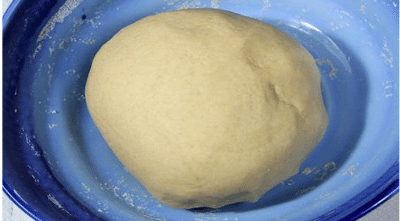 Preparation:
Method for making stuffing:
Take the chana dal in a vessel and wash it twice in water. Soak this chana dal for 3 to 4 hrs in water. Then drain it and transfer it to the cooker. 

Add ½ cup water and pressure cook it for 2 whistles on medium flame till it turns soft but not overcooked. Then strain it to remove the water content and allow it to cool.

Transfer the cooked channa dal into a mixer and grind it into a powder without adding any water.

Now heat a medium size pan, add 1 teaspoon of oil and add cumin seeds, ginger, crushed garlic and finely chopped green chillies.

Add the powdered chana dal, chilli powder, coriander powder garam masala and dry mango powder, coriander leaves and salt as required.

Then stir and cook the mixture until it turns dry without any moisture. After 2 to 3 minutes transfer it into a large bowl and allow it to cool. The dal stuffing is now ready.
Method  for making paratha
Take 1 cup of wheat flour, add curd, 1 teaspoon of oil and salt in a medium-sized bowl and mix well.

Add required water and knead it into a smooth dough as we make for Chappathis.

Grease the dough with 1 teaspoon oil and knead again for a minute.

Now cover this dough with a wet cloth and keep it for 10 minutes for the dough to avoid becoming dry.

Take ¼ cup of flour on a plate for coating and dusting purposes. Divide the dough into 5 equal portions.

 Now make a medium-sized ball out of the wheat dough and dust with flour to make a small round-shaped pattie,  then coat it with flour and roll it out into a 3-inch circle.

Then place the chana dal mixture in the centre of the rolled dough and wrap it by pulling all the edges together and then make a stuffed flat ball.

Now dust more flour on both sides and roll the dough gently into thick parathas without the channa dal coming out of the dough.

Now heat the tawa and add the rolled paratha and cook them with ghee or oil. ( Since the parathas are thick it will take a little time more for them to cook)

Press the edges of the parathas with a spatula and then flip it to the other side for cooking.  Both the sides should turn golden and be cooked evenly.
Repeat it for the rest of the dough and filling.

These hot parathas can be relished with curd, butter or pickle. 
Tips
The filling should be dry so need to add more water while pressure cooking the dal.

Curd is added to the dough to make it soft.

Moong dal can be used in the same manner but no soaking is required.
Conclusion:
One serving of chana dal added to this recipe gives 222 calories. Out of which carbohydrates compromise  102 calories, proteins account for 33 calories and the remaining calories from fat which is 87 calories. The wheat flour adds more nutrients to the channa dal and provides more nutrition and health benefits. This recipe is a favourite one among the farmers of Punjab who need more energy for the manual work on the farms.
To get most of the chana dal benefits it should be added to our daily diet in various other dishes like pancakes, fritters, idlis and fries and many more dishes too.  Whenever you choose to make these traditional dishes always use organic products for better health and nutrition.
Other Articles