gond katira in a gum bowl.
What is Gond Katira?
Gond Katira a.k.a Tragacanth Gum is a natural gum obtained from the saps of a locoweed plant. It naturally evolves in the form of twisted crystals that expand when mixed with water.
The gum is:
Viscous (Jelly-Like)

Odourless (No smell)

Tasteless (No Taste)
Where is it used?
Ayurvedic Medicines

Manufacturing Papers

Textiles

Cooking Industry

Cosmetics
Common Facts About Gond Katira:
Name: Tragacanth Gum 

Obtained By: Species of Astragalus

Common Name: Shiraz, Shiraz Gum, Gum Dragon

Native Region and Geographical Distribution: Middle Eastern Region of the world

Sanskrit Name: Galgal
 Nutritional Facts of Gond Katira:
| | |
| --- | --- |
| Nutrients  | Value/100kg |
| Energy | 70 Kcal |
| Carbohydrates | 35g |
| Fibre | 30g |
| Hydrates | 5g |
| Fats | 0g |
| Mineral(S) |   |
| Sodium | 9g |
white gond katria in glass bowl
Why is Gond Katira in high demand?
Gond Katira is in high demand because of its several benefits to every individual in one way or the other. Do you know what are its dual properties which hype its demand even more? Its properties are both warming and cooling and thus it can be seen and eaten in any season.
Let's look into its benefits one by one: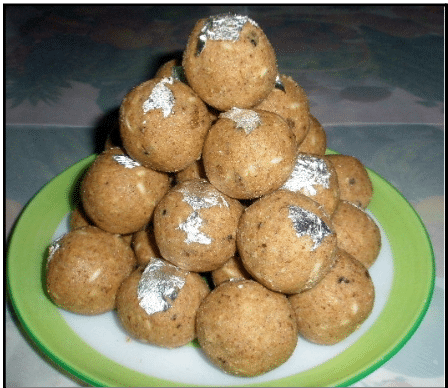 Gond ladoo in a plate. 
Benefits of Gond Katira other than Health: In other different Industries
It is used as a stabilizing agent, emulsifier, and texture addition in a variety of culinary items such as sauces, salad dressings, confections, ice cream, and so on.

This is used to thicken ointments, lotions, and calico printing dyes, as well as to dress textiles, make glues, textile dyes, watercolours, and provide gloss in ink.

Because it extends the life of lotions for hands and hair, it's also utilized as a thickening agent or lubricant.

By its non-stick properties, it is commonly used in the creation of artist pastels.

 It's practised in the paper industry as a thickening agent.

It's also been used as a stabilizer and binder in cosmetics, bookbinding glue, hand creams, and apparel stiffening.

It's used as a leather dressing or leather goods polishing product.

It's used to print on wool, silk, and crepes in textile printing. They are also used in the printing of dyes on acrylic blankets, carpets, and cotton textiles.

It is frequently used in the cosmetics sector as a suspending agent and a medium in labs, among other things.
It may be used to make sugar flowers, which can be used as cake decorations.
Even Though Gond Katira is in high demand it has its Side-Effects
The herb Gond Katira is well-known for its several health advantages. Tragacanth gum has been deemed safe for usage. However, some people may experience adverse effects as a result of chewing this gum. 
These negative consequences are outlined below:-
If not taken with enough water, Gond Katira might cause choking or bowel obstruction in certain persons. 

Certain people are allergic to gum, which is found in foods and other pharmaceuticals. Such persons should avoid consuming tragacanth gum since it may trigger an allergic response. 

Some people may get respiratory issues after consuming Gond Katira.
Conclusion:
Gond Katira is a jelly-like gum that is odourless and tasteless. It is in high demand because of its several benefits to every individual. It has properties of both warming and cooling and thus it can be seen and eaten in any season.
Other Articles