Vella Dosai is an instant sweet dosai recipe prepared with two main ingredients Wheat flour and Jaggery which is called "Vellam" in Tamil. Hence the name Vella dosai is given to this recipe Most South Indians prepare this dish as breakfast and sometimes as evening snacks too.
No pre soaking and grinding are necessary to make these dosai. Wheat flour available in the markets is sufficient for this recipe. Some people buy wheat and grind into a fine powder, sieve it and store it in airtight containers for ready use. A coarse brown sugar obtained from sugarcane juice is Jaggery.
This is also available in the supermarkets in blocks or powdered form.
Jaggery is added to this flour in syrup base and forms a substitute for the white sugar we use daily. It is healthier and tastier when compared to white sugar. The consumption of jaggery during the winter season is proven to increase the body temperature and immunity, prevent constipation and increase the production of good enzymes in the intestine that helps to avoid indigestion. It aids in reducing arthritis and removes the toxic wastes from the body and cures respiratory diseases too. They contain more calcium and iron content and cure anaemia. It also reduces menstruation cramps. and helps to maintain the body's metabolism.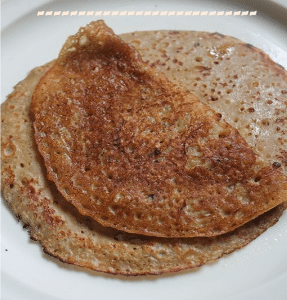 Ingredients
To make  6 to 7 dosai we need the following ingredients:
Wheat flour-½ cup

Rice flour-½ cup

Jaggery-¾ cup

Grated coconut- 2 to 3 tsp

Cardamom powder-¼ tsp

Ghee or clarified butter- as required to make dosai
Preparation
Add ½ cup of water and ½ cup of Jaggery to a vessel and cook in low heat till the jaggery melts.

Keep stirring with a spatula to avoid the jaggery sticking to the vessel. 

Now remove the syrup prepared from the stove and bring it to room temperature by allowing it to cool. Then filter the contents into a clean container.

Take a medium-sized bowl, add rice flour, wheat flour, cardamom powder, grated coconut and jaggery syrup and mix it using a hand blender into a batter. The dosai batter should neither be too thick nor too thin. 
Keep the dosai tawa on the stove and heat it on a high flame and then gradually reduce the flame while making the dosai. Sprinkle some water on the tawa before pouring the batter on it.

 Now the batter should be poured into the centre of the tawa and spread evenly in a  circular motion. Since the batter is a little sticky, care should be taken to avoid the heavy lumps in the dosai.

Add ghee around the dosai and once they are cooked the corners of the dosai turn golden. Now flip the dosai to the other side and add more ghee or oil if required.

Remove the golden brown dosai from the tawa once done and serve hot with honey or butter if required. Make more dosai's in the same manner. 
The prepared batter should be used within 2 to 3 hrs otherwise it might turn sour and lose its original taste. Crushed bananas, eggs and milk if preferred can be added to make it more nutritious and healthy.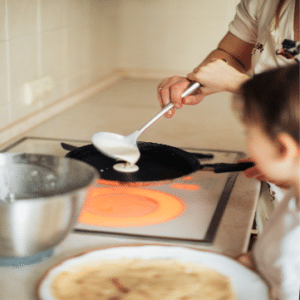 In those days mothers used to make them as an evening snack and children loved them too. But today's children prefer only junk foods like burgers, pasta, noodles and fried snacks which leads to obesity and other health complications. So it is essential to switch back to the traditional dishes made in our home to avoid visiting the doctor often.
Other Articles