Pasta is often a quick-to-prepare dish with endless flavor variations. They burst with intense flavors and alluring aromas. Whether served cold or warm, portions of pasta never disappoint anyone at any time. Pasta is a collective term for food made from an unleavened dough of wheat flour or all-purpose flour. White pasta is made from flour that no longer contains fiber and a large part of the nutrients that are in whole wheat flour. Most types of pasta contain gluten. Such pasta is therefore not suitable for people with the autoimmune disease celiac disease. There is gluten-free pasta. The crossed grain quality mark can recognize this.
There are many types of pasta, such as spaghetti, lasagna, or penne, but also gnocchi or tortellini. Pasta is easy to combine with any other ingredients. In the shop, you will find different types of pasta, such as macaroni, spaghetti, lasagna, tortellini, and ravioli. Some pasta is colored. Green pasta is colored with spinach, red pasta with tomato paste, and black pasta with squid ink. 
This blog delves into Zucchette Pasta, or Fall zucchette pasta, as this dish has the potential to become a fall-time staple. 
In Italian cuisine, zucchetta or Zucca means small pumpkins or gourds. Zucchette pasta comes in the shape of small cute pumpkins. With its peculiar shape, ridges on the outside, and empty inside, zucchette pasta can hold the sauces on the inside, making it tastier. 
They are mostly hearty, cozy, and delicious comfort food perfect for fall dinner tables. This season of the year progresses at lightning speed. Life is reviving as fall gets underway and days become colder and shorter with appetite constantly changing. 
Most often, you crave meaty and cozy comfort foods. During this time, it is a tradition to wallow in everything infused with pumpkin, the seasonal fall crop. This is the time of the year when zucchettes appear copiously on supermarket shelves.  
What is the nutritional advice for zucchette pasta?
If you eat pasta, count on 100 to 125 grams of unprepared pasta per person. Replacing white products such as white pasta, white bread, and white rice with whole-wheat pasta, whole-wheat bread, and brown rice provides health benefits. If you eat enough whole grains, you will benefit from health effects and from the nutrients they provide.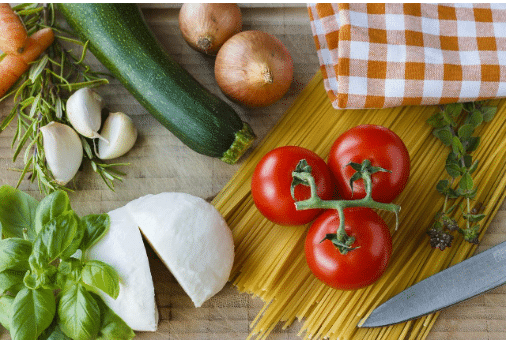 Recipe for Zucchetta with Tomato and Basil
Tasty, quick zucchette pasta with tomato, walnut, garlic, and pepper. 
For: 2 People, cooking time: 15-30 minutes
Ingredients
500 grams of Tomatoes

1 small Onion

1 clove of Garlic

1 stalk Celery

1 tablespoon olive oil

½ dried pepper

200 grams of zucchetta pasta

50 grams of walnuts

12 basil leaves

Grated cheese according to your choice

Grated parmesan cheese
Preparation
Wash tomatoes and cut them into pieces. 

Peel the onion and garlic.

Chop them finely. 

Clean the celery and cut the stalks into small arcs.

Saute the onion, garlic, and celery in the oil for a few minutes.

Add tomatoes with pepper and cook for 15 minutes to form a sauce.

Cook zucchette in plenty of water according to the instructions on the package.

Break the walnuts into pieces. 

Wash the basil and cut it into small pieces.

Make the tomato sauce into a puree with an immersion blender,

Season with basil and sprinkle with walnuts.

Serve the sauce and grated cheese with zucchette. Also, add some extra parmesan cheese and black pepper for flavor. 
Is Zucchette pasta healthy?
Zucchette pasta mainly contains carbohydrates, an important source of energy. They also contain fiber, proteins, Vitamin B, and minerals. Whole wheat zucchette pasta contains much more fiber than regular pasta because it is made from ground grain and is part of a healthy diet. 
Follow this recipe and tempt your taste buds when you have a hankering for exotic food. Enjoy zucchetta pasta covered in decadent tomato sauce and dusted with parmesan. 
Other Articles