Kwai Muk is a plant species native to China. The plant is used for decorating the garden owing to its vertical growing tendency and long slim leaves. Its fruits are round in shape and have brownish, velvety, tender, and thin skin. The fruits of Kwai Muk are in their best form to be harvested when they are completely ripe. As the fruits start maturing, it gets orange-red to red. It becomes soft, acid to subacid, and delves an incredible flavor.

The fruits of Kwai Muk can either be seedless or may have 1-7 pale seeds that are quite smaller in size. The pulp of the fruits is fairly delicious and can be consumed in various ways. You can have the Kwai Muk fruits raw or preserved for a certain time. The fruits become ripe from February to April and prefer moderately warm temperatures to grow at their full bloom.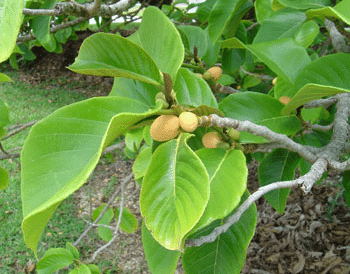 The Kwai Muk tree bearing fruits
Description of Kwai Muk
Kwai Muk is a medium-sized plant that grows within a height of 20-50 feet. The plant takes a little longer to grow. The uniqueness of Kwai Muk is in its aesthetics to decorate the gardens. The presence of Kwai Muk provides a regal touch to the place owing to its pretty and silky green leaves. Its bark has a milky latex. A distinctive feature of Kwai Muk is that its flowers can be both male and female blooming simultaneously.

The scientific name of Kwai Muk is Artocarpus hypargyreus and is commonly found across Southern China.  
Fruits of Kwai Muk
The fruits of Kwai Muk are yellowish and have a fine young surface. The leaves of the plant are simplistic and are elliptic to elliptic-oval in shape. The leaves of Kwai are around 3-6 inches in length having a fibrous and stiff quality. The fruits are pretty high in nutrients and their consumption

maintains effective cholesterol and a healthy heart. The nutritional ingredients of Kwai are as follows:

Energy – 11kJ/2.5kcal

Protein – 0.05 gram

Carbohydrate – 0.57 gram

Sugar – 0.34 gram

Other carbohydrates – 0.23 gram

The fruits grow at their full glory when exposed to sunlight. A mature Muk tree can produce up to 2,000 fruits and is used for dessert items. A warm climate as that of in Southern China and Florida is ideal for the fruits to ripe.
                                                                                                                  The exotic fruits of Kwai Muk
Tips for growing Kwai
You can grow a Kwai Muk tree in your garden or a pot. They are tropical trees and facilitate an edible intonation to the space wherein planted. For cooler geographies, it is better to take the plant indoors (the trees planted in pots or the courtyard) during the harsh winters. It is to protect the tree from massive temperature drops as they cannot survive temperatures below -2

0

C. 
Size of the container for growing Kwai:
You need to be careful while choosing a suitable container for Kwai indoors or in the courtyard. Pots ranging from 12 inches to 16 inches diameter are suitable for smaller varieties and 16 inches to 30 inches diameter for bigger plants. It will be better to keep the roots looser, then

the plant will be healthier and taller. But if you bound the roots to the ground, their growth will be slower.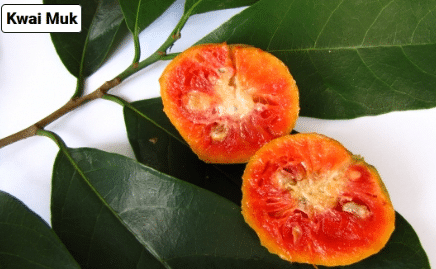 The fruits of Muk are used for desserts
Soil ideal for Kwai:
Kwai needs well-drained soil to support its growth. The plant cannot sustain mucky or arid soils. You can order preferable pots from the local box store and have tips on the proper plantation of Kwai. Proper usage of fertilizers on the soil will help the tree to grow effectively. 

Warning! Don't use cheaper fertilizers that are high in salt contents. Such fertilizers do more harm than good to Kwai and can even damage the roots killing the plant. 
Bottom Line to have a Kwai plant
Muk is popular for its exotic flavor that you can find in various desserts. The trees grow excellently when exposed to suitable sunlight. So comparatively warm weather as in Florida is best for its growth. The Kwai tree delves a decorative characteristic to your garden or enhances the aesthetics of your home if kept indoors. The plant does not need much maintenance as it can grow in a pot also or even in your backyard.
Internal links:
Planthopper- the foe of the paddy field-Erakina
Plants to know – Abutilon or Chinese Lantern plant-Erakina
Jatoba Fruit, What you know about it's medicinal benefits? -Erakina
Other Articles