Angora Ferret is a type of ferret that has long and shiny hair. Their furs are much longer than usual or standard ferrets and can also be considered as long hair ferrets. The origination of Angora Ferrets can be traced back 25-30 years when they were created in Europe at a Scandinavian breeding facility. They are the same as the standard ferrets but have much more furs than them which is a distinctive feature of the Angora Ferrets.
Although they are extremely rare, still they have the same health, behavior, and charm as standard shorthaired ferrets. Being a very rare breed, Angora Ferrets are not much known to people but because of their long, beautiful, and shiny hairs, they are gaining popularity in coming times.
The angora ferret's scientific name is Mustela furo. The coat of the Angora Ferret can grow up to the length of 2 to 8 inches long. The coat generally remains shorter in summer than in winter, but it is still much longer than the usual Ferrets. Their coat does not need any care as they do not normally get tangled.
However, the standard ferret fur comes in two different layers – the undercoat and the top coat. The undercoat usually has short hair which is light in color than the top coat. And the hair can only be seen only when you separate them from the top coat. But in the case of Angora Ferrets, they have long furs both in the undercoat and the top coat so people often think that Angora doesn't have hairs in the undercoat.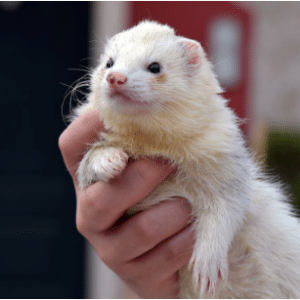 Types of Angora Ferrets
A full Angora is one that has 100% of the Angora genes. This angora has one of the longest hairs among all the other types and only has a slight difference between the under and top coat. Some people believe that it does not have an undercoat and only the top coat.
Semi Angora also has long and shiny hairs but they have little short hairs if compared to the Full Angora. The nose of the half Angora is the same as that of the standard ferrets as mentioned above.
These Angora are generally born from the mating of Angora and Standard Ferrets. Their fur is long but shorter than Semi and Full Angoras. 
Part angoras are those angoras that have less Angora genetic materials as compared to the above three types. They have fluffy hairs but much less than the Full Angora Ferrets. Some of them have long coats but it is just an exception.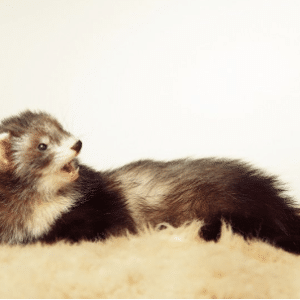 How to Choose an Angora Ferret?
Angora Ferrets are one of the most unique pets that one can buy for their home. But before buying them everyone should keep the below-noted points in mind:
One can buy a kit or an adult ferret depending on their personal experience. Kits can grow into a lovable adult ferret and get much affection from their owners compared to dogs and cats. As the population of the ferret is increasing so the demand for them to keep as a pet at home is also increasing gradually.
While going to buy a Ferret for your home you must do a proper inquiry as from which breeder you should purchase. Angora ferrets may look a little cheaper but it is always suggested to buy an Angora ferret from a reputable breeder.
Male and Female Angora Ferrets
Male and female Angora ferrets are almost the same in structure and appearance. However, as they grow the male ferrets become more aggressive compared to female ferrets when they are exposed to heat. Gender also matters when it comes to body scent as ferrets normally have a scent sac below their anus that helps them to mark their territory through urine and stool. But male ferrets have a much stronger scent than female ferrets.
Angora Ferret as a Pet
Angora Ferrets are quite unique animals if compared to Cats and Dogs. All Ferrets have their own distinct quality which makes them make a strong bond with their owner and play with them like their children. They are also very clever as they can climb anywhere and take out foods and eat them.
Angora Ferrets are not needed to maintain properly as they can stay anywhere in the house if given enough space and time to do exercise. Most ferret owners wanted to give their room to ferrets to roam around but if one wanted to do so then before that they have to keep everything ferret-proof as ferrets are quite playful and naughty and they can easily break things and create a mess all around.
Maintain distance from children
Ferrets should be kept at a distance from children as quite often they used to scratch over their skin which might cause harm to them. 
Ferrets are great lover of toys but better to use durable toys as ferrets are so playful at times that they might rip apart the toys until and unless it is fully destroyed
Ferrets do not smell bad but their body carries a very strong odor that can easily be recognized by other people. Also, the cage of the ferret should be regularly cleaned so it will not spread any bad smell around the house.
Angora ferrets can go well along with other ferrets but it should be kept in mind that the other ferrets are well-trained before allowing them to play with each other.
Angora Ferret Behaviour
Angora Ferrets can be your great friend if you decide to domesticate them in your home. They are very playful and friendly with whom the children can play all day and night. They are quite smart, curious, and full of energy which keeps them active throughout the day. Angora Ferrets love to play with toys but they will definitely shred all the toys as soon as they get them within their reach. Typically, Angora Ferrets do not need any other companion to play with as they used to get much love and affection from the family that adopts them.
Angora Ferret Habitat
Angora Ferrets do not have a particular habitat like forests or zoos as they have been originally found in Europe where they were bred in a breeding facility in Scandinavia, and are now sold by the breeder to people who want to domesticate them in their home as their pet. They should be given a good habitat as the owner of the ferret needs to take care of them and give them enough space in the house to move around just to burn off energy. Also, supervision is important as their playtime can definitely become destructive.
Angora Ferret Nose
Angora Ferrets are also quite popular because of their nose. The nose of long hair ferrets seems to be slightly different from the short hair ferrets as they have hairs even inside their nostrils. Other than that, they also have a slight fold of skin near the nostril which is not so bad for Angora Ferrets but it may cause some serious problems further.
Angora Ferret Population
The population of Angora Ferrets all over the world is highly dependent on the increasing demand among breeders. Since Angora Ferrets are domesticated animals so their population is increasing day by day. They cost nearly Rs 5000 to 20000 and their coats and food make the overall difference in the cost, still, they are in demand in today's world. 
Angora Ferret Diet
Angora Ferrets are carnivorous animals like the other standard ferrets and they need their owner to feed them food that is high in protein and less in carbohydrates. Among the prepared food, chicken and turkey are suitable for their body.
Differences between Angora and Standard Ferrets
There is not much difference between these two types of ferrets apart from their nose and long hairs are concerned. They are both healthy and can also be prone to illnesses like diarrhea, hair loss, and vomiting which can weaken them to a great extent.
Both the Angora and Standard ferrets are quite friendly and playful with their owners but the Angora ferret seems more attractive in its behavior. So, one should definitely buy an Angora but one should also keep in mind as this breed is quite unique and has high demand so the price may seem a little higher than the usual standard ferrets.
Angora ferrets are beautiful creatures that are very unique because of their long and smooth hairs. As they are unique in their features which means that they can develop different types of characteristics and that is an interesting fact about these ferrets. So, from now onwards everyone will love to have an Angora ferret as their pet instead of a cat or dog.
Other Articles