Hemp Seed or Hemp belongs to a botanical class of Cannabis Sativa grown mainly for industrial and medicinal purposes. Through the use of Hemp, a variety of products can be made and it is one of the fastest-growing plants on Earth after Bamboo. It is one of the first plants spun into usable fiber almost 50000 years ago. A variety of products can be made from Hemp like paper, rope, textiles, clothing, paints, biodegradable plastics, food, and animal feed.
Hemp seeds are also used for multiple purposes but it is mainly used for animal and plant feeds. The seeds of the hemp can be eaten raw or can be grounded into fine powder. It can also be used to make some beverages as well as Tisanes. Oil from the hemp seeds can also be extracted through the method of cold pressing and that hemp oil is high in unsaturated fatty acids. In the US, selling hemp is quite popular as it is considered one of the best foods for health.
Hemp seeds are very good for one's health as they are rich in fiber, protein, and healthy fatty acids including omega-3s and 6s. They also have antioxidant properties which help in the reduction of numerous ailments in one's body related to the heart, skin, and joints. These seeds contain a large number of amino acids which can be compared to high-protein foods like meat, milk, eggs, and soybean.
Health benefits of Hemp Seeds
Rich in nutrition and GLA
Hemp seeds are high in nutrition and have a slightly nutty and crunchy flavor and are often described as hemp hearts. These seeds contain almost 30% fat and are exceptionally rich in two essential fatty acids i.e. omega-3s and omega-6s. Hemp seeds also contain Gamma-linolenic acid (GLA) which is a necessary building block of prostaglandins — a hormone-like chemical in the body that helps in the smooth functioning of muscles, controls inflammation and body temperature, and is vital to other body functions.
Helps to ease Arthritis and Joint pain
Hemp seeds are so useful for one's body that they can help to ease the pain of rheumatoid arthritis symptoms. The oil that is extracted from the hemp seeds has anti-arthritic effects which can help reduce the pain of knee joints to a great extent.
Hemp seeds help in lessening our appetite and can keep us full stomach for a longer period of time. As hemp contains a high amount of fiber so it can make us feel less hungry which in turn can help us to lose weight.
Hemp seeds are high in soluble and insoluble fibers which can help in the proper regulation of one's gastrointestinal system. These seeds help to feed the probiotics in our gut and can boost the immune system in the body. High-fiber foods can always help in relieving constipation. 
Helps in skin, hair, and nail health
Hemp seeds are very useful for skin and hair and it helps in improving any redness or dryness of the skin. These seeds are often used in cosmetic products like lip balms and lip gloss, soaps, and lotions. The hemp oil helps in penetrating the layers of the skin which promotes healthy cell growth and thus, keeps the skin smooth and refreshing. Hemp seeds can also be used to make a skin cream using shea butter and essential oils like lavendar.
Hemp seeds are high in fatty acids like omega-3s and omega-6s which helps in the reduction of inflammation and strengthen the immune system. These seeds have antioxidants and anti-aging properties which help one to look younger than their age and make skin wrinkle-free.
To keep a heart healthy we should take food that is rich in fiber, protein, healthy fats, and less sugar. So, hemp seeds are highly recommended for a person with some heart ailments as eating hemp seeds regularly can cure their heart problems to a great extent. It can improve high blood pressure and can lower the level of cholesterol in the human body.
PCOD/PCOS is one of the common symptoms that can be found in almost 80% of the women population in the world. And the main cause behind it is hormonal imbalance and lifestyle. As Hemp seeds are high in Gamma-linolenic acid (GLA) which can help in curing irregular periods and regularise the period cycle.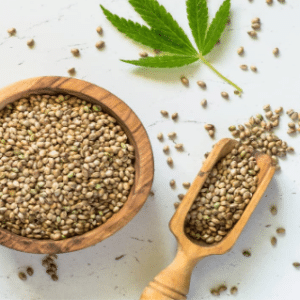 Nutritional benefits of Hemp Seeds
Hemp seeds contain the same amount of protein as we find in soybean. These are so rich in protein that they provide innumerable quantities of amino acids. Amino acids are the building blocks of protein as the human body cannot produce them on its own so the intake of hemp seeds is suggested. These seeds are rich in an amino acid called arginine which can be beneficial for the heart.
Hemp seeds are rich in unsaturated fats, especially omega-3 fatty acids which are highly beneficial for health. As the body cannot produce these fatty acids on its own so they should be absorbed through diet which can be crucial for long-term health. Hemp seeds, on the other hand, are much low in saturated fats and do not contain any trans fats.
The fiber in the hemp seeds mainly contains in the hulk so one must buy these seeds with their intact hulk. Consuming enough hemp seeds can help in reducing one's appetite, aid weight management, helps in stabilizing blood sugar levels, and promote the health of the gut.
High in minerals and vitamins
Hemp seeds contain high amounts of minerals and vitamins and mainly it is rich in phosphorous, magnesium, potassium, and vitamin E. These seeds also hold a suitable amount of iron, zinc, and vitamin B.
Some side-effects of Hemp Seeds
Hemp seeds are considered to be healthy but eating a raw hemp seed by mouth can cause some side effects:
Irritation in the throat

Diarrhea

Nausea and vomiting

Slow heart rate

Hypertension or high blood pressure
Eating hemp seeds is not considered to be harmful as eating the leaves or other parts of the plants. As hemp seeds contain a rich amount of fatty acids so consuming it may cause mild diarrhea.
Storage of Hemp Seeds
Hemp seeds need to be stored properly because these seeds carry rich amounts of fatty acids which if not stored properly can degrade their quality and also can be harmful to health. These seeds and also hemp oil should be stored in an air-tight container and must be kept in a cool and dark place. If refrigerated after opening it is the best way for its storage.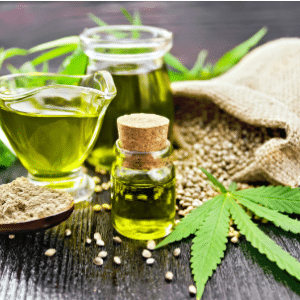 Hemp seeds Recipes
Hemp is rich in fiber and protein so preparing homemade hemp butter is one of the best recipes that anyone can make in their home and have with food. And it's one of the easiest recipes that anyone can prepare from the comfort of their home. 
One can take a cup of hemp seeds and put it in a blending jar and blend it until a fine smooth paste. This is the only work one has to do to make homemade hemp butter.
As we all know that salads are one of the best combinations that one can have with any food item. Also one eats only salads when they are on diet. Adding some amount of hemp seeds to salads can enrich their nutrition and can make them a superfood.
Chocolate and hemp smoothie
We all love to have smoothies and if some amount of hemp seeds are added while preparing smoothies can enrich their tastes as well as make them super healthy. The recipe is the easiest to make as one has to just put every ingredient into the blending jar and blend it into a smooth paste and then serve it.
The ingredients that one can use are hemp seeds, sugar, milk, chocolate syrup, and honey. Mix them well and serve in a glass with some almonds over it.
Products and Uses of Hemp Seeds
Hemp seeds are generally famous for their fibers and as it is less than flax it is usually yellowish or greenish in color and cannot be bleached easily. So, hemp seeds are basically dyed. 
Hemp is very strong and durable so it is often used to make rope, yarn, and string as it can be long-lasting and is largely sold in the markets. Some specially processed hemp is used to make a unique type of fabric similar to linen for clothing.
Hemp textiles are used to make high-quality shoes and hemp fibers are used to make bioplastics that are recyclable and biodegradable. Also, it is frequently used in the papermaking industry.
Hemp seeds are one of the most important plant-based food which is very useful for health as well as for numerous other things like making bioplastics, clothes, the paper industry, etc. So, regular consumption of hemp seeds can keep one healthy and disease-free.
Other Articles