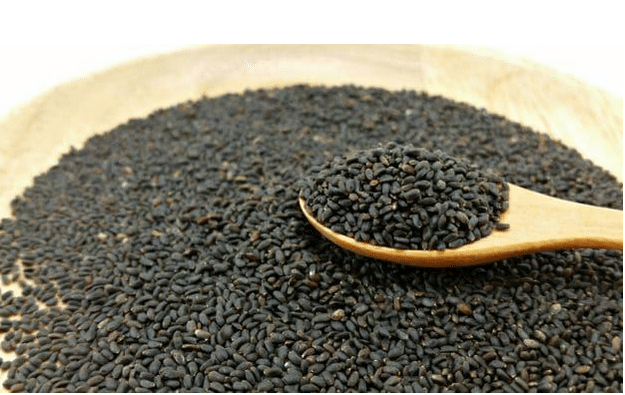 Raw basil seeds
In Kashmiri, basil seeds, also known as Sabja seeds or Tukmaria seeds, are called 'Babri Beoul.' Basil seed has it all, from being a kitchen's greatest buddy and being used as the main component in a variety of cuisines such as puddings, tea, sharbat, and more, to having a variety of therapeutic properties. During the summer and at Iftar hours during Ramadan, Babri Beoul is a popular beverage. These are black in color and resemble chia seeds. Babri Beoul is loaded with nutrients such as fibre, protein, calcium, iron, magnesium, potassium, and vitamins, and it has no calories, which is unexpected. So it not only keeps us energetic but also gives the body a cooling effect and keeps the body hydrated. Basil seeds are collected from sweet basil plants (Ocimum basilicum).
Soaked basil seeds
Basil seeds, also known as Babri Beoul, are extremely hard and should not be eaten uncooked. As a result, they should be eaten after being soaked in water to turn them into a jelly-like texture. In traditional Ayurveda and Chinese medicine, Babri Beoul has various health benefits; nevertheless, the benefits of Babri Beoul described below have just recently been found.
10 Undeniable health benefits of Babri Beoul (Basil seeds)
Basil leaves closeup
Side-effects of Babri Beoul:
Each and everything that exists under this planet has two sides to them, one is nice and another one is bad. Above during this article, we talked about the pros of consuming Babri Beoul aka Basil seeds, so here goes a listing of side-effects of Babri Beoul, below.
But as we said earlier, everything has a good and bad side to it, so does Babri Beoul. But if consumed mindfully it can be of great help in your day to day life. Now it is up to you if you want to try it or not. But if you do, do not forget to let us know.
Other Articles