Panakam is a Sanskrit word meaning a traditional South Indian drink made of lime and jaggery. It is a quintessential summer drink offered to Lord Rama. Panakam also goes by the name Panagam. The drink has a significant religious inclination across the southern part of the country. During Ram Navami, if you are in South India, you will understand the relevance of Panakam. To the South Indian people, Panakam serves as a good means to start the summer. Different people customize Panakam as per their choice and convenience. You may flavour it with pinches of cardamom or black peppercorns or dry ginger. It is an organic coolant during the summers, hence preferred by those living in the tropical South Indian states.
Heritage of Panakam
Panakam is an integral part of the traditional South Indian household. To keep themselves hydrated from the scorching glare of the sun, Panakam is the best way. Its Sanskrit name suggests that the drink is not a modern phenomenon. We can find references to the natural coolant since the ancient period. Panakam is derived from the Sanskrit word, Panaka. It means a sweet drink. In the Indian context, we know jaggery to be a natural sweetener. Jaggery has its medicinal value and has wide usage in Ayurveda. 
Panakam is a traditional South Indian drink and is deeply connected to Ram Navami. The occasion marks the birthday of Lord Rama and devotees offer Panakam on that auspicious day. Ram Navami marks the beginning of summers and its solution as well, courtesy Panakam. Thus, it is not only a refreshing summer drink, a prasadam of Lord Rama.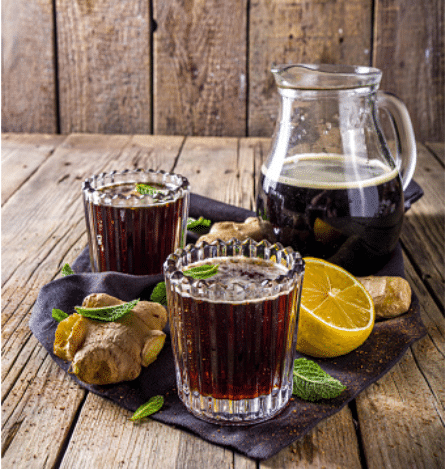 You can thank Lord while having the drink. Lord Rama tries to refresh and rejuvenate you by offering Panakam as the prasad.
Is it easy to prepare Panakam?
The simple answer is yes. It hardly takes around five precious minutes of your life to prepare a refreshing summer drink. Here, I will tell you the recipe to make two glass servings of the traditional summer drink.
Ingredients to prepare Panakam
Jaggery – About a cup, you may use either crushed or powdered jaggery. 

Water – 5-6 cups

Lime juice – A quarter cup

Cardamom – About 5-6 pods, crushed cardamom will also do.

Dry ginger – 1 teaspoon of dry ginger powder

Black peppercorns – A pinch (optional).

Salt – A pinch (optional).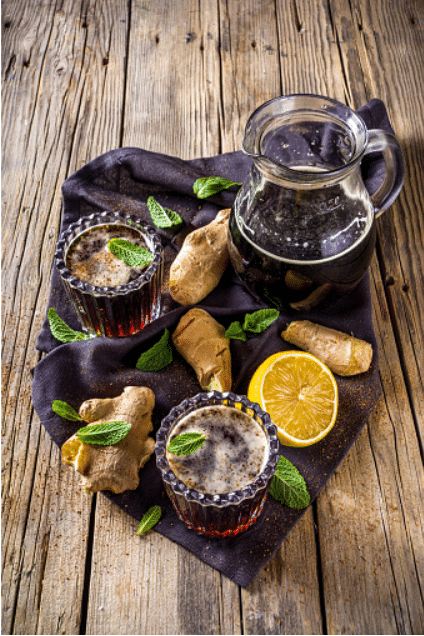 How to prepare Panakam?
To start with, dissolve the jaggery in a cup of water. 

After that, filter the water to do away with any sorts of impurities.

Then add the lime juice to it.


Now, add the ginger powder to the solution and stir it well. 




You can add the optional black peppercorns and salt if felt necessary. 




Leave the drink for about 10 minutes to settle and mix the ingredients well. 




Your refreshing summer drink is ready. Panakam is refreshing at room temperature. It will be better if you refrigerate it to have chilled servings. 



Some notable points while preparing Panakam
Some people substitute jaggery with sugar. If you do so, you won't get the right taste. Rather you can use either brown sugar or palm sugar instead of jaggery. 

I advise using jaggery of better quality. It enhances the taste of Panakam for you to realize how refreshing and organic summer drinks can be. 

The dark variety or light brown variety of jaggery is of the highest quality. Such variants are preferable to prepare your natural coolant in summer.  

Jaggery may trouble you to dissolve. So you may use warm water for the purpose or soak them in water for a longer time. 
You can experiment with the ingredients. You may replace the lime juice with tamarind extracts to give a rawer flavour.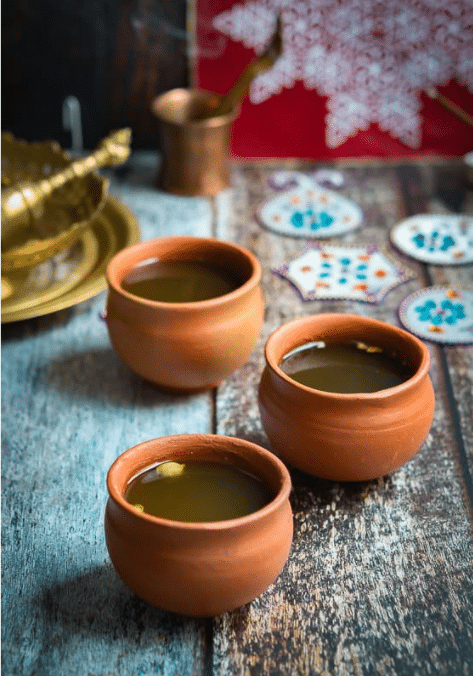 The Bottom Line on Panakam
Panakam or Panagam as you refer to call it is a worthy summer drink. If you have heard it for the first time, make sure to prepare it at your home. It is a natural coolant for summer. Summers are harsh in India and you need to refresh. So move away from the fake, branded soft drinks in the market. Panakam is here to rejuvenate your mind and body and it's healthy as well. 
Panakam is an ideal way to celebrate Ram Navami. 
Other Articles