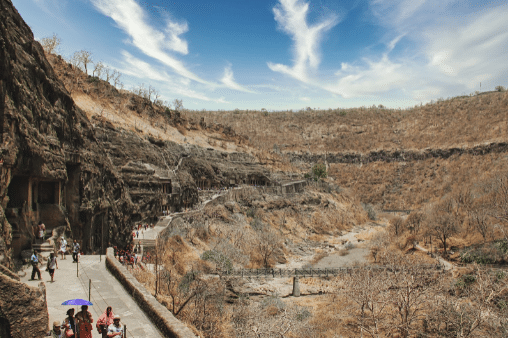 About Aurangabad 
Aurangabad is a city in west-central Maharashtra state, India. 

The city was originally known as Khadki and was founded by Malik Ambar in 1610.

After the fall of the Nizam Shahi Dynasty in 1633, the city came under the Mughal rule and was later named Aurangabad after it became the headquarters of Aurangzeb. 

It is situated in a hilly upland region on the kaum river. 

Aurangabad was a part of Hyderabad in newly independent India and later became part of Maharashtra. 

It is known for its artistic silk, fabrics particularly shawls, it is also known for its tourist destinations like Ellora and Ajanta caves which were designated UNESCO World Heritage. 
Aurangabad's climate, geography, and cultivation 
The northern portion of Aurangabad is mostly a plain formed by alluvial soil which is very fertile, in a few portions of Aurangabad fertile alluvium is found.

Aurangabad is located mainly in the Godavari river basin and partly in the Tapi river basin 

In Aurangabad, the rainy season runs from June to September, and the average rainfall received is 734 mm and the temperature range is about 6 – 46 degrees celsius. 

Agriculture in Aurangabad is diversified, and a wide range of crops are grown in the district. Major food grains are jawar, wheat, gram, pearl millet, and pulses. 

Banana, guavas, mangoes, and papaya are the important fruits grown in the district. Besides these fruits, grapes, oranges, limes, and figs are also cultivated on a small scale. 

The city is also known as the major production center of cotton textile and artistic silk fabrics. 
Places to visit when in Aurangabad 
Ajanta caves – Ajanta caves were declared as UNESCO World Heritage Site. They are approximately 30 rock-cut Buddhist cave monuments dating from the second century BCE to about 480 CE. The caves include paintings and rock-cut sculptures, particularly expressive paintings that present emotions through gesture, pose, and form.

Bibi ka Maqbara – It was commissioned by Mughal emperor Aurangzeb in the memory of his wife and is considered to be a symbol of Aurangzeb's conjugal fidelity. Bibi ka Maqbara is the second largest structure that Aurangzeb has to build.

Daulatabad Fort – it is a fortified citadel located atop a conical hill. Its strategic location, incredible location, and three-layer defence system made it one of the most powerful hill fortress.

Ellora caves – Ellora caves is also a World Heritage Site. The 34 caves are actually structures excavated out of the vertical face of the Charanandri hills, being Buddhist, Hindu, and Jain rock-cut temples and monasteries which were built between the fifth and tenth centuries

Grishneshwar Jyotirlinga temple – It is a kilometre away from the Ellora caves, the eighteenth-century temple of one of the five jyotirlingas of lord Shiva in Maharashtra, and 12 of that in India holds great significance from its visitors.

Chhatrapati Shivaji Maharaj Museum – War weapons, coins, and other artifacts from the  Maratha Empire are displayed in traditional surroundings.

The Gates of Aurangabad – the Gates of Aurangabad distinguish it from several other medieval cities in India. Each of the fifty-two gates has a local history or individuals linked with it. Out of 52, only four main and nine subordinate gates have survived. The most famous and biggest of them is the Bhadkal Gate. 
History of Aurangabad 
Khadki was the original name of Aurangabad given by Malik Ambar. After the death of Malik Ambar, he was succeeded by his son Fateh Khan who changed the name from Khadki to Fatehnagar. In 1633 after the capture of Daulatabad Fort by the imperial troops, Fatehnagar came under the possession of the Mughals.

In 1653 Aurangzeb was appointed the viceroy of the Deccan and he made Fatehnagar his capital and renamed it Aurangabad. 

Aurangabad began to industrialize in the late 19th century, with the city's first cotton mill being opened in 1889.

After India's independence, in 1948 Aurangabad became a part of the Indian Union's Hyderabad state. And in 1965 it passed into the newly formed Bombay State and in 1960 it became part of Maharashtra State.
Other Articles