Introduction
Talking about Shimla, the Queen of Hills is situated at an altitude of 2215 metres above sea level. Being one of the most important hill stations/cities in India, Shimla is the capital city of Himachal Pradesh, where honeymooners, couples, nature tour lovers and people who seek peace and tranquillity come to enjoy their holidays.
From the sky or a high view, the attractive hill station in Himachal Pradesh feels like a wide half-moon shaped ridge that's 12 km far in the North-West of the Himalayas. you may see the entire presence of Mother Nature everywhere in Shimla in Pine and Deodar forest ranges, snow-capped mountains, deep valleys, natural springs, and crystal clear water rivers. For the duration of geographical area, it had been the summer capital that's become an ideal romantic place for tourists now. Before you enter the hill station, it's vital to understand the simplest time to go to Shimla.
Weather in Shimla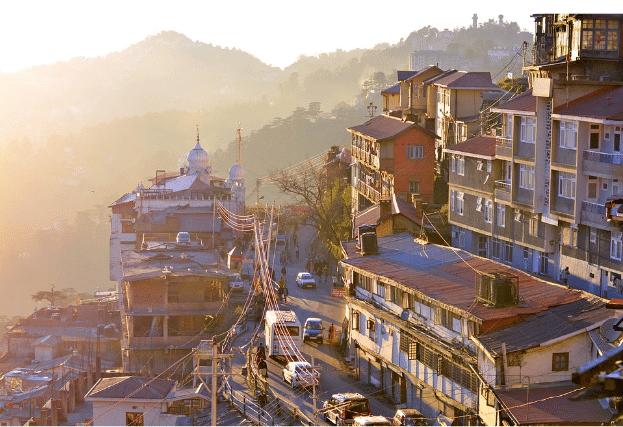 Spring Season:

From March to April the temperature stays between 10℃ to 20℃ with Clear skies. However, occasional rain and thunderstorms are normal.
Summer Season:

May to June is the summer season in Shimla. The temperature stays between 16℃ and 28℃ with clear skies. However, the environment may become smoky because of forest fires.
Monsoon Season:

July to September is the Monsoon weather when the temperature stays between 13℃ to 20℃. It rains continuously through the time of year. Walking in Shimla Mall Road during the Monsoon season is amazing to experience.
Autumn Season:

Months of October and November is the season when the temperature stays between 10℃ to 23℃ with clear skies and chilly evenings.
Winter Season:

Months between December and February are winter months. During winter temperature reaches minus 7℃ to 10℃. Generally, dull weather and frequent snowfall are common.
Fairs and Festivals in Shimla
Come near the Traditions and Culture of Himachal Pradesh. This Himachal hill station isn't only known for serenity, cool climate, lush greenery and snow-capped mountain ranges, but also for a variety of fairs and festivals that are celebrated by both locals and tourists. a number of the foremost celebrated fairs and festivals in Shimla include:
Spring Festival-Time for Joyous and Celebration-

It is the foremost awaited festival that's organized within April from 28th to 30thof month each year. ethnic music and dances of Himachal Pradesh keep visitors mesmerized during the festival season.
Baba Nath Fair-A Fair that Attracts Devotees-

This event occurs is widely known from 14th March to 13th April within which Pilgrims from everywhere the country and globally come to go to Baba Nath Fair to invoke their blessings.

Malware Mela-A Very Traditional Fair-

It is one of the foremost celebrated festivals held for wrestling, cultural events, cattle fairs and trading activities. People from different parts of India come to enjoy the standard fair.

Rafting Cup-An Adventure Sport Event-

Being one of every of the popular adventure sports festivals, Rafting Cup is a river rafting championship from Pandora to Tattapani. As far as Pandora is worried, it's 70 kilometres from Shimla.

Shivratri Fair-The Most church festival-

It is also one of the sacred festivals in Shimla within which many local deities and consists of cultural programs furl the evening for dance and music.

Summer Festival-Enjoy Cultural Programs-

Like the spring festival, the summer festival is an additionally much-celebrated festival here that's held within June. within the festival, cultural programs are performed by state residents who come from various parts
Religious Places in Shimla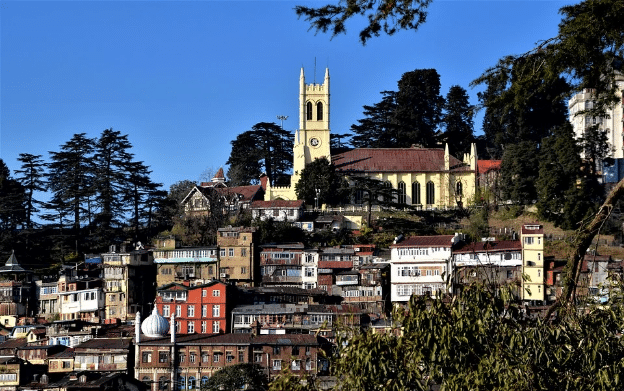 Shimla has also a non-secular significance in Himachal Pradesh because the hill station is visited by devotees and deities from different parts of the India and world. a number of the traditional and non-secular symbols include:
The Anglicised Christ Church-

The famous church was in-built 1844-57 after the Neo-Gothic plan of Col.J.T.Boileau. it's one of all the well-decorated and therefore the most beautiful churches in India within which bells are fabricated from the brass of the cannon won by a people within the war with the Sikhs. additionally, the coloured glass windows and also murals on the walls are attractive. glass windows are an attraction in themselves as they signify faith, hope, charity, fortitude, patience and humility that attract tourists to go to the attractive church.

Kali Bari Temple-

It was developed by Ramacharan Brahmachari within the year 1845. it's the sole place where Goddess Durga Puja is widely known in Shimla. The Idol of Goddess Kali is worshipped here. On the opposite hand, Mangalchandi and Shyamla Devi idols are on the left.
How to Reach Shimla
AIR:

There's one airport Jubbor Hatti in Shimla which is around 23KM from Shimla city. Jagson Airlines has flights from Delhi to Shimla. Though the flights aren't very frequent.

RAIL:

The closest railroad track head is at Kalka – a four-hour journey from Delhi. After that, take a mountain train from Kalka to Shimla. This railway track has recently been granted the status of being a UNESCO World Heritage Site. The view is stunning, with the road passing through an incredible 103 tunnels. The fastest thanks to getting to Kalka is to catch the Shatabdi Express, which departs early morning from the Indian capital railroad terminal, arriving at Kalka four hours later.

ROAD:

Once you reach Shimla, you'll be able to move intercity or interstate bus services from HRTC referred to as Himachal road transport corporation. As and when private travel agents operating the service are available, it'll be displayed on this page. Shimla is the capital city of Himachal Pradesh and is popular, especially among honeymooners. Shimla is found at about 378 km. from Delhi and 115 Km from Chandigarh. all sorts of personal transportation are out there between Delhi and Shimla.
Other Articles