Neem and its miracle properties
Neem grows in tropical to the sub-tropical zone. It is native to South Asia and some parts of Africa. The botanical name of neem is Azadirachta Indica. Every part of the neem tree, from its leaves to fruit to bark has immense medicinal value. It can cure many health, skin, and hair-related problems. Moreover, it plays a major role in Ayurvedic medicine. According to Ayurveda, the neem leaf is nourishing to the hair. It removes the toxins from the body and purifies the bloodstream. This bitter miracle is the prime recommendation for a wide range of diseases in Ayurveda.
Dandruff has become a more common skin problem for many people nowadays. It is a condition that will cause our scalp to dry and flake. It will cause mild itchiness on the scalp and eventually leads to hair loss. There are several treatments and ways to treat dandruff and get rid of it, but the most effective and promising way is to use neem. Neem contains a phytochemical called Nimbidin. This chemical washes off the flakes on the scalp and soothes the hair follicles. It removes the dry condition on the scalp. It is a natural remedy to get rid of dandruff. 
Easy DIYs' to treat dandruff
Neem is easily available in our homes, and due to its antimicrobial properties, it is the best solution to treat dandruff. Several shampoos guarantee to remove dandruff but are not efficient in the long run. Here are some easy methods to treat dandruff :
It can be made easily at home and gives you efficient results.
Ingredients :
10 – 15 Neem Leaves

½ cup Coconut Oil

1 tbsp Castor Oil

½ tsp Lemon Juice
Method: 
In a pan, pour coconut oil and add the neem leaves to it. Heat the oil for about 10 to 15 minutes on a low flame and turn it off. Leave the oil undisturbed until it cools down to room temperature. Then add 1 tbsp of castor oil and ½ tsp of lemon juice to it. Filter the oil and store it in a Glass container.
Directions to use: 
Apply this oil to your scalp and hair length and leave it for 20 minutes to 1 hour and wash it off. 

Using this neem oil 2 times a week will give you amazing results. Gradually, with 3 to 4 washes you will see improved hair texture and removal of dandruff from your scalp.
Ingredients:
25 to 35 neem leaves

1-litre water
Method:
In a vessel take 1 litre of water and add the neem leaves to the water for 10 to 15 minutes. Then Grind them and apply the mixture to your hair. 
Directions to use:
Apply the mixture to your hair and leave it for about 20 mins. Then wash it off!

Applying this mixture twice a week will work magic on your hair and completely removes dandruff and flakes.
Neem shampoo and conditioner
Ingredients for conditioner:
10 to 20 Neem Leaves

1 litre water
Preparation of conditioner:
Boil the water for 10 minutes and add neem leaves to it. Turn off and let it cools down. Filter the neem water and store it in a container.
Directions to use: 
Use a shampoo that contains neem extract as its primary ingredient. Example: Biotique neem shampoo, Khadi, etc., 

After washing your hair, use the prepared neem water as a conditioner, then wash it off

Use this method at least 2 to 3 times a week to prevent dandruff. As neem possesses anti-fungal properties it fights back dandruff and keeps your scalp and hair fresh & healthy.
Curd is rich in anti-bacterial properties as it helps in smoothening your hair and soothing effect on your hair follicles. Combining neem with curd will be a magic solution to prevent dandruff.
Ingredients:
20 to 30 Neem leaves

½ cup of curd

1 tsp of Honey (Optional)
Preparation:
Make a paste with the neem leaves and add it to the curd, mix it until it blends perfectly and is smooth. Add 1 tsp of honey, which is optional.
Directions to use:
Apply the neem and curd paste to your scalp and hair length. 

Leave it for out 20 to 30 minutes. 

Then, wash it off with your shampoo and conditioner.

Using this mask 2 times a week, will work wonders for your hair and completely removes dandruff.

As neem is rich in anti-fungal treatments it washes off dandruff and prevents it from coming back. 

Also, the curd will be a magical ingredient in this mask, as it possesses anti-bacterial properties and is rich in vitamins it is capable of removing dandruff from the scalp. It further strengthens your hair and gives a cooling effect to your scalp.
Replacing your normal plastic combs with a neem wood comb will be a very convenient and effortless way to use neem to fight dandruff on a daily basis. It will even eliminate the head lice, thereby promoting a healthy scalp.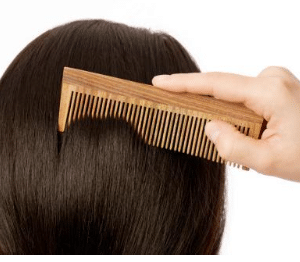 Benefits of neem
Neem is a naturally available medicinal herb capable of fighting back fungi and bacteria. The benefits of neem are unmeasurable. These are some benefits of  using neem in your hair:
Along with applying neem to your hair, Intaking 2 to 3 neem leaves once or twice a week will help in purifying your blood.

Neem leaves have a very powerful and effective phytochemical that helps in controlling the discomfort caused by dandruff.

It also reduces the itchiness and smell caused by dandruff.

It is a natural remedy for many other skin-related problems and is widely used in Ayurvedic treatment.

It helps in fighting scalp infections.

It controls the frizz and acts as a natural conditioner for your hair.

It promotes hair growth and minimizes gray hair.
Neem has been used as a natural remedy for several illnesses throughout the generations. It is now used as a trademark name for many products such as to treat pests, dental-related problems, skin problems, hair infections, etc., Hence it is nature's gift to humankind and a package of medicine for hair-related infections. It is an easily available cure for your hair. This miracle oil or hair mask will work wonders for your hair. Use neem on your hair and replenish it from dandruff.
Other Articles