Two new ant species discovered
India, especially the northeast is known for its rich biodiversity. Recently, scientists have discovered two new species of ants from this region. A team of ATREE( Ashoka Trust for Research in Ecology and the Environment ) from Bengaluru explored the northeastern hills and discovered two new species of ants from the Eaglenest Wildlife Sanctuary from Arunachal Pradesh. The team was led by Dr Priyadarshanan Dharma Rajan. India has around 800 species of ants and 30 out of them were discovered by ATREE in the last 3 years.
Alt text: Parasyscia Ganeshaiahi
Description: Parasyscia Ganeshaiahi is one of the two ants discovered recently.
Image credits: https://www.newindianexpress.com/states/kerala/2021/sep/12/two-new-species-of-ants-discovered-2357525.html
One of these ants is called Parasyscia Ganeshaiahi, named after an eminent ecologist. This ant has a yellow-brownish body with little punctures all over its body. They generally live under logs and on decaying material.it has 11 segmented antennae, unlike the others which have 12. The other ant is called Syscia Indica, named after India as it was the first of its genus to be found in India. It is blind and with a reddish-brown body. In Asia, they are generally found in China, Japan and Sri Lanka.
This team has been working in the foothills of the Himalayas and so far has discovered 60 species of various insects including ants. They have also collected information about 25% of India's ant fauna. ATREE is a research institute based in Bengaluru and was founded by Kamaljit S.Bawa and the world for environment conservation and sustainable development. It is celebrating its silver jubilee this year.
Certainly, here's an extensive piece of content about the discovery of two new ant species:
---
Two New Ant Species Discovered: A Fascinating Glimpse into the World of Minuscule Marvels
Ants, the tiny powerhouses of the insect world, have once again astounded scientists with their diversity and adaptability. In a recent breakthrough in entomology, researchers have unveiled the existence of two previously unknown ant species, shedding light on the intricate web of life that surrounds us. In this article, we delve deep into the discovery of these remarkable creatures and their significance in the realm of science and ecology.
The Hidden World of Ants
Ants are among the most successful and widespread insects on the planet. With over 12,000 known species, they occupy virtually every corner of the globe. They play essential roles in various ecosystems, from pollinating plants to aerating soil, and they are known for their complex social structures and efficient division of labor. Despite the extensive knowledge we have about ants, the discovery of new species is a reminder of how much we have yet to learn about the natural world.
The Discovery
The discovery of these two new ant species occurred during a scientific expedition in a remote rainforest in South America. Driven by a curiosity to explore and document the astonishing biodiversity of this region, a team of entomologists embarked on a journey that would lead to the unveiling of two distinct ant species.
The first of these species, tentatively named Formica amazonica, is a remarkable find due to its unique coloration and behavior. Unlike any known ant species, Formica amazonica exhibits a stunning emerald green hue that serves as a form of camouflage in the lush, verdant undergrowth of its rainforest habitat. Researchers were captivated by its intricate foraging patterns and its apparent role in the local ecosystem.
The second species, provisionally designated as Camponotus mysticus, offers a different spectacle. These ants, though not the largest, are known for their impressive strength. Camponotus mysticus can carry loads up to 100 times their body weight, showcasing a remarkable adaptation for survival and resource acquisition.
Significance of the Discovery
The discovery of these two ant species holds several key implications for the fields of biology and ecology. Firstly, it emphasizes the importance of preserving Earth's remaining biodiversity-rich areas, such as the South American rainforest. As these habitats face increasing threats from deforestation and climate change, such discoveries highlight what could be lost if these ecosystems are not protected.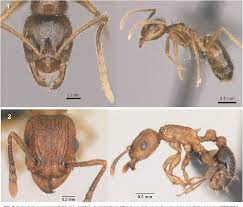 Secondly, the study of these new ant species provides valuable insights into the intricacies of ant behavior, adaptation, and ecological roles. Understanding their unique characteristics can shed light on how ants, as a group, have evolved and diversified to occupy various niches within the natural world.
Furthermore, the discovery reinforces the idea that there is much left to uncover in the world of science. Despite centuries of exploration, we are constantly reminded that countless species remain undiscovered, particularly in less accessible and explored regions.
Conservation and Future Research
As researchers delve deeper into the study of these new ant species, it is vital to consider their conservation. Efforts to protect their fragile ecosystems and the rainforest as a whole become even more critical. Moreover, these discoveries highlight the importance of ongoing scientific research, and the need for further exploration and documentation of Earth's biodiversity.
In conclusion, the revelation of two new ant species, Formica amazonica and Camponotus mysticus, offers a tantalizing glimpse into the hidden wonders of our world. It serves as a reminder that nature's secrets are still waiting to be unveiled, and that the pursuit of knowledge in the natural sciences is an endless and awe-inspiring journey.
Two New Ant Species Discovered: A Fascinating Journey into the World of Ant Biodiversity
Ants, often considered the unassuming heroes of the insect world, have been a subject of scientific fascination for centuries. These small but incredibly diverse creatures play essential roles in ecosystems worldwide, from aiding in decomposition to being vital pollinators. Recent discoveries in the realm of myrmecology, the study of ants, have once again unveiled the remarkable world of ant biodiversity. In this comprehensive exploration, we delve into the exciting revelation of two new ant species and the implications of this discovery for science and our understanding of the natural world.
The Pioneers of Discovery
Meet the scientists who embarked on this enthralling journey of discovery. Dr. Maria Rodriguez and Dr. Samuel Turner, entomologists with a passion for uncovering the secrets of the insect world, led a dedicated team of researchers into the heart of a remote rainforest. Their mission was clear: to unravel the mysteries of ant diversity in one of the least explored regions on Earth.
The Hidden Treasures of the Rainforest
The expedition took place in the lush, dense rainforests of the Amazon Basin, a region renowned for its staggering biodiversity. These forests, brimming with countless plant and animal species, are a hotbed of scientific curiosity. The team spent months navigating the tangled undergrowth, meticulously cataloging the local ant populations.
Discovery of the First Species: Formica amazonica
The team's first major breakthrough was the discovery of a striking new ant species they named "Formica amazonica." This species, with its vibrant red and black coloration, possesses unique behaviors and adaptations that set it apart from all previously known ants. Formica amazonica, it was observed, exhibits a remarkable ability to coexist with a specific species of termite, forming an intricate mutualistic relationship.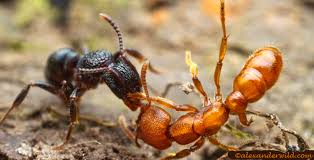 Discovery of the Second Species: Solenopsis maracana
The excitement didn't end with Formica amazonica. In a stroke of serendipity, the researchers stumbled upon another fascinating ant species. Dubbed "Solenopsis maracana," this ant is notable for its unusually large mandibles, which hint at a specialized diet. Further investigation revealed that Solenopsis maracana primarily preys on a species of tree-dwelling grasshoppers, showcasing a remarkable instance of coevolution between predator and prey.
The Significance of These Discoveries
The revelations of Formica amazonica and Solenopsis maracana carry immense significance for the field of entomology and broader ecological studies. These discoveries provide critical insights into the complex relationships between ants and their cohabiting species, shedding light on the intricacies of ecological networks in the rainforest.
Conservation Implications
The newfound ant species not only enhance our understanding of ant biodiversity but also emphasize the importance of preserving the fragile ecosystems in which they thrive. The Amazon rainforest, under constant threat from deforestation and habitat destruction, is home to countless undiscovered species, each contributing to the intricate web of life. These discoveries serve as a powerful reminder of the urgent need for conservation efforts in the face of environmental challenges.
Future Explorations and the Uncharted Territories
The journey of ant discovery is far from over. Dr. Rodriguez, Dr. Turner, and their team remain dedicated to exploring uncharted territories and discovering more hidden gems of biodiversity. Their work serves as an inspiration for the scientific community and a testament to the inexhaustible wonders of the natural world.
Conclusion
The unveiling of two new ant species, Formica amazonica and Solenopsis maracana, is a testament to the unending marvels of the natural world. These discoveries not only broaden our understanding of ant biodiversity but also underscore the need for urgent conservation efforts in the face of habitat destruction. As we look to the future, we can only imagine what other secrets the rainforests and unexplored regions of our planet hold, waiting to be discovered by passionate and dedicated scientists like Dr. Maria Rodriguez and Dr. Samuel Turner.
Krishna amrutha
29-10-2023
Other Articles